Mirotic guides a two-faced Barça that knocks down CSKA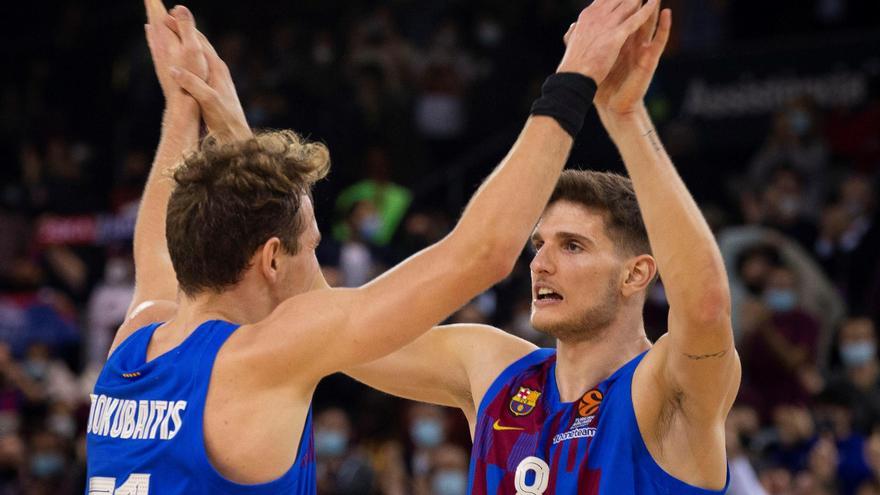 There were doubts of that Barça would appear at the Palau Blaugrana before an always dangerous CSKA Moscow. If the exuberant team that had swept Baskonia on Thursday or the one that was surprised by a Valencia full of casualties. In the end neither one thing nor the other. The Catalans alternated both faces: After a thick start and a good second quarter they broke up with the Russian triples later in a terrible third act. With Calathes injured, Mirotic has served as leader so that Barça, showing its best side in the final stretch, would knock CSKA down (81-73) and continue to lead the classification of the Euroleague, tied with Madrid and Milan.
After ruling in the preview that "some players are ashamed after seeing Sunday's video" Jasikevicius has once again despaired: "What are you doing", he was disappointed to see that Voigtmann destroyed his defense in a third quarter to forget Barça (13-33). The success from 6.75 of CSKA (nine in that period) contrasted with that of a Barça that still can't count on two of his best snipers: Abrines and Higgins. To add insult to injury, Calathes was injured in the fourth quarter.
There Mirotic has emerged, who had appeared only until then at the end of the first half. His leadership has guided the comeback, with impossible shots that have lifted the Palau. A defensive improvement has been added to the emergence of the Hispano-Montenegrin as an offensive beacon. CSKA has continued to insist with long shots but the moment of inspiration had passed. Jokubaitis with a great penetration, has put the rubric to a crazy party.
"I am very proud of the team's reaction after the third quarter," Mirotic said (21 points, like Voigtmann), who also thanked the fans for their response. "From being half dead we have gone on to make great basketball, incredible on a physical level. It is a game in which we have grown as a team," added Jasikevicius Jasikevicius after recovering his smile.
BARCELONA: Calathes (10), Laprovittola (-), Hayes-Davis (3), Mirotic (21), Sanli (7) -starting team-, Davies (14), Martínez (-), Smits (2), Jokubaitis (11 ), Kuric (13).
5 of 12 triples (Kuric, 3), 31 rebounds, 11 offensive (Mirotic, 8), 14 assists (Calathes, 7).
CSKA MOSCOW: Shved (7), Lundberg (4), Shengelia (17), Kurbanov (4), Voigtmann (21) -starting team-, Uckhov (-), Hackett (2), Antonov (-), Clyburn (9), Milutinov (1), Faried (-) and Grigonis (8).
12 of 31 triples (Voigtmann, 6), 31 rebounds, 11 offensive (Voigtmann, 6), 15 assists (Shved, 4).