Mirotic, dejected, apologizes for his performance against Real Madrid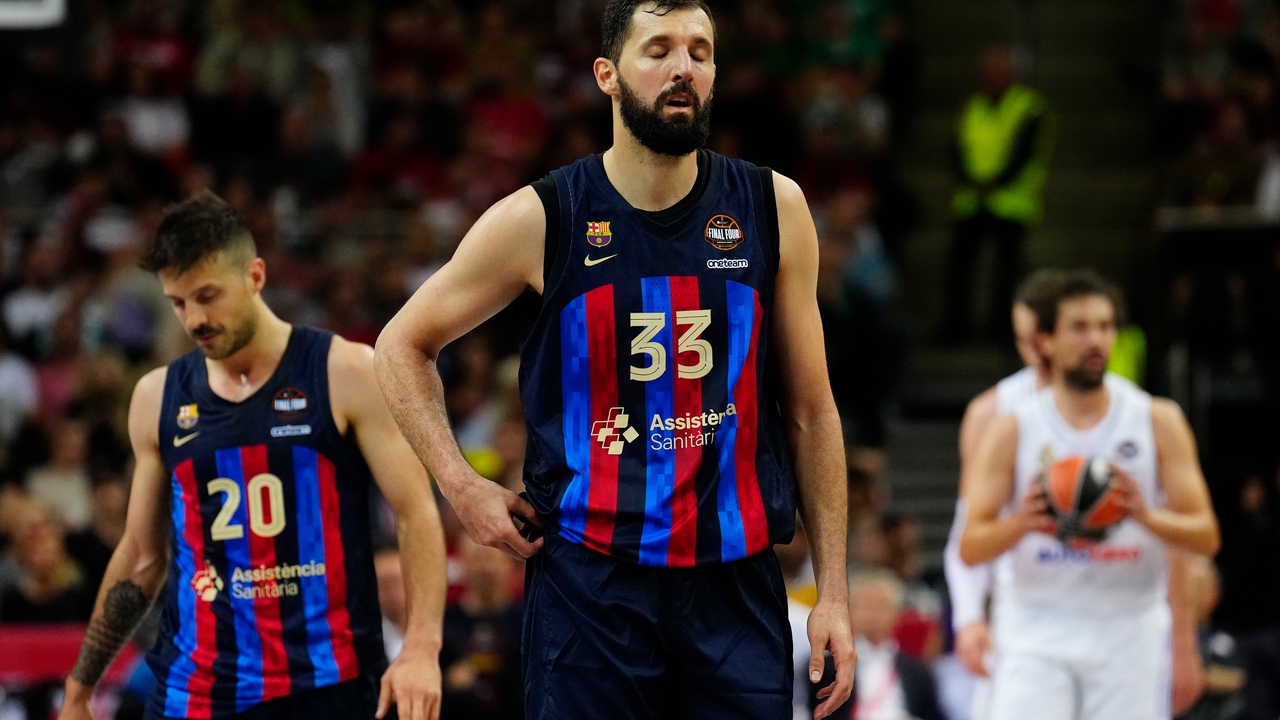 Nikola mirotic was the great economic and sports bet of the Barcelona to win the euroleague and Barça was the great bet of Mirotic to return from the nba and lift a trophy that resists him. In kaunas in 2023 it will not be either, and the Barça power forward, although he was dejected After a very tough defeat, he wanted to show his face on DAZN cameras. "I want to congratulate Real Madrid, they have done a great second half. I assume my responsibility of this game, because I have not been at the level that was expected of me. I have not been able to help the team and I feel very bad. Tell the fans I'm sorry, thank you for coming to support us. And there's not much else I can say right now. It's a very hard day"Confessed the former NBA player, who could only score three points and when the game was ending.
He was not comfortable at any time with the defense raised by the real Madrid and did not participate in the triple festival of his in the first half. He wanted to be decisive the day he had to take his team to the final and he never showed up.
They asked Saras jasikevicius for the performance of its star and preferred to focus on the collective. "Everyone is human and they have the right to play bad. That doesn't bother me, but it does that we haven't found a way to play as a team, because in individual performances anything can happen. I don't like that we left out our idea of ​​playing as a team", said the Barca coach, who did not want to talk about his future on the Palau bench. "I don't care about anything, we just lost a semifinal, I don't care about that" .
Jasikevicius admitted that the defeat against Real Madrid is "a very hard stick", one of those that "is not going to hurt now, but for a long time". "I have told the players that words are superfluous, you have to get up and we have to finish the season by winning the League, but it won't be easy, because we have to play our basketball again", he insisted.
Jasikevicius admitted that Barça had a bad game during the 40 minutes, even when they were leading on the scoreboard. "Madrid has been better, they have played as a team, with more patience. The responsibility for this result lies with the coach, we haven't found a way to play better. We haven't managed to play as we know how," he insisted.
He complained that his players wanted solve individuallywhen throughout the season Barça had distinguished themselves by playing collectively.
"You know, a bad game and you lose the title"said the coach, who cannot explain his team's mental block. "In my case, I look at why we haven't been able to play as a team, because I haven't known things better, we haven't played well when we had a good inertia", he added.