Mireia ('OT 1') speaks in 'Save me' after denouncing her husband: "I was very crushed"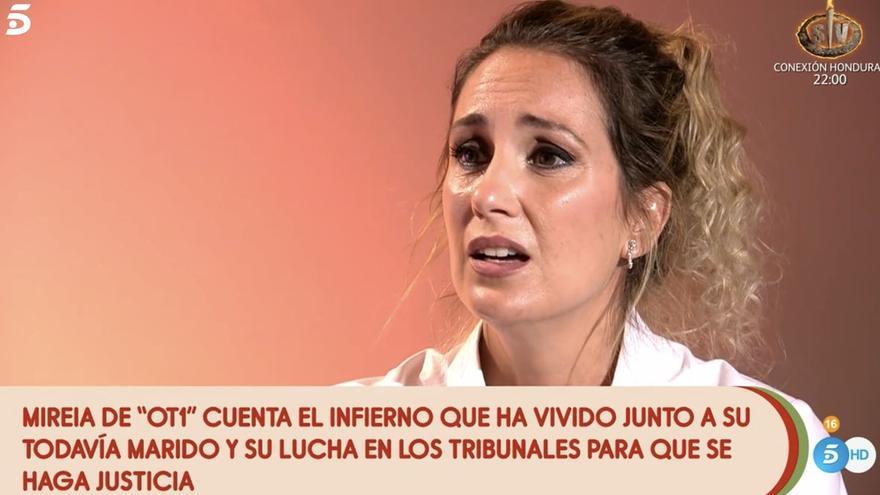 Although it is not a regular of programs like 'Save me', Mireia Montávez appeared this Monday in the space of Telecinco to relate the hell she has lived with her husband. The one who was a contestant on the first edition of 'Triumph operation'was interviewed by Paz Padilla and sent a message to other people who may find themselves in the same situation: "You can get out. Because you stop loving a person, you have no right to want to ruin your life".
"I was not aware that I needed to ask for help. I molded myself the last years we were mere roommates. For me it was my life and that's it ", the artist began explaining during her talk with the presenter. Mireia, who currently combines her musical career with a job as a cleaner, revealed that his work environment and his friends were the ones who realized that something was wrong: "Thanks to work and being able to see people, telling my discussions and what was happening, there they began to say … Ugh."
Mireia commented that, at the time of the relationship, he felt "a null person". "He did everything because he said it was good for me. I was there and that's it. The worst thing was when I decided to separate and ask for a divorce ", she assured through tears:" Psychologically I was very crushed. The discussions were already screams, bad manners, bad words. I did not rest, I was late for work and I lost 15 kilos".
"I thought I would not be able to get by alone with my two children," said Mireia, who also took advantage of the 'Save me' loudspeaker to vindicate the work carried out by her co-workers: "I send a huge kiss to all the cleaners. It has been very difficult during the Covid ". "I have fibromyalgia, it is not a job that suits me, but even when I am tired I am happy"he admitted.
Regarding her current relationship with her husband, she was blunt: "I can't even see him". "He cut off my phone, took all the money out of the accounts, changed the lock on the house and I have absolutely nothing of my own," said Mireia, who decided to file a complaint: "He made some statements in a newspaper that are a lie. There I was forced to go out and talk about what I did not want.
"I didn't ask for anything, I didn't care. I just wanted to be calm and start from scratch, but I was afraid that it would go further. I asked for a restraining order and they gave it to me for void. The Civil Guard rated it as a medium degree of mistreatment", He added in the Telecinco program.