Minister Robles guarantees that the UME and the Armed Forces will continue on La Palma "until the last minute"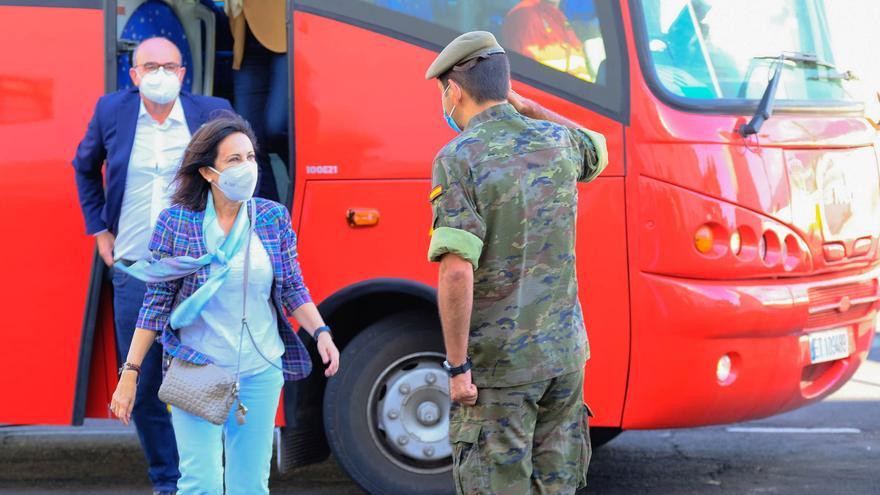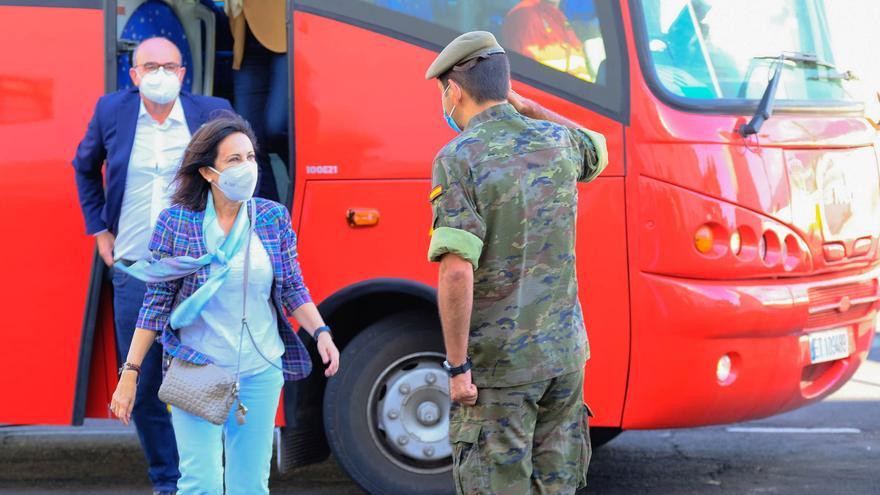 The Minister of Defense, Margarita Robles, has guaranteed this Sunday that the Military Emergency Unit (UME) and the rest of the Armed Forces will continue on La Palma "until the last minute" of the eruption of the volcano 'Cumbre Vieja'.
In statements to the media after participating in the Canary Islands Volcanic Emergency Plan Steering Committee (Pevolca), has explained that the troops are not going to leave the island as long as they are needed, "whatever time passes."
Robles, who also visited the facilities of the 'El Fuerte' Barracks this Sunday to hold a meeting with the staff of the Projection Support Unit (UAPRO) and who was at the UME Command Post, added that the Government is with La Palma trees. "And we do not forget them. Their pain is our pain because Spain is a great family and when one suffers, we all suffer," he said.
Likewise, the minister has emphasized that the UME and the rest of the Armed Forces will remain on the island "as long as necessary" and with whatever means are necessary, both personal and material.
"La Palma knows that it can count on us – he continued -. We are not going to haggle anything and we will be with the people that are necessary, the means that are necessary and with the missions that they entrust to us."
UME, 16 years of service in emergencies
He observed at this point that the UME has been present for 16 years always in the hardest moments for Spaniards inside and outside the country with "efficiency, professionalism and, above all, humanity."
"What we can contribute we are going to do and the Navy will join to bring material – this Monday it will arrive on the island -" he said to show his admiration for all the professionals who work and coordinate the operations to monitor the volcano.
As for people who have lost their houses or properties, he highlighted how hard it is to have to decide in 15 minutes what to do or what to take from their home. "And we can never put ourselves in the place of those people other than with our dedication and our affection," he said.
"My presence here – he concluded – wants to manifest and be a component of a commitment. Until the last minute, until La Palma needs us, whatever time passes, they will find us here."