Minerva Hotels Vistaflor Idamar and Hospital La Paloma Pueblo Guanche compete for the title of Aguas de Teror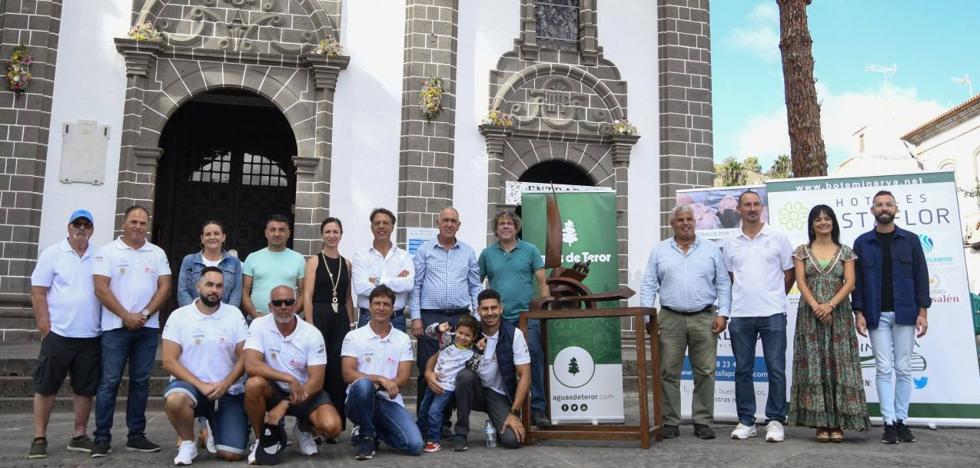 LATIN SAIL
This Saturday, grand finale in the capital's bay from 5:00 p.m.
This Thursday
The presentation of the grand final of the Aguas de Teror Championship was held, which will take place on Saturday in the bay of Las Palmas de Gran Canaria starting at 5:00 p.m. Teror hosted this event that was attended by the mayor of the municipality, Sergio Nuez.
Nuez thanked the Canarian Latin Sailing Federation for traveling to Teror to make the presentation and the draw for the starting order of the grand final. The mayor highlighted the sponsorship that Aguas de Teror does «of a sport as ours as Canarian Latin Sailing, which identifies us. I want to highlight the beautiful sculpture by the Moyense artist José Robayna, who will receive the winner of an Aguas de Teror Championship that I know has been very intense, I have followed him because we have a boat that bears the name of our municipality».
During the act
The draw for the starting order was held. The Minerva Hotels Vistaflor Idamar will come out in first position, followed by the Hospital La Paloma Pueblo Guanche. In the fight for third and fourth place, it will be the Puerto de la Luz Fundación Puertos de Las Palmas that comes out ahead of Villa de Aguimes Ybarra.
It will be the last appointment of the season for this vernacular sport with the resolution of the most important title. An Aguas de Teror Championship that has been very close since its inception and that will be resolved with a dispute between two undefeated boats this season.
Daniel Rodríguez, skipper of the Minerva Hotels Vistaflor Idamar, highlighted the weather conditions expected for Saturday: «Offshore wind, quite gusty that is going to condition a regatta in which we are going to fight more against the elements than against the other boat.
It has been many years since the Minerva has been in a final and we are very motivated for this regatta».
Jose Ponce, patron of the
Hospital La Paloma Guanche People who has won the four titles disputed so far this year, also analyzed the regatta: «
Whatever happens we are very happy for the season and we hope to put the finishing touch to win the Aguas de Teror Championship, which was always the goal from the beginning, because it is the most important title».
The president of the Canarian Latin Sailing Federation,
Bernard Solomon He thanked the Teror City Council and Aguas de Teror for their unconditional support of this sport. Salom wished the finalist boats luck and invited fans to follow the regatta live, for which the traffic device and the free Municipal Guaguas service will be available.