Military trackers detect more than 12,500 covid cases in the Canary Islands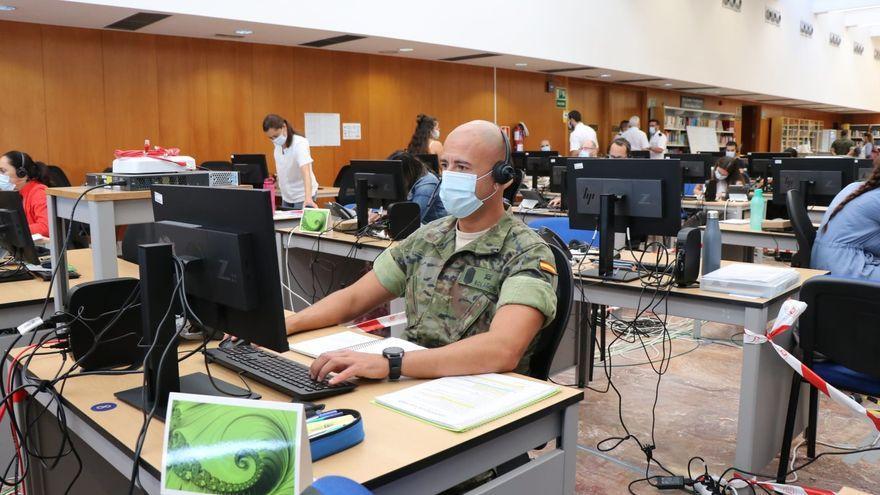 All 125 military scrapers deployed in the Canary Islands to assist in the control of the coronavirus pandemic have completed six months and participated in the detection of more than 12,500 cases that have represented more than 27,000 calls to close contacts and 19,000 follow-up calls.
Is Epidemiological Surveillance Unit It is integrated into the Land Component Command (MCT), led by the Land Force Headquarters of the operation 'Misión Baluarte', within the framework of which the Armed Forces channel their support to society in the fight against the pandemic of COVID 19, acting in multiple areas such as disinfection of critical facilities, various logistical support, and tracking and epidemiological surveillance activities on positive personnel in COVID 19 and the environment of possible contagions.
Currently 125 military personnel are enlisted, 93 belonging to the Land Army11 from the Air Force and 21 from the Navy, with six in Lanzarote; 20 in the Municipal Library of Las Palmas de Gran Canaria; 5 at the Public Health Directorate of Las Palmas de Gran Canaria; 10 at the Tenerife Fairgrounds; 5 at the Fuerteventura Hospital and 5 at the Corralejo Primary Care Center.
In addition to tracking tasks, 'Operation Baluarte' has also worked on the reception, transport and custody of the first shipment of vaccines until their delivery to the respective health authorities on December 27 or the disinfection actions in different centers of health of the island of Lanzarote that teams of the Brigade Canarias XVI carried out between the 15th and the 17th of January, and subsequently from the 22nd to the 24th of January.