Mila Ximénez's daughter moves with her call to 'Save me': "She faced death with great peace"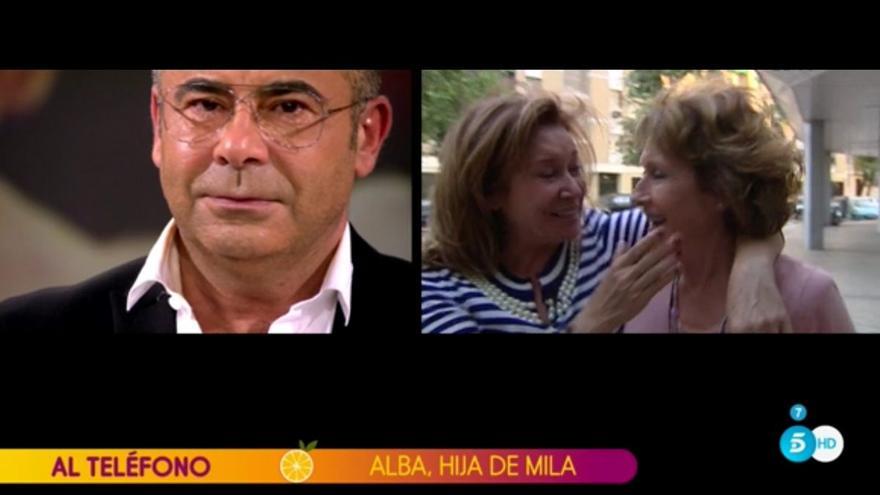 'Save me'has paid tribute during the afternoon of this Thursday to Mila Ximenez. The program of Telecinco has issued a special delivery entirely dedicated to his collaborator, who this Wednesday he lost his life to cancer which was diagnosed a year ago. Jorge Javier Vazquez and the rest of the journalist's colleagues have found the strength to remember her with a smile, recovering anecdotes and some of her best moments. But of course the emotion has also been very present on the plate.
Undoubtedly, the moment that has most shocked the gathering has come with the call of Alba Santana, daughter of Mila. The young woman, that this very morning I attended the media To thank the support received, he has participated in the space where his mother worked since its premiere in 2009.
Belén Esteban, Kiko Hernández or Jorge Javier himself, as well as the rest of the collaborators, they have burst into tears as soon as they have heard Alba's voice: "I have found the strength to come in for a moment. I think my mother would like me to personally thank you. For today, for so many years and for so much love. Also for yesterday, for the number of people who came. I will thank you all my life. "
"I feel like we've shared it somehow"The young woman said about Mila, who had found a second family on the Telecinco program. "From this point on that no longer unites us, but I know that wherever it is, we will always carry it in our hearts. Not only those of you on the set, but also those behind. I only have words of gratitude," he said. added.
Although the presenter had tried to keep his composure throughout the program, he collapsed with Alba's intervention: "You are very generous in saying that we have shared it. She was your mother and she had a passion for you. To leave in peace, it was essential for her to know that you were so happy. I had no concern with you. "
Alba, Mila's great support during her illness, has acknowledged that she saw her "with fear" on many occasions. However, in his last days that fear completely disappeared: "Death faced her with great peace, with great desire to see what was coming now. She left calmly". "When I hear you talk about her in the past, I still can't believe it," he acknowledged with a trembling voice.
Before saying goodbye, he wanted to share a few words with the collaborators who spent so many afternoons with Mila Ximénez: "That you know how much he loved you and how many laughs you have given him. Although he liked to complain a lot and although he often said that he was going to leave Program, I was always very clear that you were his other family"." Thank you very much for everything, I love you very much and I wish you the best, "he concluded.