Miki Leal pushes artists to hug each other | Culture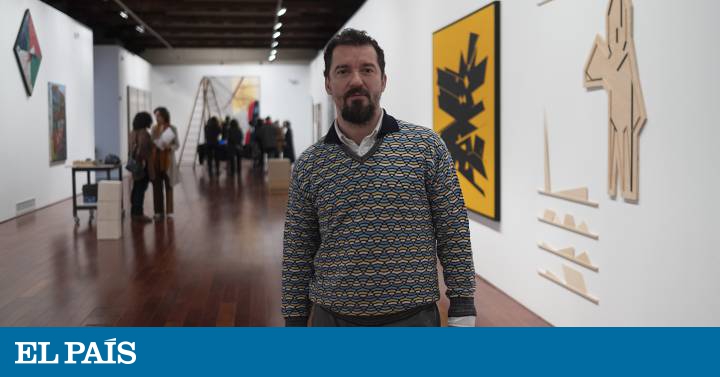 "This experiment is the result of a commission that was made from the Mariano Yera collection to mount an exhibition from his works. Instead, I proposed to make an encounter between the works that attract me most from the collection and artists of my generation. A hug between teachers and, let's call them, disciples or voluntary followers or, in some cases, involuntary ", commented Miki Leal this Thursday during the assembly of the exhibition in the Santa Clara Space in Seville.
In the great hall of the high bedroom of the 17th-century convent and under a Mudejar coffered ceiling, 27 works by 22 artists meet, half of them are props of the collection as José Guerrero, Palazuelo, Tàpies, Campano or Gordillo and another 10 are not part of it as Jacobo Castellano, Pereñiguez, Cristóbal Quintero or Elvira Amor. Miki Loyal (Seville, 46 years old) is the hinge between them, since it belongs to the generation of the guests, but also entered the collection in 2017.
Hug. Artists in dialogue. Mariano Yera Collection opens this Friday with a talk between creators of three generations moderated by Leal (Room of the paintings of the Santa Clara Space, at 17.30) entitled Artist word and in which Luis Gordillo, Irma Álvarez-Laviada, Pereñiguez and Abel García will participate. The exhibition can be seen until April 26 and is the first time that a part of this private collection in Madrid, consisting of about 170 works, can be seen in Andalusia.
"The collection began in 1999 and brings together Spanish painting from the second half of the 20th century until today, because in 2016 we started a second phase in which we are introducing artists who are in the middle of their career, but they are already bright values ​​and They are backed by many exhibitions. It's about creating a line of continuity with the past, "he explained Rosina Gómez-Baeza, curator of the Yera collection with Lucía Ybarra. In that second phase of the collection with Miki Leal are Guillermo Mora, Patricia Gómez, Miguel Fructuoso, Raúl Domínguez or the artistic couple Los Bravú formed by Dea Gómez and Diego Omil.
"The pairing for the exhibition has been my business. First I selected the pieces that most attracted me to the collection and then I thought about who their contemporary analogue could be and asked everyone to create something on purpose for this meeting, "said Miki Leal, who since its inception in the Richard Channin Foundation In 1999 with Juan del Junco and Fer Clemente – a team to which the Andalusian Center for Contemporary Art has dedicated an exhibition in 2019 – has not ceased to add success. The last one, a very special recognition in his city, is the commission for the Holy Week poster of the Brotherhood of Macarena that he accepted this Wednesday.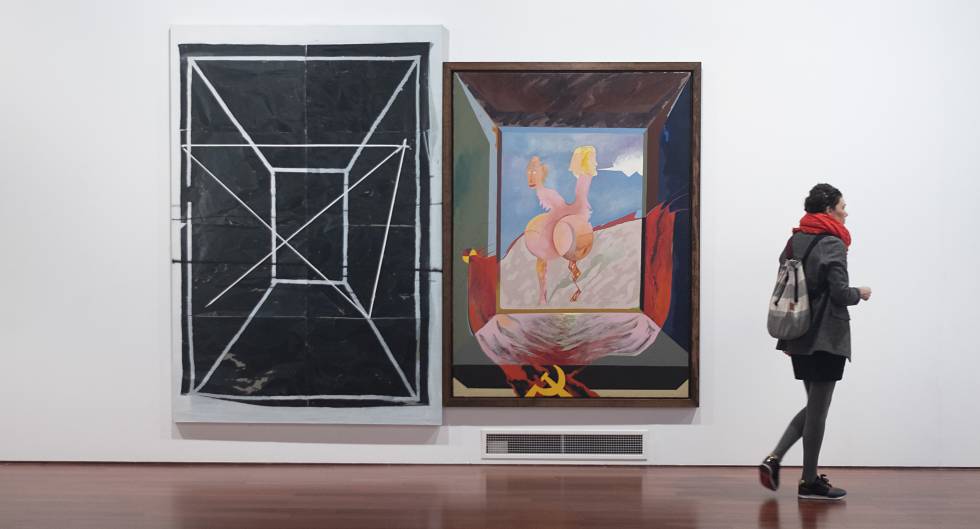 Miki Leal, with an acrylic on large format paper titled Miki in Tahiti (Good gift), 480 x 240 centimeters, has married with Sunday II (1990), an oil Juan Uslé. The oldest painting in the exhibition is an oil of Team 57 made in 1961 and is embraced by two wooden sculptures and an oil painting by Fernando Clemente. Also of the sixties, of 1963, are Fa Y Head with B numbers, Very unidentifiable works with the production of Luis Gordillo that are paired with a modular sculpture by Elena Alonso.
The always enigmatic Pablo Palazuelo, who can be seen Sydus II (1997), echoes J. M. Pereñiguez with a wooden installation, Djiguit II (puzzle), as precise and conscientious as the teacher's geometries.
Elvira Amor wraps with three pieces one of the oils of the best known series of José Guerrero, Exiles (1970); while Irma Álvarez-Laviada goes on to the so-called expanded painting – works based on traditional techniques but elaborated with different materials – to embrace the work of Perejaume, who in 1988 performed Paintings through the fabric and showed the back of the work, yes with golden frames that tell us about past glories. The geometric base of the famous canvas The Republic (1975) by Carlos Alcolea inspires Rubén Guerrero in an oil that seems to form a diptych with Alcolea's.
Other couples are those formed by Tàpies, with The food is served (1975), and Juan López, who has used cement on plasterboard, but treating it as if it were a canvas, and that formed by the two portraits of Herminio Molero next to a large canvas by Santiago Ydañez inspired by the Entombment, from Caravaggio. The work of Miguel Ángel Campano, a very gray industrial landscape of the early nineties, comes alive with wood sculpture Constellation, by Jacobo Castellano.
"Love Dreams 14 (1989), by Dis Berlin, a piece that attracts me because it has an aesthetic point of tacky casino on a crazy night makes a perfect game with the fabric of Cristóbal Quintero, with a house that looks like the comic of the Rue del Percebe with a vision of the very eastern perspective and a good study of light and color, "says the curator, who has come to Matisse for the presentation text of Hug.
In a letter from 1948, when he presented a retrospective at the Philadelphia Museum, the author of The Dance wrote: "If the drawing belongs to the realm of the spirit and the color to that of the senses, you must first draw to cultivate the spirit to be able to to be able to drive the color along the paths of the spirit. This is what I would like to scream in the middle of my lungs when I see the work of young artists for whom painting is not an adventure, and whose only objective is its future first exhibition that will be your first step on the road to glory. "