Miguel Gallardo, co-creator of Makoki and pioneer of the graphic novel, dies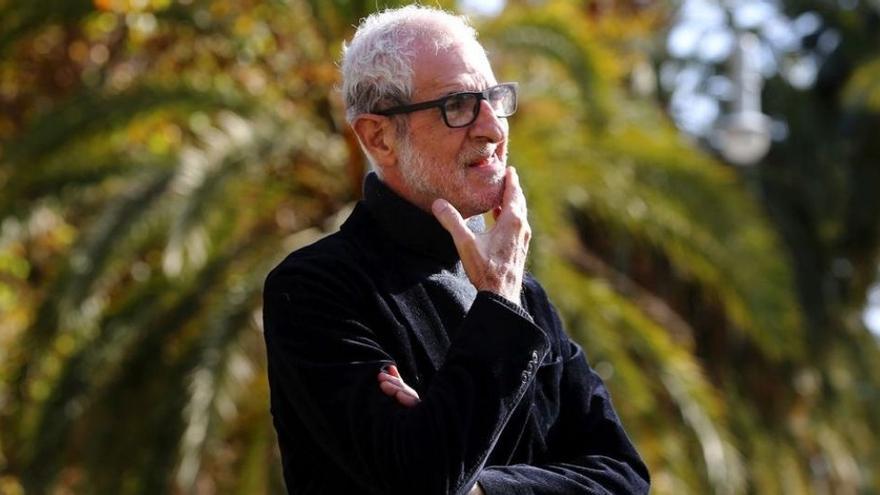 Maria will no longer have anyone to draw her like her father did. That "despicable sweet potato" that grew "on the roof", as he himself baptized the brain tumor that was diagnosed in early 2020, displaying his proverbial and de-dramatizing sense of humor, he has won the pulse he kept with Miguel Gallardo, one of the most beloved comic cartoonists in Spain since in the 1970s he co-created with the screenwriter Juan Mediavilla, based on a story by Felipe Borrayo, the definitive icon of the 'underground' comics of the late 70's and early 80's, nothing less than Makoki, that quinqui escaped from the phrenopathy who from the pages of the magazine 'El Víbora' became a symbol of the other transition, that of the marginalized. Nothing comparable, however, to the success and pride that 'María y yo' brought him (Astiberri, 2007), an album about her relationship and her day-to-day life with her daughter, with which she brought autism out of the social closet. There is nothing.
Gallardo (Lleida, December 27, 1955) and closely related to the Canary Islands, where his ex-wife, María's mother, is from and where he lives with his daughterpassed away this Monday in Barcelona at the age of 66, leaving behind a recognized career, among others, with the Gran Premio del Salón del Cómic in the Catalan capital, with the Premi Ciutat de Barcelona, ​​which was awarded to him by the city council just a week ago, and with the National Comic Prize 2008 of the Generalitat de Catalunya.
a brain tumor
The artist (Lleida, 1955), a year ago, recounted in 'Something strange happened to me on the way home' his experience after learning that he had a brain tumor, just before the pandemic, and how it was removed. He was coming home from the hospital in full confinement to start a treatment with which he was hopeful. But the cancer came back. Just three weeks ago, at the end of January, he married his partner of recent years, Karin du Croo. He himself hung a funny photo of both, just Marriedon his Instagram account.
For the cartoonist, discovering the disease was like living "in a bad science fiction script." "When I woke up from the operation, to flee from fear, death was a friend, I almost wanted it to escape from all that, just as a child calls his mother, you look for someone to shake your hand and get you out of there -he confessed to this diary. As with the pandemic, we see that we cannot decide on our lives." "The fears are still there. Every day is new. Just like with the coronavirus, we are trying to recover a normality that does not exist. You cannot afford the past because everything is new. I forced myself to recover my natural curiosity to see what the next few years will be like and my appetite for life", he was honest then, who always had a positive thought, a joke, a courageous way of facing the bad. He tried to go "'p 'alante', always 'p'alante'", as his father taught him.
paternal memory
To the memory of his father about the Civil War, silent during 40 years of dictatorship, he gave voice precisely in 'A long silence' (Astiberri). Published in the second half of the 90s, it was a pioneer in Spain in recounting in a graphic novel some family experiences of the conflict, along the lines of Art Spiegelman's 'Maus', mixing vignettes with the diaries of his father, Francisco Gallardo Sarmiento, who survived a more than humble childhood in his native Linares, a premature orphan, the bombs, the Ebro fronts and of Teruel, hunger and concentration camps in exile in the south of France, and the fear of being shot as a republican when returning to Franco's Spain.
After studying at the Escola Massana in Barcelona after failing to enter Fine Arts, Gallardo created a Makoki along with the screenwriter Juanito Mediavilla, a benchmark of the 'underground' scene of the 70s and 80s. That character, wearing a robe and a helmet with cables on his head, was a symbol of the most lumpen Barcelona, ​​bathed in crime, sex , drugs and rock 'n roll, in the transgressive orgy of the incipient transition, which he toured with his gang, the Basca de piltrafas del arroyo: Emo, Morgan, Cuco and El Niñato. The first short story appeared in 1977 in the magazine 'Disco Exprés', under the title 'Revuelta en el frenopamático', went through those of 'Star' and would reappear in the pages of 'El Víbora' with the cartoon 'Fuga en la Modelo '. A series, which Gallardo himself acknowledged that if they had done it today they would have been sued by "feminists, Argentines, retirees, the disabled...". He attributed his success to the fact that those crazy stories, of a Makoki released from the asylum, "portrayed the reality" of the country shortly after Franco's death and "the lives of many young people: smoking joints, listening to music, flirting and enjoying that new freedom. The generations of that time did not have any means of expression or loudspeaker of what was happening in the street and they wanted to be told about it. And we, without knowing how to draw or know anything about comic techniques, expressed it in 'El Víbora ' and with Makoki", he explained.
But Gallardo's artistic career did not end in that 'underground' kamikaze, which took so many away, far from it. A true centrifuge of styles and references, she created the characters Pepito Magefesa, Perico Carambola, without forgetting Buitre Buitker, a kind of 'spin off' from the Makoki saga that was very similar to him. The transgressive vision of her also arose in 'The Cases of Dog Nick', series that began to be published in 'El Víbora' in 1984, recently brought together and republished by La Cúpula, a colorful and experimental pop vision of the noir genre, starring a detective.
Maria
His other great milestone was 'María y yo', a seminal title which, together with 'Wrinkles' -where the cartoonist Paco Roca approached the world of Alzheimer's- opened the door in 2007 to many readers to show them that comics were much more than Bruguera's comics and that stories with social and autobiographical themes could be told with him. "We came out together, each one with their story, and suddenly the press discovered that you could talk about comics beyond saying 'Superman is dead' and that comics could deal with important, real-life issues and with sensitivity" , counted. That book, which showed what everyday life was like on vacation with her autistic daughter, would be followed by the homonymous documentary (2010, by Félix Fernández de Castro) and the album 'María turns 20 years old', where she recovered the day-to-day life of Maria as an adult. He explained it in vignettes Gallardo with the premises that he would later apply to himself in the face of illness and death. "I don't want drama or pity or compassion. My life is painful because I have Maria, but I wanted to express that despite all her difficulties, she is a champion and she pushes forward like a motorcycle". Like her father.
The last two years Gallardo has not stopped hitting the pencils. He leaves behind a posthumous comic, which he signed with his partner Karin, and which he has not been able to see published. It will be released on March 10 in Astiberri, entitled 'The Big Book of Dogs'. In it they tell, humorously, how in 2019 they adopted their dog Cala, who had been abandoned, and how that changed their lives and opened the door to the universe of dogs. "In the hospital, the first thing I did after the operation was to get up and see if I had lost mobility and the most valuable thing for me, the ability to draw." He was still there. Like all of his work.