Miguel G. Morales opens his installation 'Hucal' at the Museo Canario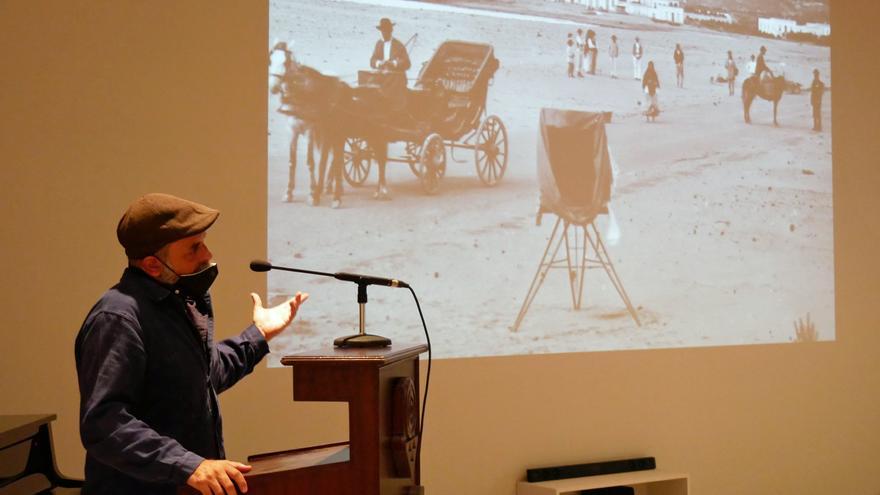 The auditorium of El Museo Canario houses the installation 'Huacal', by the artist Miguel G. Morales, an exhibition that has the collaboration of the Gran Canaria Centro de Cultura Audiovisual del Cabildo de Gran Canaria. It is an artistic work that was selected in the 2020 Gran Canaria Espacio Digital contest for cultural projects, within the work "The passing look."
'Huacal' is an artistic investigation in the form of a video installation, presented on two screens. A central projection, created with black and white photographic images, spans the second half of the 19th century through the 1950s, while a second projection, with color film archives, covers the 1940s and 1950s.
Audiovisual
This work reflects the harshness of life at that time in Gran Canaria through an artistic vision of the image archives of El Museo Canario, Gran Canaria Centro de Cultura Audiovisual and FEDAC, with sound accompaniment created by the musician José Antonio Fajardo, reported yesterday the Museo Canario itself.
Miguel G. Morales is an independent filmmaker born in Tenerife in 1978. His work is situated on the periphery of non-fiction, with a strong documentary, investigative and essay character. His training took place in Madrid and at the International Film and TV School of San Antonio de los Baños, Cuba. He is the author of several video creations, installations, collaborations with artists, and exhibitions.
The installation can be visited until September 5 during the museum's regular hours and access is free.