Miguel Flores, from the Colegio Hispano Inglés, awarded at the Physics Olympiad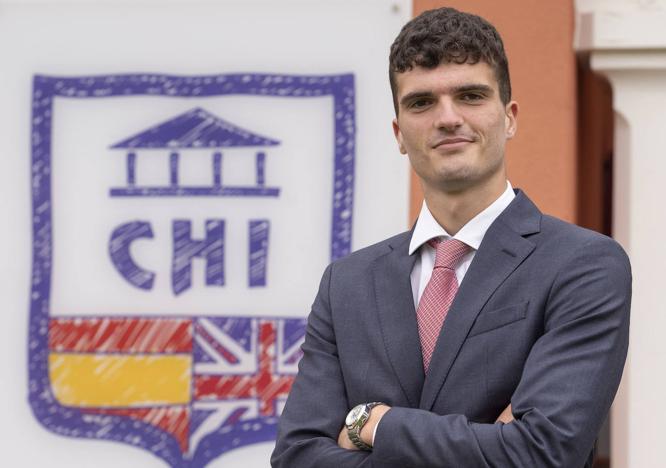 He is 17 years old, since elementary school he knows that his thing is mathematics and science subjects. He wants to study in Madrid, one of the few cities where they offer the Double Degree in Mathematics and Physics, the career with the highest cut-off mark in all of Spain.
Congratulations Miguel for the Physics Olympiad, did you expect this award?
You never know the result, you just prepare to give your best. I am very happy with the recognition. During the previous weeks, I found myself in a good moment, I felt focused and ready to face the challenge.
Successes are not the result of a single day's work. How has your school career been up to now?
My parents enrolled me in the CHI, Colegio Hispano Inglés, when I was just three years old. I remember from this time all the friends with whom I spent the day playing and who were part of my childhood.
Also to my first nursery and infant teachers, of whom I have very good memories, since they were part of my education. Especially the treatment they had with me and my colleagues. Always attentive that we did not lack anything, it was like a second family.
Primary school was a beautiful stage for me and where, really, my teachers taught me to add, subtract, multiply and I knew what I was good at and what I liked, which were mathematics and science subjects.
Upon reaching adolescence, we fully entered middle school and high school, where I have to thank the specialist teachers for helping us to mature as people, also to develop our critical thinking, to judge everything that was explained to us and not We stay on the surface.
The teachers have taught us to give our best, to make an effort and always take care of the smallest detail. They are professionals and experts in the subjects they teach and it shows when you take their classes.
What do you think are the keys to the academic success of your school?
In the early stages, they teach us through play, in a playful way, where we have daily linguistic immersion contact with the four languages ​​of the school: Spanish, English, German and Mandarin Chinese.
Then, as we enter the primary stage, a very solid foundation is laid in terms of routines, since we get used to a full daily study rhythm, full of both educational and recreational activities.
This constant work, year after year, facilitates regularity and strengthens us with good habits, in order to be able to face the jump to the secondary, high school and university stages with great confidence.
What have the subjects of the British system given you?
Both British and Spanish curricula complement each other very well. They provide us with greater wealth and training, a broader knowledge in all areas. Apart from the richness of a technical and specific vocabulary, they have helped us to reason and have different perspectives of the same reality.
At Hispano Inglés all students take, in an integrated and simultaneous manner, a double curriculum according to the Spanish and British educational systems, which includes up to eleven IGCSE subjects, International General Certificate of Secondary Education, among which are: Mathematics, Physics, Chemistry, Biology, Geography, Economics, English, Spanish, German, Enterprise and Computer Science.
This quality educational program means that we have more opportunities for the future. It provides us with access to study any university degree that is taught in English, whether within Spain, more and more universities include courses in this language, as well as outside our country: the United Kingdom, the United States or any country of the European Union. .
In my personal case, the subjects in the field of STEM, Science Technology Engineering and Mathematics, an acronym for the English terms of Science, Technology, Engineering and Mathematics have been the ones that have attracted me the most. I liked the profile they could give me on a professional level.
«In Computer Science we learn the inner workings of networks, their protocols and programming languages»

For example, the IGCSE course in Computer Science has brought me closer to the world of computing, the inner workings of networks, their protocols and the direct application of programming languages.
On the other hand, in the Physics IGCSE and also in the Mathematics IGCSE, we have been taught from a more practical, experimental perspective, solving real-world problems, allowing us to learn and understand new concepts that are used, globally, in the world. of the science.
Let's talk a little about the future. What career are you going to study and at what university?
My goal is to study the double degree of Mathematics and Physics in Madrid. Among the universities that interest me are the Complutense or the Autonomous. This double degree is offered in few universities and cities in Spain. Madrid is one of them.
It seems like a dream to me to do two subjects that I like and excite at the same time. Each year, this double degree is positioned among the races with the highest court grade. It will be quite a challenge, of course, but I think I will do well. It is my goal and I am preparing myself to achieve it.
At the moment, I'm still studying to close my second Baccalaureate year in the best way and to make an EBAU Selectivity as successful as possible. Being happy and being able to study what I like. I don't understand the world of work without doing something that really motivates me. This double degree opens up the possibility of highly demanded professions in the digital world that is so prevalent in the times in which we live.
The professional opportunities are many, from the development of computer applications, industrial research, air and maritime navigation, space exploration, without forgetting teaching, big data management and artificial intelligence. It is a double degree with a fairly wide professional field and highly demanded in this 21st century.
«The double Spanish and British curriculum allows us to reason different perspectives of the same reality.»

Lastly, we would like to get to know the more personal Miguel. What hobbies do you have outside of the academic field?
I like basketball and, since I was little, I have been federated participating in competitions. A few years ago, I also did taekwondo and played the piano. Music has always been one of my passions.
Extra-academic activities, whether sports, artistic or recreational, are not only compatible, but also very necessary. Any non-academic activity helps you disconnect from moments of stress, organize yourself better with your studies, and plan your tasks better.