Miguel A. Lasso with Marina Rubicón I, new J80 Canary Islands champion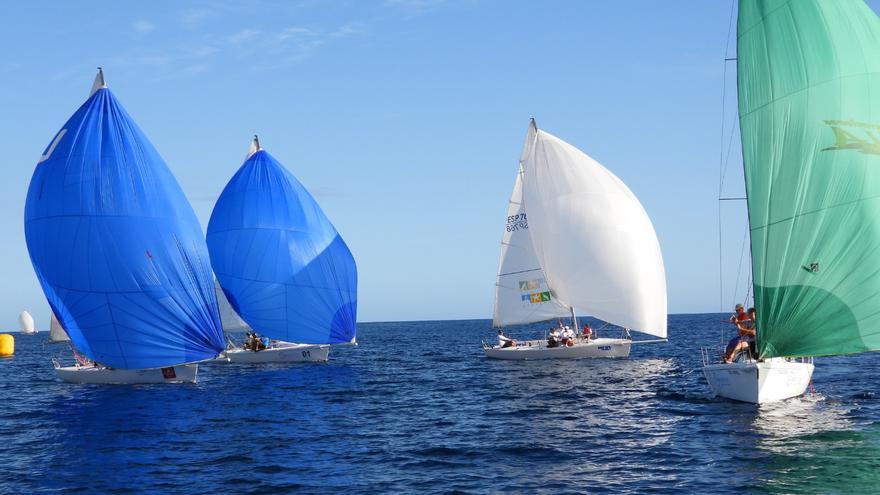 Sorondonguillo by Alfredo González González, Marina Rubicón I, skippered by Miguel Ángel Lasso Lorenzo and Marina Rubicón II under the command of Rafael Lasso Lorenzo, were awarded the three victories of the second and last day of the "XIII SAR Princesa Alexía Trophy – J80 Canary Islands Championship ".
As was the provisional classification yesterday Saturday, a strong fight was expected today to decide the winner and new champion of the J80 Canary Islands. The day responded to expectations with three of the applicants sharing the victories.
Miguel Ángel Lasso with Marina Rubicón I, won the final victory that proclaims him the new champion of the Canary Islands, taking over from Pablo Rompeltien's Stubborn who achieved it last season. The new title served the skipper of the southern harbor ship to better celebrate his birthday.
In the first of today's rounds, Alfredo González won with Sorondonguillo, who was provisionally at the top of the classification, followed by Marina Rubicón I and Marina Rubicón II at the finish line.
Marina Rubicón I took the decisive step by winning the second regatta, which proclaimed it the winner of the general classification after its protest against the Sorondonguillo, which was positive for Miguel Ángel Lasso and his crew formed by Joaquín Medina, David Caraballo and Jesus Amaliach.
In the third heat the victory was for the Marina Rubicón II boat skippered by Rafael Lasso and finishing second overall. The second place went to Sorondonguillo and third finished Team Mertxe skippered by Aythami Quintana.
The "XIII SAR Princesa Alexía Cup – J80 Canary Islands Championship, was organized by the Real Club Náutico de Arrecife and the Canarian Sailing Federation, with the collaboration of Calero Marinas, Marina Lanzarote, Naviera Armas Trasmediterránea and Renault Lanzarote, with the institutional support from the Arrecife City Council and the Lanzarote Cabildo, and the collaboration of the Asociación Canaria de J80.
FINAL CLASSIFICATION
1º 8 Marina Rubicón I – Miguel Ángel Lasso Lorenzo – CNCA
2nd 10 Marina Rubicón II – Rafael Lasso Lorenzo – CNCA
3rd 17 Sorondonguillo – Alfredo González González – RCNA
4th 19 Team Metxe – Aythami Quintana – RCNA
5º 20 El Mateo – Alfredo Morales González – RCNA
6th 24 Lanzarote Sailing Paradise – Alejandro Morales Quintana – RCNA
7th 30 Ferrer and García – Pedro Ferrer Espino – RCNA
8º 38 The Lion of Judea – Andrés Morales González – RCNA
9º 40 Code Zero 3 – Alejandro Vidal – CDC0
10th 47 Rotini – Andrés Borja Ravelo – RCNA
11º 56 Brito Hostelería – Eduardo Brito – RCNA
12º 57 Code Zero 1 – Simona Manfredini – CDC0
13º 63 Okupa – Ángel Delgado – RCNA