Microsoft Teams helps students read more fluently with its new feature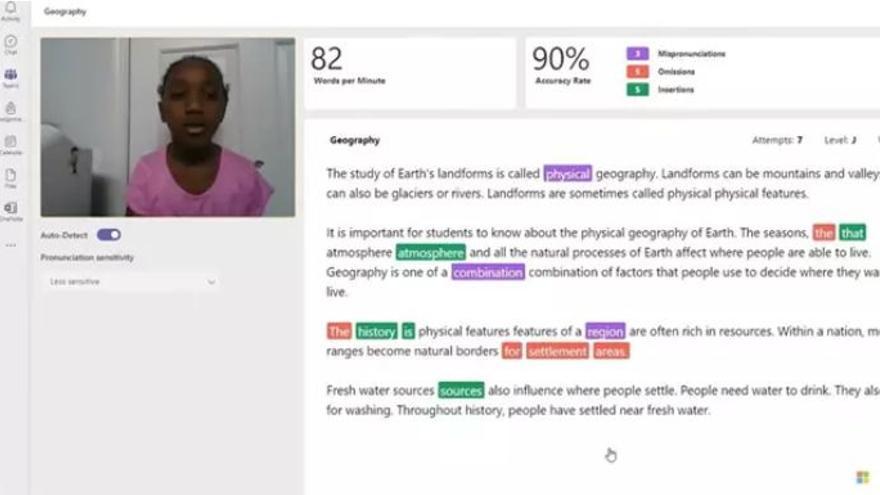 The collaborative work platform Microsoft Teams has introduced new features aimed at education, including that of 'Reading Progress', which allows students to improve their fluency when reading texts.
Teams has enhanced its educational functions with the incorporation of over 30 enhancements for teachers and students that seek to improve remote teaching, as Microsoft announced in a statement. Among the new functions stands out 'Reading Progress', or 'Reading Progress', a tool built into Teams for free that allows students to practice your reading skills by repeating tasks aloud in a supervised way.
This system seeks to combat the decline in the reading skills of young people in recent years, and allows teachers to save time when creating reading fluency tasks for the whole class or for individual students. To correct them, count on automatic functions that analyze English pronunciation. Students who use it can visualize your progress through a data section holistic, with its accuracy and words per minute ratio, as well as common mispronunciations, and it also allows them to practice at their own pace and use the tool as many times as they need.
Microsoft has incorporated other educational innovations in Teams, among which are the group tasks, the third-party application integration to send homework, new ways to integrate the calendar, and updates from providers of managed learning tools.
Other new features of Teams focus on 'gaming', such as integration of the educational special edition of the Minecraft video game with Teams through topics or questions, and with a specific version for camps and clubs outside the classroom.
Likewise, Teams has been enriched with Reflect, an 'app' for teachers that helps them make regular reviews with each student individually, while OneNote has improved its capabilities to integrate content into Teams.
In addition, the platform has improved its security with the introduction of supervised chats, which will be available at the end of May and will allow students to only start chats with teachers present, who will not be able to leave the chat with students present or be eliminated, to avoid cases of harassment.