Microsoft emulates Facebook and targets the metaverse with its avatar meetings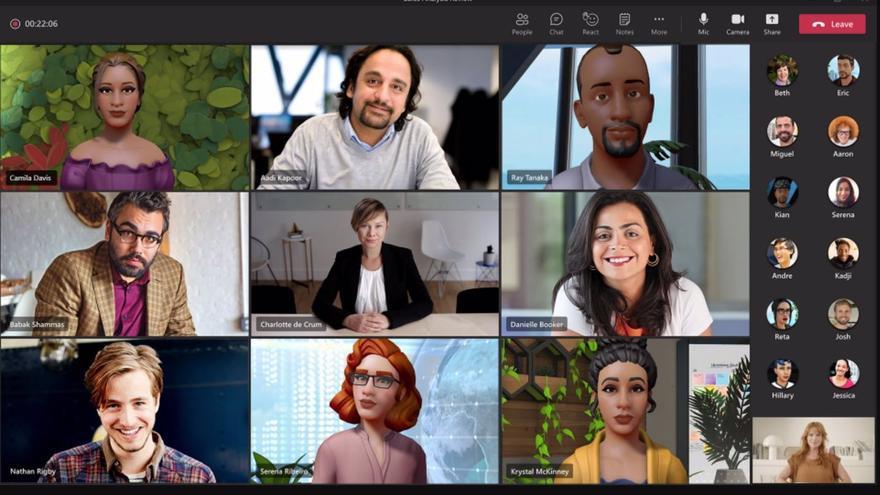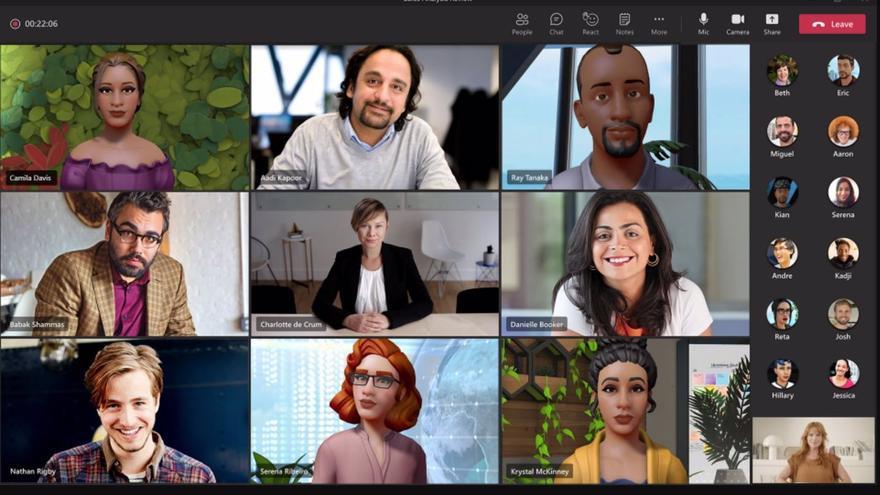 Microsoft has presented new updates focused on the metaverse at its Ignite 2021 event, including Mesh for Microsoft Teams, that allows you to organize meetings without the need to do it only with people because avatars may also be present in these, among other novelties directed at the functions of Artificial intelligence (IA) for customers or security.
This Tuesday Microsoft Ignite 2021 has started, the company's annual conference in which it is aimed at developers and Information Technology (IT) professionals, which will continue until November 4.
Along with the news related to the metaverseIn this edition, the company has given great prominence to Artificial Intelligence (AI), as well as the protection of advanced digital identity. With this, it has announced through a statement about 90 new services and updates with which it intends to know how to make the transition to new hybrid work models, promote innovation, build hyper-connected businesses and guarantee user safety.
At this annual event, Microsoft has highlighted that it is now focusing its efforts on three main areas of work, such as the development of the metaverse concept, Artificial Intelligence and the way it can provide users with the necessary security to keep your data private.
Mainly, Microsoft seeks to push the metaverse, which it has described as a link between the digital universe connected to the physical world that allows sharing experiences between both and facilitates creative collaboration, through the Cloud.
Interactions
Among the novelties offered by Microsoft Cloud is the integration of Artificial Intelligence (AI), which favors the creation of natural interactions through voice and vision machine learning models; as well as the capabilities of IoT, which allow generating digital "twins" of physical objects in the cloud.
Thus, at Ignite 2021 two new features have been presented that affect the evolution of the metaverse. On the one hand, Dynamics 365 Connected Spaces, which brings a fresh perspective on how users interact from any space and how security is managed in a hybrid work environment.
On the other, Mesh for Microsoft Teams, which seeks to offer a sense of shared and real presence on any type of device. With this feature, you can attend a meeting without the need to do so physically, that is, by using custom avatars.
In relation to advances in Artificial Intelligence, the company has announced the availability of Azure OpenAI Service for all users, which until now could only be accessed by invitation. It combines access to the GPT-3 language model with the business capabilities of Azure, the pay-per-use 'cloud' focused on organizations and SMEs.
Thus, Microsoft will offer its 'cloud' customers new tools to guarantee the results of AI models, such as the GPT-3, a tool created by OpenAI that allows you to convert natural language into software code, summarize texts or generate answers to questions, and that these are optimal for your business.
Security
Due to the advancement of hyper-connected environments, the growth of hybrid work and the multi-cloud and 'multiedge' computing, Microsoft has recognized that it considers essential to have a digital ecosystem that inspires trust and provides security to users.
Thus, it has announced that it is working on a system that allows users to establish a connection so that they, as well as organizations, applications or smart devices, can take access decisions in real time and in a secure way.
From now on, they will be able to do it through Azure Active Directory (AD), that extends beyond the protection and administration of access to internal networks of the company and reaches the external collaboration systems.
In order to remove barriers and create a free ecosystem, Microsoft has announced two updates to Teams Connect. On one side, Teams Shared Channels, which allows users to invite an external team to join a channel, collaborate on files, or schedule a shared channel meeting.
On the other hand, Chat with Teams allows users to chat with people outside a network who have a personal email address and stay within the security protocols of your organization.
Other novelties
In addition to presenting the three areas of action on which it will focus from now on, the company has released new products and updates. Among them is Microsoft Loop. It is an 'app' designed for collaborative work with Office documents and tasks.
At this conference, the activation of Microsoft Customer Experience Platform, a tool that gives organizations control of customer data to enhance and personalize their experience.
Another novelty is ContextIQ, a set of capabilities that will better integrate collaboration, sharing, and communication into the Dynamics 365, Office 365, and Teams workflow.