Michael Krüger's Europe | Babelia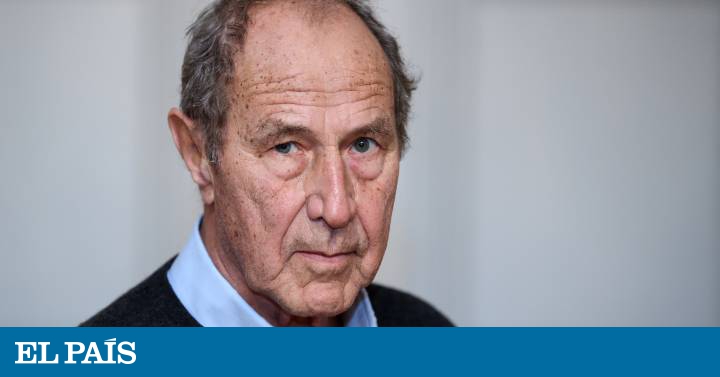 Soglio
Here, where the country is losing itself
on steep uphill you must
tell the sun to stop,
well you calmly
you want to see the summer
disappear in the distance,
that chestnut collector
with the vivid sense of the end.
So, the book,
let it be written alone,
to the rhythm of the fountain,
until the day, tired,
check the speech on the grass
from God, the grumbling prayer of the stones.
Sarajevo
The war has left over the city
charcoal smoke,
he is received with open hands.
I visit the poet Izet Sarajlic
in the atheists' cemetery.
Let's not talk about justice,
he says, she is small as a hazelnut,
and hollow. From your neighbor
they just buried the left hand,
the rest were not found in the war.
The Bosnian Book of the Dead is composed
of a thousand eloquent tears
who want to wear down the earth
before the muezzin's call.
After midnight, a Cyrillic rain,
it tastes like oatmeal and mint,
the devil serves her.
Madrid
How many steps do I have left of the assigned
in the heavenly ledger?
And will a soft landing be planned
or a steep fall? I don't want to be anymore
neither of the two, neither prey nor hunter.
Give me a few more meters, show me please
the clear trace of the road there,
where it loses and divides me.
I know, living is not a long-term task,
since we lost the gift of immortality …
although for such a finite prize
the infinitely high bet
it seems excessive to me.
So let's walk a few meters together
more, take my hand fumbling for yours,
well we are probably closer
that you and I never suspected.
Düsseldorf
I collect here the last words
before splintering in the cold,
the little word peace, lean and trembling;
equality has remained in the bones;
brotherhood has choked me.
Gardener Maximilian Friedrich Weyhe
from Poppelsdorf, a student of Lenné,
gave me a bunch of flowers,
that I put together the words and threw it away
all to the murky waters of the Rhine.
I threw away my book right away,
so there would be peace at once.
Translation by Cecilia Dreymüller. Michael Krüger (Wittgendorf, 1943) is a prestigious poet, essayist, and literary critic. He was co-director, with Klaus Wagenbach, of the magazine Tintenfisch and literary director of the Hanser publishing house. The Anagrama publishing house has published its books in Spanish The end of the novel and the trilogy formed by What to do?, Why Beijing? and Why precisely me?
Soglio
Hier, wo das Land sich steil / nach oben verliert, musst du / der Sonne sagen, / dass sie stillstehen soll, / weil du in aller Ruhe / dem Sommer nachsehen willst, / dem Kastanienpflücker / mit dem hellen Sinn für das Ende. // Also soll das Buch sich / von selber schreiben, / im Rythmus des Brunnens, / bis der Tag, müde geworden, / im Gras die Rede Gottes nachliest, / das aufmüpfige Gebet der Steine.
Sarajevo
Der Krieg hat den Holzkohlenrauch / über der Stadt stehen gelassen, / man empfängt ihn mit offenen Händen. / Ich besuche den Dichter Izet Saralic / auf dem Friedhof der Atheisten. / Reden wir nicht von Gerechtigkeit, / sagt er, sie ist klein wie eine Haselnuss / und leer. Von seinem Nachbarn / ist nur die linke Hand begraben, / der Resta war nicht aufzufinden im Krieg. // Das bosnische Totenbuch besteht / aus tausend wortgewaltigen Tränen, / die wollen die Erde zermürben, / bevor der Muezzin ruft zum Gebet. / Nach Mitternacht ein kyrillischer Regen, / er schmeckt nach Hafermehl und Minze / und wird vom Teufel serviert.
Madrid
Wie viele Schritte sind mir noch zugemessen / im Himmlischen Hauptbuch? / Und ist eine sanfte Landung geplant / oder ein Absturz? Ich will beides nicht mehr sein, / weder Beute noch Jäger. / Gib mir noch ein paar Meter, bitte zeig mir / die helle Spur des Wegs bis dahin, / wo sie mich verliert und sich spaltet. / Ich weiß, Leben ist kein langfristiges Unternehmen, / seit wir die Gabe der / nsterblichekit / verloren haben – aber mir scheint, / der unendlich hohe Einsatz / auf endlichen Gewinn ist zu hoch. / Also lass uns noch ein paar Meter gemeinsam / gehen, nimm meine tastende Hand, / denn wahrscheinlich sind wir uns näher, / als wir es je ahnten zu sein.
Düsseldorf
Ich sammle hier die letzten Wörter ein, / bevor sie in der Kälte brechen, / das Wörtchen Friede, / bgehärmt und zitternd, / Gleichheit, nur noch Haut und Knochen, / die Brüderlichkeit steckt mir im Hals. / Der Gärtner Maximilian Friedrich Weyhe / aus Poppelsdorf, ein Schüler von Lenné, / schenkte mir ein Bündel Blumen, / die legt 'ich zu den Wörtern und warf / dann alles in den trüben Rhein, / mein Buch warf ich gleich hinterher, / denn is sollt 'endlich Ruhe sein.
Michael Krüger, one of the greats of German lyric today, publishes a "transnational" book. The verses come out of his 2018 travel diary, "the year in which official Europe lost its mind." According to the author, "the whole of the East was sinking into an authoritarian swamp of right-wing people. In Spain hatred grew between Barcelona and Madrid and Italy was governed by a coalition whose only foundation was xenophobia "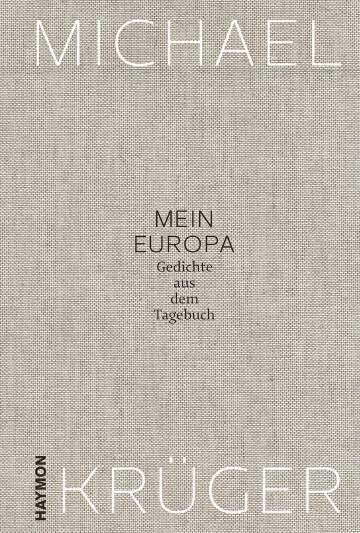 Cecilia Dreymüller
It is not frequent to find a book in verse with a transnational overview. A book where the poet's precise radar detects in the fine breaks here and there the great collapses of our time. And he knows how to link them with reflections on illness and death without falling into regret or sentimentality, but, on the contrary, doing it with the natural lightness of which he does not care. Neither his vision nor his death: the first thing Michael Krüger does in the postface of My europe -the most recent collection of poems by one of the great figures of German poetry- is to apologize for the book's pompous title.
Nor does he want to call poems "what the eyes roared" on walks through cities and fields for just over a year. True to the German tradition of occasional poetry, Krüger presents "texts" taken from the 2018 diary, while his literary turbine work took him from Munich to Sarajevo, from Salamanca to Darmstadt or from Zürich to Warsaw. There, in passing, she has collected the "lessons of the oaks" ("When the leaves touch her requiem / coincides most sublime with the end") or the "wisdom of the birds" ("She has no fixed residence / her song , nor ruled paper "). But not as a luxury tourist intellectual Cees Nooteboom, or universal Enzensberger-like explainer, but as a melancholic stroller, but invariably curious and empathetic who still tries to decipher the message of the garbage collectors in an urban dawn, that of "a Cyrillic rain "in a cemetery, or on a granite wall.
When referring to the political context of that 2018, however, Krüger pronounces himself in no lyrical way: "It is the year in which official Europe lost its head. The whole of the East, starting with Germany, passing through Poland, Hungary and Romania even Russia sinks into an authoritarian right-wing bog. In Spain hatred grows between Barcelona and Madrid, Italy is governed by a coalition whose only common foundation is xenophobia, in the Balkans they do not stop fighting. "
The late poetry of the combative European Krüger, who with a long dozen poetry books has left his unmistakable impressionist impressionist stamp on the road, it moves with its human proximity and sincerity. Purged and concentrated to the limits of silence, she balances calmly between the question and the philosophical finding. Without pretentions. "We must speak of the world in a way that is self-explanatory." Michael Krüger knows how to do it.
Mein Europe. Gedichte aus dem Tagebuch. Michael Krüger. Haymon Verlag, Innsbruck-Wien. 248 pages. 24.00 euros.