Michael Gieler: "'Dido and Aeneas' is one of the most beautiful pieces of music ever written"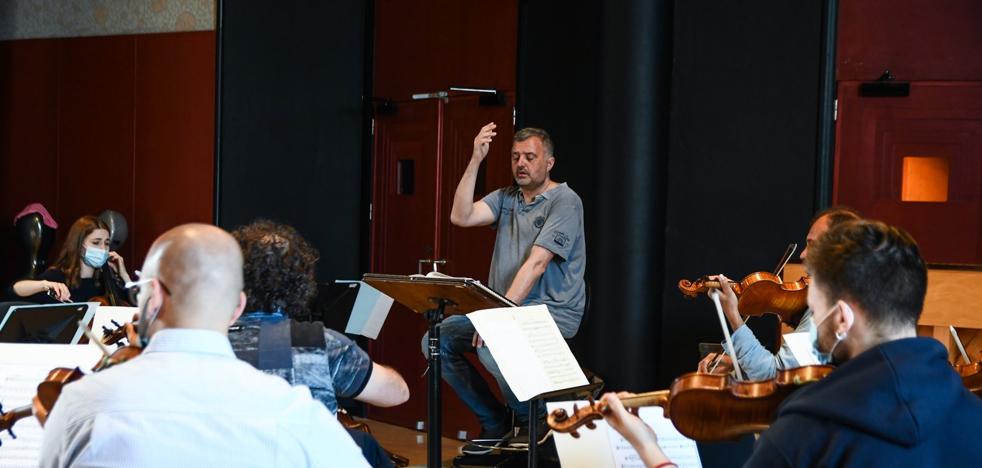 Michael Gieler directs the version of Henry Purcell's opera that is being performed this Wednesday at the Pérez Galdós Theater, within the IBF Canarias
"Once you've heard Dido's lament 'When I am laid in earth' before her death, you will never forget it," warns Michael Gieler, viola and musical director of the opera 'Dido and Aeneas'. ', by Henry Purcell, which will be performed this Wednesday, starting at 8:00 p.m., at the Pérez Galdós Theater in the capital of Gran Canaria as part of the International Bach Festival Canarias (IBF).
"'Dido and Aeneas' by Purcell is one of the most beautiful pieces of music ever written. This short work has everything a true opera needs: love, drama, humour, happiness, betrayal, despair and death", explains Gieler about this first and only fully sung opera by this British Baroque composer.
Michael Gieler acknowledges that the only drawback of 'Dido and Aeneas' is its short duration. "It is very short, everything happens very quickly. In our new Meriç Artaç prologue we add depth to the characters in the play. It works pretty well. From my point of view the work is now even better. Peter Leung, the artistic director, designed it as a true chamber opera, which means that all the singers are related, interacting, even in scene changes. This makes it more dynamic and also brings a fun touch, "says the director.
He recognizes that its short duration has been fundamental so that 'Dido and Aeneas' does not appear in the usual repertoire of theaters and opera festivals. "With our new prologue it is perfect. We felt that we had not only a sad story but the story behind that story. Why is Dido so sad at first? what made such a triumphant queen so unhappy? Our Dido does not die from a broken heart but she dies from a broken life. Tragic and palpable at the same time », she says.
Michael Gieler calls Purcell's score "a true work of art, filled with many musical gems". "I mentioned Dido's lament but I could easily name more: the first entry of the Sorceress aria for example: the 'Wayward sisters'. This short scene anticipates a world which was only rediscovered later by Carl Maria van Weber in his 'Freischütz', but more precisely. You hear some chords and it immediately transports you to hell », he comments.
He emphasizes that it was not difficult to find the right casting for this production. «At the IBF we have a great tradition of casting, especially of young singers. The interpretations of Tania Lorenzo and the Ainur choir are exquisite », he assures.
Soloists Tania Lorenzo, Irene Verbug, Steven van del Linden and Lotte Betts-Dean will perform this Wednesday on the stage of the Pérez Galdós Theater together with the International Bach Festival (IBF) Orchestra and the Ainur Chamber Choir.
Regarding the vocal characteristics required by 'Dido and Aeneas', by Purcell, Michael Gieler considers that the presence of "contained and clean vibrato" is essential for singers.
"But probably just as importantly, we need singers who understand that this music is dramatic, but it also has its humorous side. Just like life itself. It could be said with a lot of irony, that it is something typically English. If you approach this music like Wagner or Bellini, you won't make it. Its protagonists take themselves too seriously," highlights Michael Gieler.
It details the ins and outs of the IBF when selecting the castings. "We don't want to rely on big name people to fill our events with visitors. They come because they know that we choose great talents and offer good music, performed with all our hearts. I am grateful that Gran Canaria has a great tradition of singers of the highest level, such as the Ainur Choir and the soloist Tania Lorenzo».
This production has already toured the Netherlands, which, according to its musical director, generates great "tranquility" before tomorrow's coming-out on the island.
"Our dream is to have an even richer program that attracts more audiences"

The International Bach Festival (IBF) hosts this Tuesday the 'Intimate Bach' concert, in the Chamber Hall of the Alfredo Kraus Auditorium, starting at 8:00 p.m., with pieces by Ravel, Bach and Schönberg, performed by musicians from the Royal Concertgebouw of Amsterdam and the Philharmonic Orchestra of Gran Canaria (OFGC).
Michael Gieler, who directs the festival together with Adriana Ilieva, viola of the OFGC, is "very grateful" for the support that this initiative receives from private sponsors and public institutions on the islands. "They have supported us and provided a lifeline during these last two years of the pandemic that have been so complicated. It allowed us to continue building our festival concept and grow artistically, but also professionally and organizationally. It is very important to give way to our goals and ambitions. Our dream is to have an even richer program that attracts more and more people to the Canary Islands, not only because of the good gastronomy and its excellent beaches, but also because of an exciting festival with wonderful music such as the IBF", emphasizes Gieler.
He aspires, he acknowledges, to be able to take some of the festival's productions to other islands in future editions.
This week is completed on Thursday, the 14th, with an organ recital, with Daniel Oyarzabal and the violinist Miriam Hontana, at noon at the Alfredo Kraus Auditorium and in the afternoon with the concert 'Bach&MásAllah II', at the Hotel Santa Catalina , with soprano Irene Verbug, tenor Steven van der Linden, flutist Kersten Macall, cellist Lydy Blijdorp and Asako Ueda with the theorbo.
On the 16th, starting at 8:30 pm, it will be the turn of the 'Bach Jazz. Play What you fell, again in the Jerónimo Saavedra Hall of the Alfredo Kraus Auditorium, with the singer and double bassist Beatrice Valente, the pianist Ergio Valente and Javier Montero on drums.