Mexico emerges in the Castillo del Romeral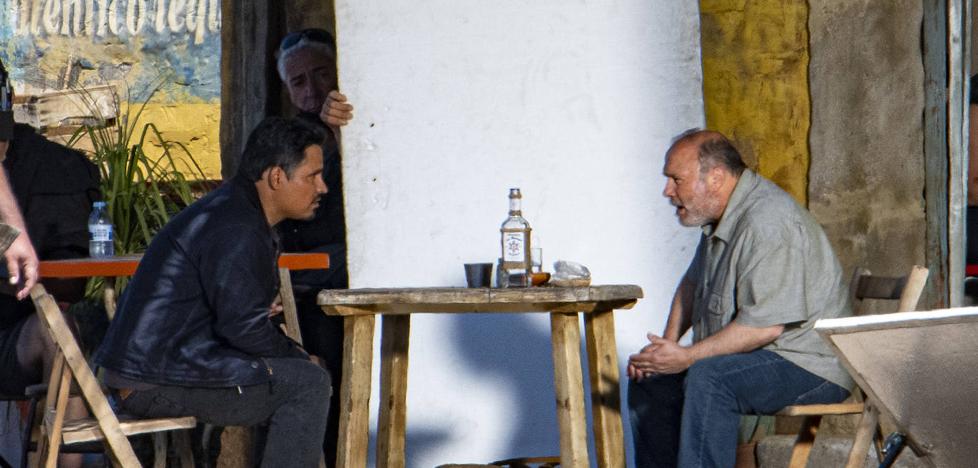 The American actor Michael Peña stars in the shots of the series 'Jack Ryan' that were recorded this Monday in this enclave of Gran Canaria
A beach bar in Mexico opened its doors on Monday in
The Romeral Castle. And the coming-out of it was attended by a regular in Hollywood productions, the American actor of Mexican descent
Michael Penawho starred in a large part of the scenes that were shot for the fourth season of the
'Jack Ryan' series in this enclave of the Gran Canaria municipality of San Bartolomé de Tirajana.
Until Thursday, this bar, located inside this fiction on a beach in Mexico, and
the port of the castle del Romeral, according to the sources consulted, will be the outdoor set in which a good number of scenes will be shot, especially at night, for this production that has the Canarian company
Seven Islands Film as local link.
municipal side

It should be remembered that the San Bartolomé City Council itself published a statement more than a week ago in which it alerted the population of this neighborhood to the noise -especially gunshots and small explosions- that would be generated by the filming of this action series, which stars the agent of the
CIA Jack Ryanbrought to life by the Bostonian interpreter
John Krasinski.
Michael Peña, this Monday, at the Castillo del Romeral. /

arcadio suarez

He also warned of
street cuts, partial and total, in some moments, which will require the recording of some scenes.
More locations

Melonerasalso in San Bartolomé de Tirajana,
Arucas and the Village are other Gran Canarian municipalities that the production team of 'Jack Ryan' has chosen in Gran Canaria as locations.
This production landed in the archipelago last April, specifically in
Tenerife, where he was filming for several weeks.
The production team, this Monday at the Castillo del Romeral. /

arcadio suarez

Michael Pena (Chicago, 1976), as this newspaper announced on January 11, is one of the new additions for this fourth season. They also take on new roles
Zuleikha Robinson and Okieriete Onaodowan.
Another moment of filming in San Bartolomé de Tirajana. /

arcadio suarez

Among the most popular productions in which Michael Peña has participated are the films
'The Shooter', 'World Trade Center', 'Crash''Marte', 'La Mula' and series like 'Narcos: México' and 'The Shield', among others.
The Mexican bar where part of this fiction takes place and which has been built in the Castillo del Romeral. /

arcadio suarez

Amazon Prime Video has not yet broadcast the
third season from 'Jack Ryan'.