Merkel demands "commitment" from European countries to agree on the Budget and the rescue fund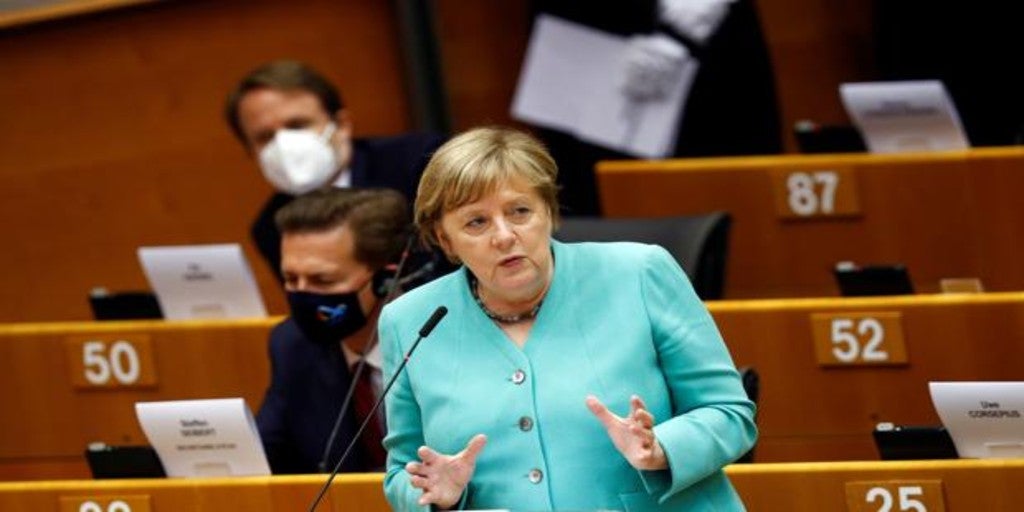 Berlin
Updated:
save

German Chancellor Angela Merkel has released the German presidency with a visit to Brussels to lay the foundations for a decisive semester and promote an agreement on the European rescue fund. In this regard, he insisted on Wednesday that the European Union "cannot waste more time" and urged all countries to show willingness to "compromise" to close an agreement in July on the European budget for 2021-2027 and the economic recovery plan.
In a speech before the plenary session of the European Parliament, the chancellor stressed that "The most vulnerable" are those who will suffer if an agreement is not reached soon, and recalled that the EU is facing an "unprecedented" challenge.
"We want to reach an agreement quickly. We have already seen the upheaval in the economy, we cannot waste time any more ", Merkel pointed out to the MEPs, to whom she also presented the priorities of the German rotating presidency of the Council, which began on July 1 and will last until December 31. Merkel has also stressed that she expects a consensus to be reached on these packages "before the summer break."
The first scenario in which the topic will be addressed will be European leaders' summit on July 17 and 18 in Brussels, to which the countries arrive with deep divisions on the amount or the conditions of disbursement of these funds. If a pact were not closed at this meeting, the EU's heads of state and government could meet again before the end of July.
In any case, the chancellor has insisted that it will be necessary "See many commitments" from all parties involved in the negotiation and recalled that, being an extraordinary situation, Germany took, together with France, a first step by proposing a recovery fund of 500,000 million euros to disburse in grants.
The European Commission «It has taken many facets of the Franco-German plan»In her proposal, Merkel said, referring to the package of 750,000 million for the recovery plan and 1.1 billion for the budget that Brussels presented in June and that will be one of the bases of the negotiation.
In her speech, Merkel added that, beyond agreeing on this budget package, the german presidency wants to advance on issues such as immigration reform, the climate crisis or the digitization of the continent.