Mercedes Milá: "Miguel Bosé has to calm down a bit"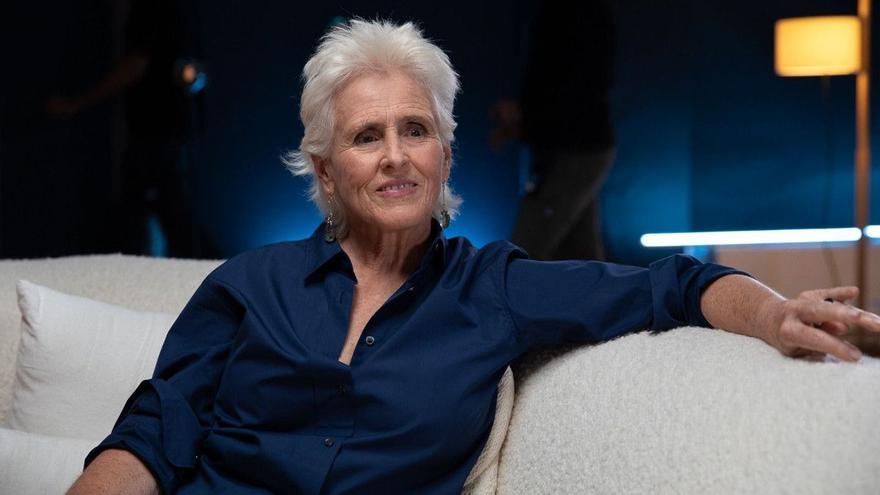 Mercedes Mila ensures that he does not usually have nostalgia for the past. "I almost never turn to it. It doesn't bring me happiness. Do you know what it does bring me? The photos my father made, that I won't get tired of looking at them. That may be why I like it so much Instagram"He reflects. He does not even keep at home the interviews of mythical programs that he presented decades ago as 'Two for two', 'Good evening', 'Thursday to Thursday' or 'We want to know'Instead, she gave them to a friend, who keeps them safe. But to prepare 'Mila vs. Mila ', his new project that reaches channel # 0 of Movistar + This Wednesday, October 13 (10 p.m.), he had to look back and recover some of the conversations he had in the 70s, 80s or 90s with well-known characters to prepare a new talk with them and see how they have evolved since then .
"The idea was to take the old interviews and transfer them to the present and, if that person lives and is willing to sit down again with his interview from years ago, do it today," explains the Catalan journalist, who anticipated viral phenomena with big 'hits' like when Camilo José Cela revealed his ability to absorb water from a basin anally or the moment 'I have come to talk about my book' by Francisco Umbral. "I will have to thank him all my life that young kids know me thanks to him. He made me have a very bad time that day, but it turns out that he did me a favor," he admits, already recovered from the scare of a few days ago, when he fell from the bike and hit the head. "They have removed the stitches and the wound is very good. It is overcome," he reassures the audience.
From García to Serrat and Massiel
In his new interviews with Jose Maria Garcia, Massiel, Manuela Carmena, Lola herrera, Ramoncin and Joan Manuel Serrat Not only is the logical physical change of the guests noted over time by contrasting the old images with the current ones, but the attitude of some today is totally different from yesterday. Like the one who was the leader of radio radio for decades, whom Milá confesses that he has a lot of affection. "Now we see him in peace, I don't know if it is because of his grandchildren, or because it was very hard for him to stop working in 2002 and have cancer in 2005," says the presenter, who is so outgoing before the camera as we are used to, shutting up his guests without remorse or throwing himself (literally) to the ground laughing.
"I've always been like this. There is nothing calculated," justifies the presenter, who feels so identified with the title 'What comes out of the bolus' with which he baptized his blog and his book. "I do what comes out of the gig, but relatively, because I am respectful. What happens is that if I see that something can relax the atmosphere or break a state of nerves, I do it: I think I have, if I'm not mistaken, a gift for the spectacle. And a television interview is not another thing that a spectacle ", considers.
Miguel Bosé's challenge
The journalist, who continues to defend tooth and nail that 'sociological experiment' that they sold us in the first 'Big Brother'She claims to feel "very proud" of having presented that television phenomenon. Doesn't it make you angry then that she is remembered more for that stage than for her interviews? "Not at all, because I think people have to remember people for what they want. I will never complain, because I am everything: interviewer, debate journalist, host of 'GH', traveling salesman. 'Scott and Mila' and now putting the past in the present in a program that, for me, has a lot of magic ", he emphasizes.
The one who is missing in this batch of guests of 'Milá vs. Mila 'is a Miguel Bosé, whose interview in 'We want to know' in 1992 to deny the hoax that claimed that the singer had died of AIDS is another of the journalist's great television moments. "He has always been in the programs I have done, so it would be lovely to have him again," she indicates, although she remarks that "now the oven for buns is not there." "Miguel has to calm down a bit, find his place and stop being so nervous, but I never lose hope," he concludes.