Menu in hospitals on Canary Islands Day: watercress stew, wrinkled potatoes, gofio …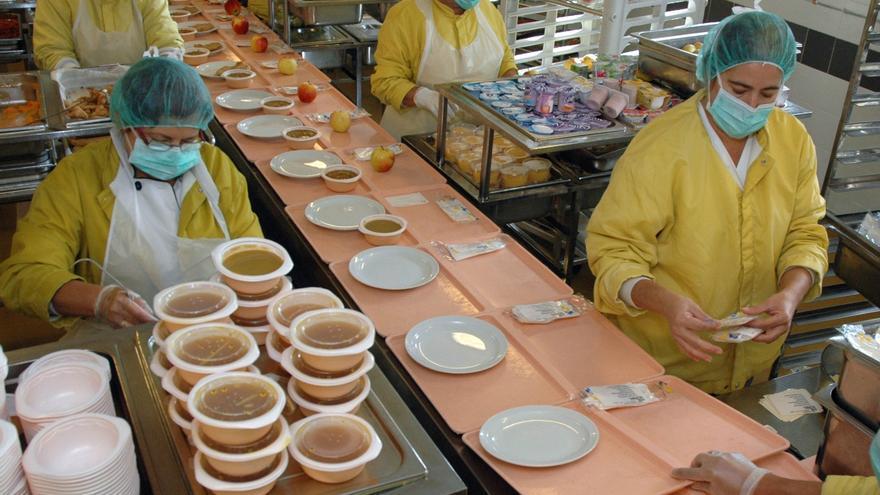 The Public hospitals of the Canary Islands Health Service (SCS), attached to the Ministry of Health of the Government of the Canary Islands, will offer on the occasion of the Canary Islands Day Special menus made with local products with which admitted patients will be able to enjoy the commemoration of this festivity by tasting typical Canarian dishes that will help them make their hospitalization period more bearable.
Since the admitted patients present different pathologies, the menus prepared will follow medical guidelines and will be adapted to the nutritional needs of the patients. For this reason, the meals will be adapted in different versions, such as for people with diabetes, hypertension or who must follow low-fat or astringent diets.
Thus, in Tenerife, the kitchen service of the Our Lady of Candelaria University Hospital he will prepare watercress stew, rabbit in salmorejo with wrinkled potatoes and, to conclude, gofio mouse. For its part, in the HUniversity Hospital of the Canary Islands Tomorrow's menu will consist of first class watercress puree, second ribs with steamed potatoes and gofio and, for dessert, tocinillo de cielo with yogurt.
Patients admitted to the Maternal and Child Insular University Hospital Complex for the Day of the Canary Islands they will have vegetable soup from first; second, canarian sancocho with red mojo and, for dessert, gofio custard with bienmesabe.
The University Hospital of Gran Canaria Dr. Negrín He offers his patients a menu consisting of pumpkin cream, green coriander stoker with boiled potatoes, and Greek yogurt with papaya cream for dessert. In addition, the Management Directorate of the hospital center congratulates all the patients on Canary Islands Day through a commemorative card prepared in the different food trays.
In the Hospital Doctor José Molina OrosaIn Lanzarote, a Canarian salad with avocado and country cheese will be served as the first course, the second corvina sancocho with wrinkled potatoes and sweet potato and, for dessert, gofio mouse.
The General Hospital of Fuerteventura He has prepared for that day a menu consisting of watercress stew, gofio pella and Majorero cheese first, goat meat composed second and rice pudding for dessert.
The General Hospital of La Palma has prepared a menu consisting of minced meat soup for the first class, a stoker in sauce with sweet potato and gofio for the second class, and chocolate custard with crunchy almonds for dessert.
For its part, in the Our Lady of the Kings HospitalIn El Hierro, a menu based on Herreño cheese broth will be offered first, cod onions with sweet potatoes second and frangollo for dessert.
Finally, patients admitted to the Our Lady of Guadalupe HospitalIn La Gomera, you can enjoy a Canarian ranch for the first course, tuna in adobo sauce with wrinkled potatoes for the second course, and roasted milk for dessert.