Mental health finds an ally in technology in the middle of Covid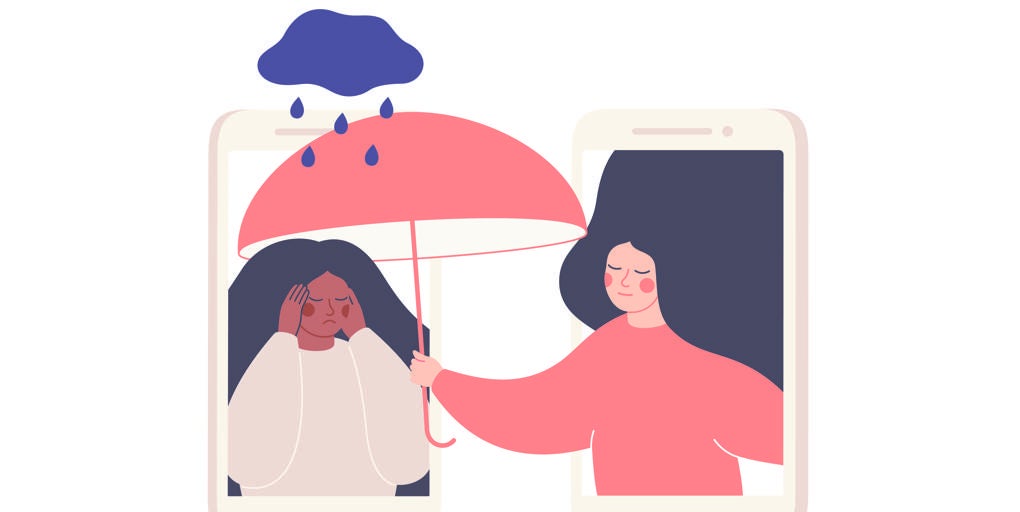 Updated:
Keep

The pandemic is serving to give visibility to the
importance of mental health, still highly stigmatized in Spain. It is true that in recent years we have witnessed the appearance of different Spanish startups that are developing solutions to improve this part of health, often forgotten. But without any doubt, with Covid, companies working in this direction are growing, looking for tools to combat these problems.
"It is an existing reality that has now become more prominent. Visibility is very important to understand that these problems happen to all of us, that we are vulnerable and that is what mental health specialists are for, "he recalls Timanfaya Hernandez, health and forensic psychologist, deputy secretary of the Governing Board of the Official College of Psychologists of Madrid.
The pandemic "has affected the entire population" and it has meant that «people who did not have a psychological problem have developed it and in others there has been a flare-up of the symptom. It has been tremendous, it affects all areas of daily life, "he clarifies.
For Timanfaya Hernández, the evolution of technology that is taking place in this field «is tremendously useful, helps reach people in circumstances we might not otherwise be able to. Videoconferencing, for example, gives us many possibilities. However, remember that these instruments «must be at the service of our profession. The important thing is the professional and that the tools serve him as such, they can never replace him ». When this technology is in the hands of good professionals, the result is good, although remember that direct contact "gives us a lot of information". It cannot be forgotten that they are tools and that therefore "quality care must be prioritized, human care, which cannot be supplied with technological tools", he clarifies.
Anabel FernandezCEO of Affor, a consultancy specializing in psychosocial prevention, points out that everything we have experienced with the pandemic, confinement, mobility restrictions and others «has put us to the test in many ways.
In all cases it has affected our psychological health, generating symptoms of stress or anxiety in almost 70% of the workforce, which has had to radically change their routine and face situations of uncertainty unknown until now. To all this we must add that mental health has traditionally been the great neglected of the SNS. «Currently the highest volume of consultations in primary care is related to mental and mood disorders, and yet we are not capable of ensuring that citizens are cared for in less than six months by a professional», Reveals. Only those who have the resources to meet the costs of therapy "go to private health psychologists, who today are also overwhelmed by the increase in demand for care."
Concern for psychosocial well-being has begun to grow in the workplaces themselves. "The intrapersonal self-management that each of us makes of their emotional states as well as the care of interpersonal relationships is key to avoid situations of lack of communication, adequate leadership, poor work organization and also situations of stress and workplace violence," he explains Anabel Fernandez. The management of psychosocial risks has been mandatory for all companies since 1995, when the Occupational Risk Prevention Law was approved, "but it is not until recently that companies have begun to take care of these aspects of health," he adds. From Affor they confirm that there are more and more companies launching wellness programs that eliminate dysfunctional situations in the workplace, while caring for and protecting employees on a psychological level.
Digitization has reached all sectors of activity, "and in psychology we already have many positive and successful experiences that allow us to favor access to resources for people with the greatest need and least resources," says the CEO of the consultancy. They have a tool in technology that can be part of the solution «Both to provide resources for primary care and psychoeducation, through audiovisual content, identification / 'screening' of symptoms and awareness of the discomfort experienced; as for the follow-up of cases and automation of processes of agendas and appointments between users and professionals; as well as to facilitate access to these resources synchronously and in a 24/7 format to those people who need to be attended to in a timely manner.
1two3
Virtual reality dose to learn to overcome problems

With a Ph.D. in the US and good job prospects, Xavier Palomer He decided to return to Barcelona to find his dreams: to be a physicist and a businessman. It was in a chat with friends, one afraid of flying and another psychologist, that he realized the potential of virtual reality in the field of therapy. That was how he was born Psious, and in 2013 he began working on prototypes, modifying 3D glasses from China and having both psychologists and psychiatrists on his team. In 2016, thanks to the technology developed by Samsung, "we adapted our software based on the hardware carried out by the technology," says Palomer.

Psious is the first fully immersive virtual reality platform specifically designed for the improvement of the clinical practice of professionals working in mental health. The platform has more than 70 virtual reality environments, augmented reality and 360º videos to offer total versatility to the therapist. «One of the techniques used is that of exposure. In other words, exposing the patient to a situation that causes phobia, pain, depression … so that they get used to it ", explains the founder and CEO of the company. His clients are mental health professionals, both individuals and networks of centers.

Leading sector

They are present in more than 50 countries, with three major foci: Spain, Europe and the US "It is important to reinforce that Spain leads the virtual reality sector, along with the United States", points out Palomer. With the pandemic they have seen their business strengthened, managing to double their turnover in the last year. "There has been a significant increase in the demand for mint health and it is expected to grow in the coming years. In this time we have all been accumulating many things, especially the young, who are the ones who have suffered the most, "he adds.

This platform is used in projects in which mental health is worked in different ways, such as in the Vall d'Hebron hospital with breast cancer patients, "to manage the stress generated by living in this situation."

Professionals tailored to every need

TherapyChat emerged in 2016 with the aim of democratizing psychology and making it more accessible. Its founders came from previous projects on the Internet and surrounded themselves with a team of psychologists because they understood that it was time to bet on this sector. «It started as a chat consultation but we soon realized that it was not working as we expected, it was not necessary to reinvent psychology but to take it to the Internet and in a few months the consultations were already by video calls, "he explains Alessandro De Sario, co-founder and CEO of TherapyChat. He points out as strengths of the project "the technology we have developed, everything encrypted, and the quality of the psychologist."

Through a virtual assistant, the user creates his account and is assigned to the most appropriate psychologist based on the needs and preferences of each person. "People do not know how to choose the best psychologist for each situation and many times they turn to him for a reason that is not the cause of the problem," says De Sario. He believes that in Spain, as in many other countries, there is still the stigma of going to the psychologist and with this application "it is more convenient for people, who do not have to tell anyone that they are looking for a professional psychologist." Furthermore, another factor to take into account is the travel time that is avoided and "those people who live in small places have access to a greater variety of professionals from different specialties." Sessions are 60 minutes and the value ranges between 29 and 39 euros. The patient pays directly to the psychologist who in turn pays a commission for using the platform.

The network of psychologists in Spain is 350 professionals after a significant growth during the pandemic. "With the clinics closed, many more patients looked for us, but also psychologists who wanted to work, which allowed us to meet the strong demand." Anxiety and depression, self-esteem and personal development and couples therapy are the topics that are most discussed in the consultations.

The Netflix of personal growth and self-esteem

A mixture of personal curiosities led to Tabaré Majem to embark a couple of years ago in Me I, an application that teaches you to boost your self-esteem and control anxiety and stress. «I had already participated in another project of a startup, an ethical comparator, and we wanted to contribute a grain of sand on a technological level. AI and algorithms are used, but few apply it meaningfully, "says Majem. Meyo uses a lot of audiovisual content, short films and practical exercises"We want people to enjoy themselves to generate more adherence," he adds.

The initial idea was to target more 'millennials' and generation Z but they have a very different profile of users who pay a fee monthly subscription of 6.99 euros by this app. In the last year they have achieved 150,000 subscribers and hope to reach one million in the next twelve months, although now they are putting the focus on the company. "It is an important change that we have noticed, companies have realized the importance of the mental health of employees, for the good of all." They are present in the entire Spanish-speaking market and want to make the leap to other English-speaking countries.

Challenges and exercises

This tool includes many tips, challenges and exercises to solve different problems such as improving mood, being happy as a couple, strengthening self-confidence or improving nutrition.