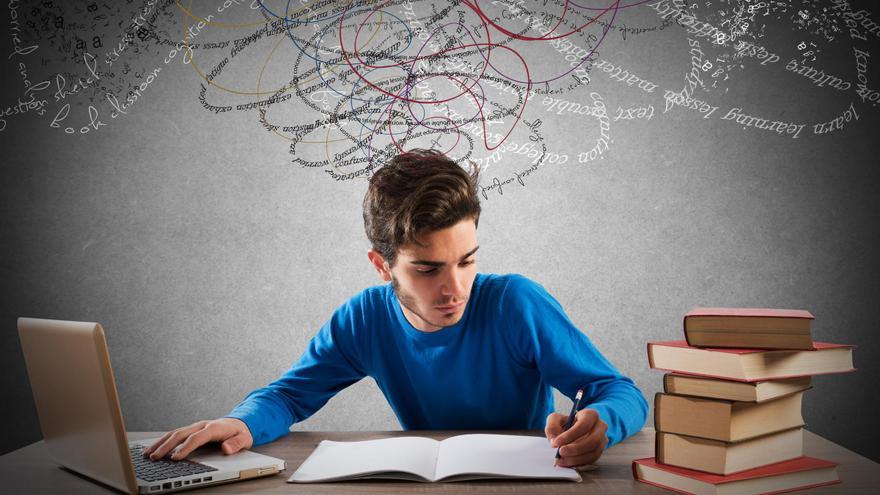 The pandemic by covid-19 and the months of confinement have stressed the market for job Spanish. In many labor sectors it has resulted in a increased pressure, with longer working hours and with more work for the essential groups, in moving to the telecommuting, in the case of office jobs and, for the less fortunate, in a few months and even years of unemployment, especially in the sectors that have had to paralyze their activity.
All of this has led to emotional wear and tear linked to fear of contagion, changes in the environment or activity, a decline in the quality of work, fear of job loss and generalized financial anguish in a few months characterized by layoffs, ERTE and a lot of uncertainty.
Pandemic fatigue, mental fatigue derived from this situation, has become a widespread symptom of the effects of the coronavirus. And as if it were the tip of an iceberg, for the moment we can see the first collateral damage from the increase in this pressure in terms of mental health in the group of Spanish workers. "We see this pandemic fatigue and exhaustion in the primary care and outpatient clinics of the hospitals.: the resistance of the population is decreasing ", explains Fernando García Benavides, Professor of Public Health at Pompeu Fabra University (UPF) and director of the Center for Research in Occupational Health at this university.
On alert
The novelty, in this case, is that society pays more attention to the consequences of the passage of covid-19 in the form of mental health diseases. "The population is more attentive to psychosocial risks, since all sectors have been affected, although some more than others ", highlights Javier Nieto, director of the Office of the International Labor Organization (ILO) for Spain. Mental illnesses have, as a short-term expression, discomfort, sadness, fatigue, insomnia and dissatisfaction and are reflected in the relationship with close people. In the medium and long term they also have consequences on a physical level: "They manifest themselves in cardiovascular diseases, stress and in metabolic and musculoskeletal disorders", explains García Benavides. Many of them are linked to teleworking, a new way of relating to work in a virtual way with which we still have to learn to live. "Teleworking has a significant impact on mental health in relation to the inability to disconnect", highlights the UPF professor. Although teleworking and ERTEs have brought about changes, they have acted as mechanisms to protect the population in economic and security matters. All this is reflected in a increased consumption of psychotropic drugs related to sleep management and anxiety: as pointed out by the survey Working conditions, insecurity and health in the context of covid-19 promoted by the Autonomous University of Barcelona, ​​10% of the women surveyed and 8.5% of men have started taking opioid pain relievers in recent months.
Essential groups
At the moment there are few studies that analyze the impact of the pandemic in physical and mental health in the bulk of Spanish workers. Yes, there are in specific sectors, such as the MIND / COVID study that confirms the impact of the pandemic on health workers and other essential groups, if we consider that many of them have suffered closely the more than 76,500 deaths registered by covid- 19 and suffer from post-traumatic stress. "They have had to face more acute situations than they usually face, already tough, with few means, long hours, higher mortality and a lot of impotence," Nieto points out. MIND / COVID, carried out by researchers from the Hospital del Barcelona, ​​corroborates the impact on mental health: almost half of health workers have a high risk of suffering a mental disorder after a year of pandemic, 14.5% suffer a mental pathology and, in the worst case, 3.5% of the group have suicidal ideas.
In addition, these effects are combined with a Spanish psychosocial care system with little capacity to provide health care in psychological terms. "There is approximately one professional for every 100,000 users. These are huge inattention figures, "Nieto underlines.
Companies and organizations
This situation has led many Spanish companies to mobilize their human resources professionals to prevent sick leave due to anxiety.
"Occupational risk prevention services must be at the center of solving this problem, with which they must be in the crisis cabinets that have been formed in companies to face the health and economic crisis", explains García Benavides. In fact, a good part of CSR at this time involves assuming its responsibility in the face of the pandemic: "There are possibilities to assess the psychosocial risks of workers and work to prevent them", Nieto highlights.
The resources at their supply are multiple, they go through the provision of prevention plans and to guarantee that workers re-enter their workplaces with the pertinent security measures.