Menchu ​​Álvarez, Queen Letizia's grandmother, dies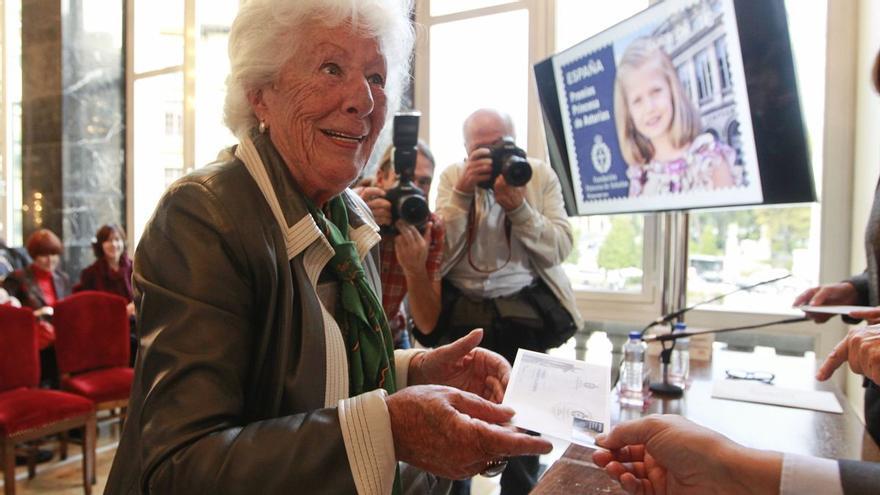 The grandmother of the Queen Letizia, Menchu ​​Álvarez del Valle , has died this July 27 at 93 years of age.
Menchu ​​Álvarez del Valle, born in Santander on January 16, 1928, He was one of the most popular voices on Asturian radio. She always defined herself as a "radio station player from the provinces" and worked for more than 40 years on networks such as Radio Asturias, Radio Oviedo, La Voz del Principado, Radiocadena Española and Radio Nacional de España. She lived in Oviedo from the age of 16 until she decided to move with her husband, Jose Luis Ortiz, died in 2005, to the small village of Sardéu, where Doña Letizia Ortiz spent the summer during her childhood and youth. Menchu ​​Álvarez del Valle received the National Radio Prize four years ago, awarded by the Academy of Radio Arts and Sciences of Spain.
The announcer was president of the Asturias RTV Association during the 1974-1980 period and also promoter of the First Confederal Congress of the FARTV (Asturian Federation of Radio and TV) that was held in Oviedo in 1978. Among her many professional recognitions are two "Antena de oro" awards, the Radio Merit Cup from the Spanish High Council of Public Relations and the "Honorary Microphone" from the Spanish Professional Association of Press, Radio and Television Informants.
To Reina Letizia journalism came from home. Her grandmother, Menchu ​​Álvarez del Valle and his father, Jesus Ortiz, practiced the profession for decades. The today Queen of Spain She was a regular at the newsrooms and radio studios where her elders worked in Asturias. Another key figure in that passion for reporting is his great aunt, Marisol Álvarez del Valle, Menchu's sister. and great influence on Letizia's professional career. So much so that the then journalist and today Reina, did a master's degree at the Institute of Specialists in Audiovisual Journalism (IEPA) that her great-aunt founded with Marisol tomás in the mid-90s. Letizia studied at IEPA the master's degree taught by Marisol. Over the years it was the young journalist who came as a teacher to give some lessons to her future colleagues.