Menchu ​​Álvarez del Valle: "I want a funeral with piper and joy"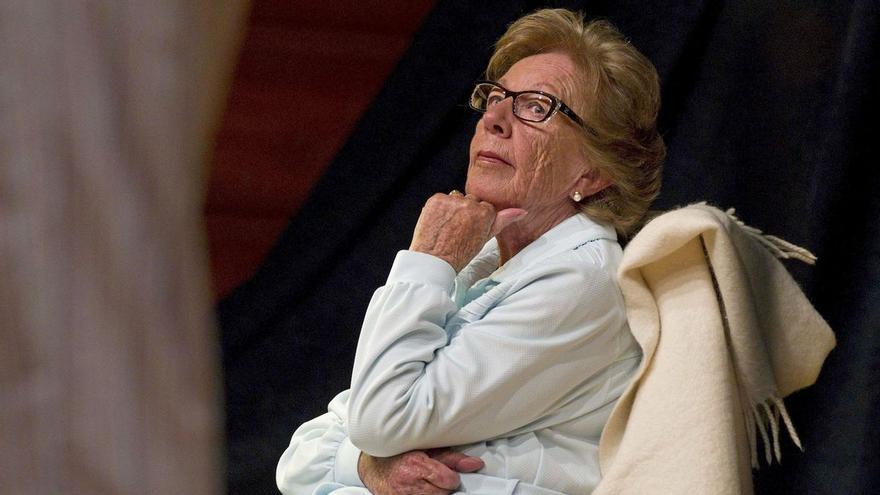 -Hi heart!
He was 92 years old and a timbre in his voice that could still be heard throughout the house in Sardéu, (Ribadesella), although it had been twice as large. That spring the weather was splendid, to compensate for the horror of the confinement or to increase the desire to get out.
-It is a wonder. I walk around the house and see the hydrangeas starting to grow. Throughout the day the greens change. With this silence I hear the sea when it gets angry. I feel privileged. They ask me "How are you alone?" Like God! Nobody passes by on the road. It is the joy of peace. What re you telling me honey?
I tell her something about my work since the confinement and ask her how she is doing it.
–I get up at seven thirty, eight in the morning, to have coffee and three very cute kittens, with white snout, get my first smile of the day, which they put on the kitchen window. I speak with them. So I speak something. There are days when I don't speak at all. In a bag at the door I find the bread and the newspaper.
He had the usual voice, he spoke fast, you could see that he had been happy about the call because he gave himself up to the talk from the first second, without any prevention.
-I'm fine. I get some calls from people and it seems like a joy to me. Is positive. This is how I discard the "Nobody remembers me." I have a little more work to do because I do what the maid solved for me three days a week. I told him not to come. Her name is Inés, she is from Sebreño, charming. He is 55 years old and he fixes my computer when it fails. The problem is that I am a rock of order and cleanliness and I do it, with more effort. Everything except the vacuum cleaner, which I can't handle. I have prepared cooked for about 8 days. I will freeze.
Although Sardéu is one of those places where no war or king seems to have reached, except as someone's boyfriend or husband, I asked him if he was afraid of the covid.
"I'll defend myself if they attack me." I have everything planned and what has to come, when it is, will be. I have a list of my insurances, of Santa Lucia, of the niche and I have written the helplines for those things. I don't want them to say, "Damn, my mother what a mess she was!" I know it's going to happen, but I'm like the priest's joke who addresses the faithful with a lot of fuss saying "brothers, brothers, what a horror I have to tell you!" And the congregation responds with a murmur, scared. "Brothers, brothers, what I have to tell you is that we have to die!" And the whole church talking. "Brothers, brothers, and that's not the bad thing!" You can imagine the atmosphere of anticipation. "Brothers, the trouble is that we don't know when!" Well, I'm going to go and I don't know when. I do know that I do not want a funeral with a mellifluous priest and if it touches me I am able to get up and say "I'm bored! Shut up, damn it, let me go at ease ". I want a funeral with piper and joy!
I clarified that I was referring to whether he feared the coronavirus from what he saw, heard and read.
-The coronavirus does not affect me. I feel sorry for those who die and the elderly. Look, I lived October 34, the Civil War, I was cold, I was hungry, I had lice, I had a ration card and now this is my turn … I was 6 years old when the October revolution. He caught us in León and I remember it tremendously because I was vivacious and saw the faces of the grown-ups. A train with miners went by to Catalonia and my father said: "They have deceived those poor people." Now I don't remember what I ate yesterday. And of words of daily use that, suddenly, do not come.
He paused. I told him that I knew from my long-term ex-smoker experience that I had just lit a cigarette. He laughed a gravelly laugh full of nicotine.
– "Don't smoke, don't smoke", they tell me. Leave me alone! I have heart and bronchial problems.
He continued with the cascading memories.
–On the 30th (March) it was 15 years since José Luis died [Ortiz Velasco, su marido], after the very good years we spent here. March 28 is a very important date for me. On March 28, 1949 we were married. On March 28th, my last great-granddaughter, Amanda, was born, Telma's daughter, very good and studious. I sent him recorded by WhatsApp a fragment of "Platero y yo" and he replied: "How good!"
The great reciter continued to record for the family with mobile technology, which a woman who entered the radio when the records were made of slate and recorded years of words on double coil tapes never dreamed of.
–My son calls me every day, I talk to my granddaughters …
"I've been alone for 15 years, but I see myself, so I point my eye, I fix myself, I dress. That you see yourself is also important. With my white hair. And I accept it"
I ask him about loneliness.
– I've been alone for 15 years, but I see myself, so I paint the eye, I fix myself, I dress. That you see yourself is also important. With my white hair. And I accept it. I talk to my sister Marisol every day. Now she can't go to the hairdresser and is horrified because she doesn't want to see her hair white. Well, you have to accept yourself, white hair, wrinkles …
Ribadesella's gathering continued on WhatsApp, with which Menchu ​​defended himself wonderfully.
–We have a feminine gathering and I am exhausted from everything they send me by WhatsApp. I already told them "leave me alone!". They send me videos. There is one who is very funny, very active, who does dance and now she is desperate. They are very positive.
That face-to-face activity was stopped by the pandemic.
–The last gathering of "Tanned Hands" was on March 6, we already had one foot in the coronavirus. We interview very old people who tell us about their lives. Important people go to the gathering. It was Carlos López Otín. We are 10 or 11. We tell each other what we feel. It gives me life. It is to communicate. It is life with others. This isolation of the coronavirus is not so serious because we communicate.
It was not the only social activity he did until the break.
–There is a chorus called "Monday, at 8 o'clock" and they are all bald or gray. I do not know how to sing. I never knew. When we recorded the first album, a Christmas carol with José María Marcilla, from Radio Oviedo, I had to sing and it would go out of tune. As I left, I murmured the song and intoned it well. But opening your mouth, nothing. Well, in the gathering I ended up singing a vaqueira, wonderfully out of tune.
"What else do you entertain yourself with?"
–I am rereading Dulce María Loynaz, whom I have read so much, and she has a poem that ends by saying: "But… I don't know, my God: it seems to me that You / –a God …– would have easy to get by without me ".
She took the conversation towards the transcendent and, without shame or impudence, to the emotional phase in which she was.
– I don't know, in life every problem brings a solution. You have to find it and accept it. Everything gives you advice.
Only fleetingly does a political impression emerge.
-I see these days the government of Pedro Sánchez and Pablo Iglesias and I remember the story of the scorpion and the frog. I don't know which one is and which is the other, but I know that those two are going afogase.
In the end I asked him if he could publish what we had talked about and he said no, he did not want to endure criticism. I accepted it even though I had called him as a journalist because the years of knowledge could have given rise to some ambiguity and because I really wanted to know how my colleague from Radiocadena had been in the eighties. Now that conversation, so cheerful in tone and so testamentary in its background, is released.
"I don't know, in life every problem brings a solution. You have to find it and accept it. Everything gives you advice"
I spoke to Menchu ​​again on February 17, 2021.
-Hi heart
She was still responding quickly, but tied to an oxygen cylinder.
– Have you stopped smoking?
He squawked a "no" between laughter. He clarified that he kept getting up at 7 in the morning and that, before the bottle, at 11 o'clock he would already carry a pack while now he had smoked two cigarettes.
"I'm not going to get worse."
He was 93 years old. I walked around a bit, watched the hydrangeas start to grow, and read many newspapers on the internet.
–I still feel privileged.
-How good! See you later, Menchu.
-Bye heart.