Medvedev overtakes Tsitsipas to meet Djokovic in Australia final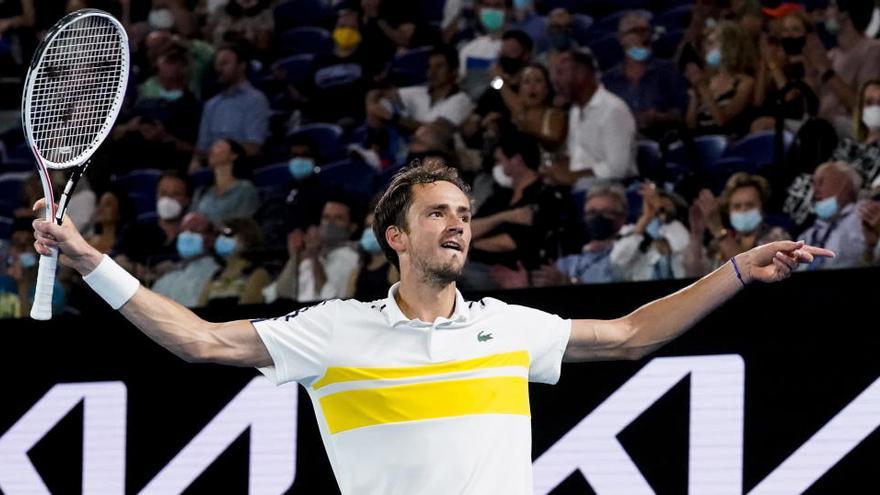 Russian tennis player Daniil Medvedev will be the rival of the Serbian Novak Djokovic at the end of Australian Open, the first Grand Slam of the season, after maintaining his great streak of play and results and defeating the Greek in the second semifinal this Friday Stefanos Tsitsipas for 6-4, 6-2, 7-5.
The one from Moscow extended his counter of consecutive victories to 20 against that of Athens, which he started in the last 1,000 Masters of Paris-Bercy and will now try to extend it against the 'king' of Melbourne Park, eight times champion and who still does not know what it is lose the title game at Rod Laver Arena.
Medvedev, fourth seeded, presents himself as a serious contender for the 'Nole' throne because he is playing at a high level and he showed it once again against the Spanish executioner Rafa Nadal, who he controlled perfectly, except in an instant of the third set.
The 25-year-old Russian reached the second final of his career in a Grand Slam after the US Open in 2019 that he lost to Nadal in five sets with spectacular and overwhelming tennis, carved with 46 winning strokes for 21 unforced errors, and with a powerful serve (17 aces and only three break balls granted).
Medvedev almost always dominated the game. In the first round, he broke in the fifth game and only had some problem with the service to close it, while in the second he exhibited a devastating game against which a Tsitsipas could do nothing, too erratic this time and without the formula to create real problems.
However, the Greek reacted as he did in the quarterfinals against Nadal just when the situation was worse after another initial break in the third set. The Muscovite went 3-1, but there appeared the best version of his rival, who regained the disadvantage, was close to breaking again and went 0-30 with 5-4 in his favor. There, the Russian resurfaced, overwhelming again to take the match.