Medieval walls appear during works on a street in Toledo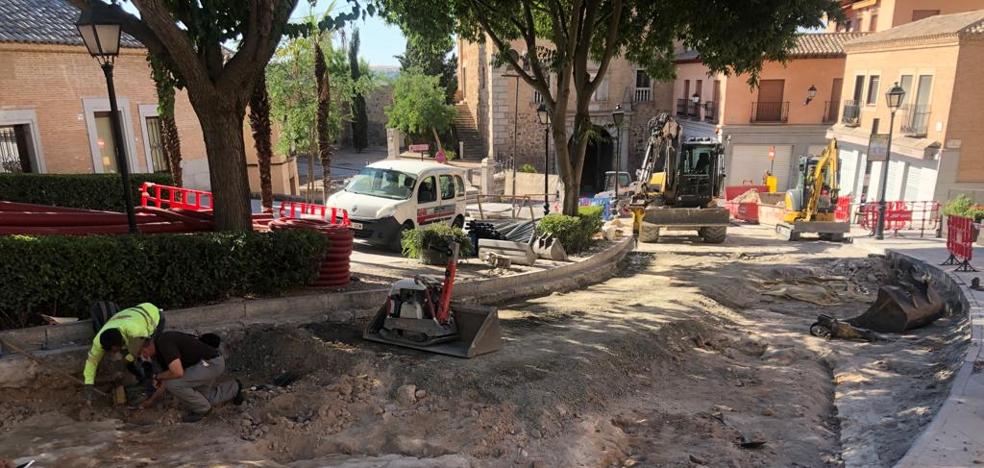 Remains of a crypt have appeared next to the walls that could belong to a synagogue
The works to improve the pavement in a street in Toledo have revealed a series of walls one and a half meters wide with plaster plaster. Next to these walls the remains of a vault or crypt have been found. All this could belong to one of the ten synagogues that this city once had -today only two remain in good condition- since the place where they have appeared is right at the entrance to the old Jewish quarter of Toledo, between the Puerta del Cambrón and the monastery of San Juan de los Reyes.
According to the Councilor for Works of the Toledo City Council, Noelia de la Cruz, the archaeologists "are assessing the finding in order to determine the scope of these remains and the necessary actions to protect this heritage."
The hypothesis that these remains belong to a synagogue gains weight since they have been found a few meters from the monastery of San Juan de los Reyes, a temple that the Catholic Monarchs ordered to be built to commemorate their victory in the battle of Toro (1476) against the troops of Alfonso V of Portugal in the war of Castilian succession, which ensured the Crown of Castile in the hands of Isabella the Catholic. The monastery was built on a destroyed synagogue as a symbol of the victory of Christianity over Judaism with the intention that the Catholic Monarchs would be buried inside. However, the mortal remains of Isabella I of Castile and Ferdinand V of Aragon ended up in the Royal Chapel of Granada at the wish of her grandson, Emperor Charles.
jewish well

The same pavement improvement works on this street in Toledo - Reyes Católicos street - where these remains have appeared months ago uncovered another discovery: a Jewish well nine meters deep and with a diameter of six months. A public well to supply the residents of the Jewish quarter whose curbstone was later moved to Pozo Amargo street where it can be seen today.
Remains of the Jewish well. /

Toledo City Hall

A well with a legend: Fernando and Raquel, two young people in love, he a Christian and she a Jew, who had a forbidden romance. Her father discovered them and murdered the young man. Raquel went after each night to the well where they used to have their meetings to remember him and there she shed bitter tears. So she day after day until one night she saw Fernando's face reflected in the water and threw herself to the bottom. According to tradition, her waters turned bitter from the cries of the young woman. In fact, the water from most of the wells in the historic center of Toledo has a bitter taste because it is simply brackish.