Mbappé does not close the doors of the future to Real Madrid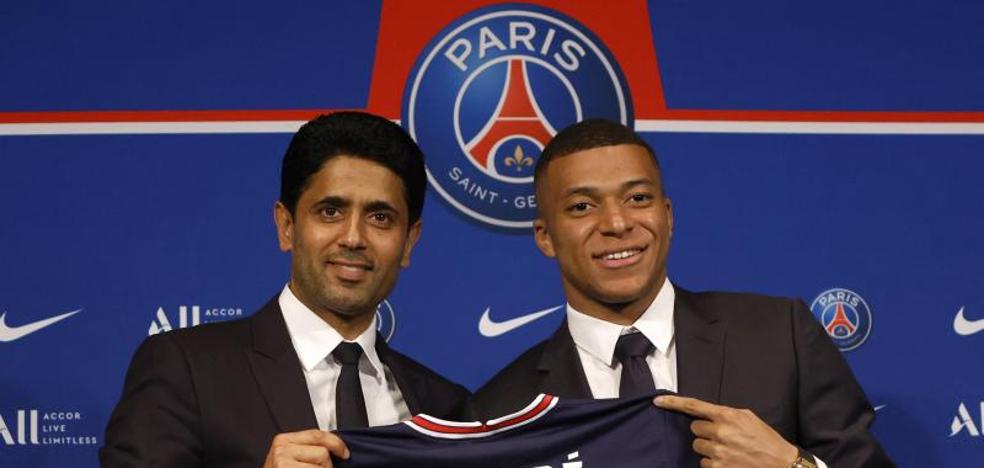 "I don't know where I'll be in three years," said the Bondy star in his first appearance after renewing with PSG until 2025
He spoke briefly to his fans over the weekend, after winning Ligue 1, hours later he issued a statement in which he thanked the interest shown by Florentino Pérez and declared himself one more Real Madrid fan in the next Champions League final against Liverpool, but Kylian Mbappé still had to go through the trouble of explaining himself at a press conference after his renewal by PSG for three more years, until June 30, 2025.
He did it this Monday, surrounded by his family and a great expectation in the Parc des Princes, and accompanied at all times by Nasser Al-Khelaifi, the boss of the Parisian state club. As expected, more noise than nuts, since neither the footballer nor the tycoon offered during the half hour in which they gave their faces economic details about a historic contract.
Everything was congratulations and thanks from the star to the white club, to which far from closing the doors, he winked thinking about what can happen when Mbappé is 26 years old, is in the prime of his career, has already played with France the World Cup Qatar and who knows if they also met the challenge of being European champion with PSG.
"It was a difficult decision and I had to take my time," confessed the star from Bondy, a small town on the outskirts of Paris. In any case, he assured that he made the determination before speaking for the last time with the president of Real Madrid and denied having suffered added tensions in a process that lasted for several years.
"The pressure wasn't on me because I'm used to it and what I've always done is take refuge in my football," Mbappe said. He acknowledged that he wanted to leave the French club for Real Madrid last year, a winger that "everyone knew because at that time he was the best option", but he clarified that this year everything is different. "The context has changed, since as a Frenchman I have a lot of importance in the club and in the country," he justified. He said that "the sentimental side has weighed more" and the fact of assuming that his story at PSG was not over yet.
After what has been considered a complete betrayal of Real Madrid, Mbappé maintains his flirtation with the most successful club in the world. At all times he was affectionate with Florentino Pérez and with the merengue entity, to the point that this press conference could be the prelude to another heavy soap opera three years from now. To this day, the fans of the Spanish champion little less than consider him a persona 'non grata', but knowing the beautiful game he has little memory.
«I wanted to keep the decision secret, but I had already made it before calling Florentino, whom I have a lot of respect for, and telling the president. I have done what is best for me. Now I want to focus on this new project, in this new era. I don't know where I'll be in three years," Mbappé surprised.
Around Real Madrid, he remarked that he always dreamed of wearing his shirt, that he already put it on when he visited the Santiago Bernabéu facilities at the age of 14, with Zinedine Zidane as his driver, and that he has kept like a little treasure ever since. "I thank you for your interest and I understand his disappointment. I hope you understand that I am still here because I am French and I love my country », she emphasized.
Al-Khelaifi's euphoria

More euphoric than Mbappé was the tycoon who runs PSG. He boasted that his club is enjoying the "best player in the world", denied that the star is staying for money, and put Kylian as an example of feeling, belonging and commitment.
"It is very important for the team and for the boys that Mbappé stays because it shows that his dream was to be here and continue winning titles in Paris. We have one of the best championships in the world and with it we will continue in search of new goals: win, win and win» said al Khelaifi.
As is logical, Al-Khelaifi put Mbappé at the center of the future sports project and neither denied nor confirmed that the Parisian star is the one who decides on the ups and downs in the squad, the coaching staff and the sports management. «I like Kylian's sports and especially his football. He will only have decisions in football, which is what I like most about him, "said the president during an appearance in which they answered questions in French and English and in which they tried to always be smiling.
The Qatari businessman did not miss the opportunity to respond to the president of LaLiga, Javier Tebas, willing to denounce PSG before UEFA for failing to comply with financial 'fair play'. "He is afraid that Ligue 1 will surpass the Spanish League," snapped Al-Khelaifi, who at all times refused to offer financial details about Mbappé's renewal on the grounds that it is something he has never done and will never do. out of respect for the professionals themselves. He was surprised, however, when he stated that he talked with the player for months about the sports project, for hours about image rights and for a few minutes about money.
An operation from which Monaco will benefit because it will receive 35 million more under a clause for the renewal or transfer of Mbappé. His departure from the Principality to Paris, which began as a transfer with a compulsory purchase the following year of 145 million, has been definitively closed at 180 million. Kylian thus becomes the second most expensive signing in history, after Neymar for 220 million in 2017.
Whether it's for money, to win the Champions League once and for all with PSG, because Paris is his home or because of fear of leaving his comfort zone, since at Real Madrid the demands would be maximum from the first minute, Mbappé's decision has meant oxygen for the Gauls and a very hard blow for the white team.
For the most enthusiastic fans and journalists, Kylian has spent a matter of hours from being an idol to little more than a traitor, even a worse player than Vinicius and Rodrygo. Mbappé also delved into the wound during the Ligue 1 celebration, photographing himself with ex-Madridistas Keylor Navas, Achraf Hakimi and Sergio Ramos.