Máximo Huerta strips naked in his Fernando Lara winning novel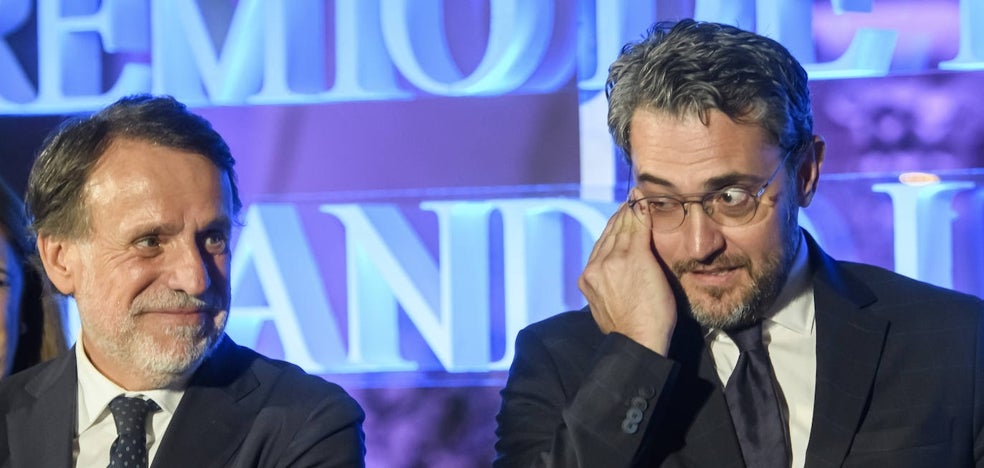 The writer and former Minister of Culture resorts to memories and his family universe to portray a Spain that no longer exists
Máximo Huerta (Utiel, Valencia, 1971) is the winner of the XXVII Fernando Lara Novel Prize, endowed with one hundred and twenty thousand euros and which was awarded with 'Adiós, pequeno'. It is an autofiction novel with which the author lays bare his intimacy while accompanying his sick mother. «Through his memories and family universe, he gives us the portrait of a Spain that no longer exists. A precious, painful and exciting testimony in equal parts »said the minutes of the jury of this award that ruled its twenty-seventh edition in an evening held in the Real Alcázar of Seville.
'Goodbye, little one', which Planeta will publish in June, "starts in a very resounding way and is very simple: my mother would have been happier if I had not been born", explained the author. "It is the story of a family that keeps too many secrets to try to be happy. A family that uses silence as a solution to everything. It is a farewell, and at the same time a hello to the disturbing maturity », assures the winner that he was Minister of Culture and Sports for only six days. He resigned when it came to light that he was sanctioned and had to pay 218,000 euros to the Treasury for the taxes he failed to pay in 2006, 2007 and 2008 when he worked as a television presenter and declared through a company.
Huerta, author of two plays -'Más fococos' and 'Me quedo muerte'- and seven novels, some as successful as 'A store in Paris' or 'La noche soñada', with which he won the Spring Prize in 2104 , one of the best endowed in the commercial field, with a purse of 125,000 euros. He placed 'Firmamento' in the legendary Formentor hotel in Mallorca. His other novels are 'May it be the last time', 'The whisper of the conch', 'Don't leave me (Ne me quitte pas)', 'The hidden part of the iceberg' and 'Love was enough'.
With a degree in Information Sciences from the CEU San Pablo University in Valencia with a master's degree in Graphic Design and Editorial Illustration, for two decades he has developed an intense career in audiovisual and written media that began modestly in the nineties in local media and ended in news and magazines with maximum audience. He went from Channel 9, where he presented and edited news, to Telecinco to be responsible for several spaces. A year later he was in the news team of Telecinco chain in which he was one of the star collaborators of the morning program of Ana Rosa Quintana. Single, prominent defender of the rights of LGTBI groups, member of the Academy of Television Arts and Sciences,
This year, a total of 365 originals from all over the world had been submitted for the Fernando Lara award. Among them, 241 from Spain. The jury that awarded Huerta was made up of the writers Fernando Delgado and Clara Sánchez, the writer and member of the RAE Pere Gimferrer; Ana María Ruiz-Tagle, on behalf of the AXA Foundation, the entity that sponsors this literary award, and Emili Rosales, secretary with vote.
«It is very special that a jury with this trajectory has been moved by my story. I want to express my gratitude to AXA and to Planeta for organizing and making this wonderful celebration possible on such an important night for me", declared the winner.
The evening was attended by the President of the Andalusian Government, Juan Manuel Moreno Bonilla, as well as Patricia del Pozo, Minister of Culture and Historical Heritage of the Andalusian Government; Manuel Alejandro Cardenete, Minister of Education and Sports; Sonia Gaya, first deputy mayor of the Seville City Council; Jesús Maeztú, Ombudsman of the Andalusian People; Olga Sánchez, president of the AXA Foundation and José Creuheras, president of Grupo Planeta.