Maud Bonneaud, in search of Surrealism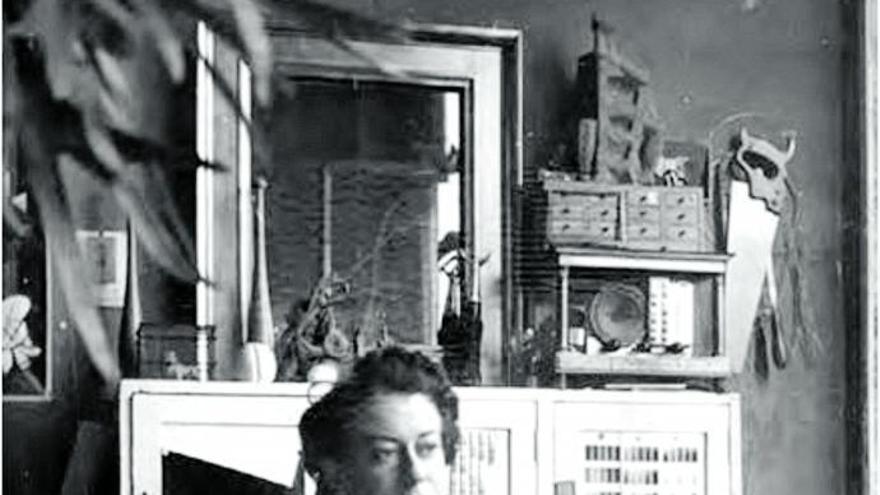 A Bachelor of Letters from the University of Poitiers in France, an enamel artist but with a surrealist heart, who channeled into an intense cultural activism in Paris, Madrid and Tenerife, the cultural trajectory of Maud Bonneaud-Westerdahl initiates her name in the generation of the avant-garde artist of the past half century in the Canary Islands when she settled in Tenerife in 1955 with her second husband, the artist and art critic Eduardo Westerdahl, and adopted his surname. However, his previous years in Paris, the epicenter of artistic effervescence besieged by the Second World War, remain in the shadows of his biography, the result of a pact between his own discretion and the patriarchal prejudices of Francoism.
The commemoration of the centenary of his birth in 2021 illuminates this first stage of life, almost novel, by the hand of one of its main researchers, the historian, teacher and art critic Ángeles Alemán, who this week gave the conference Maud Bonneaud-Westerdahl: the surrealist Cartesian, at the Centro Atlántico de Arte Moderno (CAAM). His meticulous reconstruction of the artistic and vital trajectory of Bonneaud-Westerdahl delves into his silenced years in occupied Paris, where he moved in 1942 in search of the vestiges of Surrealism after crossing his path in the footsteps of its greatest exponent, André Breton, whom he would define as "a wind sweeping the sands of normality, a typhoon devastating the small island of comfortable life."
"The encounter with Breton was what decidedly changed her life: she became a convinced surrealist and went to Paris in search of Surrealism," says Ángeles Alemán. He was only 21 years old at the time and neither his father, head of the French resistance in Limoges, nor his mother, a pharmacist who secretly stamped false documentation to help refugee Jews, supported this reckless determination in the midst of world warfare. But young Maud sold her small collection of valuables, including some gold dental pieces from family heirlooms, and settled in the French capital, where she had the only friendship with the surrealist poet Laurence Iché (later, Laurence Viola), author of the book Al filo del viento (Au fil de vent), illustrated by Óscar Domínguez.
By then, Breton had already traveled to the island of Tenerife to attend the Second International Exhibition of Surrealism, organized by the mythical Tenerife magazine Gaceta de Arte, directed by Eduardo Westerdahl, which was a historic event in the trajectory of cultural creation and artistic in the Canary Islands, and that Breton recounts in The Starry Castle (Le château étoilé), published in 1935. But when the German troops arrived in Paris, the founder of the Surrealist movement went into exile to New York and decided to leave his two valuable boxes of Aztec collections in the care of Maud until their reunion many years later after the war.
But once in Paris, the two who cross paths are this young enameler from Limoges and the surrealist from Tenerife in 1943: "There he was, elegant and monstrous," Maud wrote about his first meeting with Óscar Domínguez at the Café Select, where the artist He approached her table and said, "You are the grasshopper girl and I will marry you." Aleman tells that "at the same time that their relationship was consolidating, they began to work together experimentally with enamels". After this primitive stage linked to the artistic circle of Pablo Picasso, "living center of intellectual resistance" and with whom Maud would establish a friendship for life, the creator decides to progress in her career as an enameler, while Óscar focuses on the painting, although "all the financial management of his paintings is in charge of Maud". During this period, Maud polished her mastery over the vitrification of colors, exercised in different workshops in Limoges, the city of enamels, and among other landmarks, she designed a collection of jewels for Christian Dior and, in Germany, she was in charge of the decoration of the theatrical montage Las moscas, by Jean-Paul Sartre.
Historian Ángeles Alemán reveals that "the meeting with André Breton was what marked her life"
"Throughout her life, Maud's enamels would achieve great beauty and, despite the hard work, she continued to make jewelry and small sculptural pieces until the 1970s," reveals Alemán. In addition, "Maud distinguished herself as what we now call a cultural agitator, because she was always alert to discover and support new artistic talents," he adds. "In fact, we also find her related to a small and select group of artists and intellectuals living in Limoges, a city she frequently visited."
However, as the 1940s progressed, the painter's health was already beginning to crack due to his mental problems and alcoholism, but together they exhibited in London in 1947, where Maud would forge a new friendship with the surrealist poet Valentine Penrose, as well as her ex-husband Roland Penrose and his second wife, the photographer Lee Miller, which crystallizes in "a most interesting correspondence," in Alemán's words. Upon his return from England, Maud helped Óscar organize his poetic texts collected in Los dos que se cruzan, his only collection of poems, whose verses evoke his "great triangular nose and violet of fire", until, finally, in 1950, the marriage separates. "They both had a very fluid, passionate and difficult relationship for Maud, with many ups and downs, but very beneficial for both," says Alemán. "Unfairly, when people talk about Óscar Domínguez, they don't talk about Maud Bonneaud and their importance is forgotten, even among the great scholars of the surrealist, when the reality is that Maud was very important to Óscar". However, they both maintained a great friendship, in such a way that, two years later, it is Domínguez who introduces Maud Bonneaud and Eduardo Westerdahl.
"Unfairly, when people talk about Óscar Domínguez they don't talk about Maud Bonneaud", says the researcher
In 1954, the French enamelling company settled in Tenerife and, a year later, married Westerdahl, with whom she had a son, Hugo, in 1957. During her stay on the island, where she lived a long period of happiness and creativity until On her return to Madrid in 1985, she developed an intense activity as an artist, art critic and curator, who lit up numerous exhibitions of her enamels between the Canary Islands, Madrid and Barcelona, ​​including an exhibition with the Lanzarote-born César Manrique in Madrid, as well as the initial assembly of the exhibition-tribute to Óscar Domínguez at the Círculo de Bellas Artes de Tenerife, in 1968. In this cultural institution he promotes numerous artistic initiatives, where the creation of the first group of women artists in the Canary Islands, called Las Doce, in 1965 stands out. that would revolve in several group exhibitions in different art rooms, with works by referential artists such as María Belén Morales, Lola Massieu and Jane Millares. And of course, Maud played a pivotal role in the creation of the Eduardo Westerdahl Museum of Contemporary Art (MACEW). The artist María Belén Morales, who co-organized the first collective of Las Doce with her contemporary, recalled in 2015, as one of Alemán's investigations shows, that "Las 12 marked a turning point in Canarian society". "Maud Westerdahl came from Paris with very open ideas and it served as a stimulus to the Canarian creators who had concerns," she declared.
A valuable legacy of letters preserved in the Pérez Minik archive in Santa Cruz de Tenerife testifies that the artist also maintained a lasting friendship with the Canarian surrealists who marked her life and the artistic memory of the Archipelago, such as Domingo Pérez Minik or Pedro García Cabrera, but also with the artists Martín Chirino, Manolo Millares and Elvireta Escobio. In fact, Alemán reveals that "it was Maud who named Martín Chirino's marvelous aerivores".
However, "her incessant activity and her open attitude to Modernity always remained with Maud, whether she was Bonneaud, Domínguez or Westerdahl", the researcher says. And with regard to the silence that has overshadowed the first chapters of his years in Paris, he points out that "it may be that Maud chose to hide a bit." "In a Francoist, Catholic and excessively provincial society, a woman like Maud, an artist, divorced and surrealist, from Paris, could not allow herself to talk about more," she says. "In addition, she was aware that doing so could harm Eduardo Westerdahl, who had also been very significant in the Second Republic through the Art Gazette, and who escaped any persecution for being a Swedish citizen. So, out of love for Eduardo, and because she was an intelligent and intuitive woman, she chose not to talk about her life. Although, fortunately, he wrote ".
Maud also distinguished herself as a cultural agitator, always on the lookout for discovering and supporting new talents.
Ángeles Alemán titled her conference at CAAM Maud Bonneaud-Westerdahl: the Cartesian surrealist, because the artist herself referred to herself from this intimate unfolding between the rational and the dreamlike. "Maud always said that she was surrealist and Cartesian at the same time, and that contrast was very typical of her way of being and dealing with things. And in any case, who better than oneself to define oneself? ", Reflects the historian, who confesses that, on the other hand, her son Hugo, to whom she sent the invitation to Madrid, agreed that this epigraph was" very appropriate for Maud ".
And it is that, to round off this trip, the same historian coincided on multiple occasions with the protagonist of her research. Their first meeting took place when he was preparing his thesis on Martín Chirino and, on the recommendation of the sculptor, he visited Maud at her home in Santa Cruz de Tenerife, where she packed boxes with materials destined for the Westerdahl fund that today is kept by the Government of the Canary Islands. "Maud was an extraordinary woman; above all, amusing, splendid, very loyal to everyone, with the polyglot and hoarse voice of an unrepentant smoker ", she recalls. After attending different events, such as the inauguration of the CAAM or its exhibition dedicated to Chirino at the La Regenta Art Center, he visited her for the last time in Madrid. At that meeting, "the most interesting of all we had," Maud introduced her to her dear friend Laurence Iché, host of her first landing in Paris, and the widow of the surrealist poet Manuel Viola. "Two women so different and, at the same time, united by a common history, which is Surrealism," says Alemán, who reveals that only then did he dare to ask her, for the first time, why she had decided to go to Paris, alone, in 1943. "They both answered me, laughing at the same time, and said: because Andrés Breton was a lion".