Matt Knigge returns to CV Guaguas: «I am very excited to return»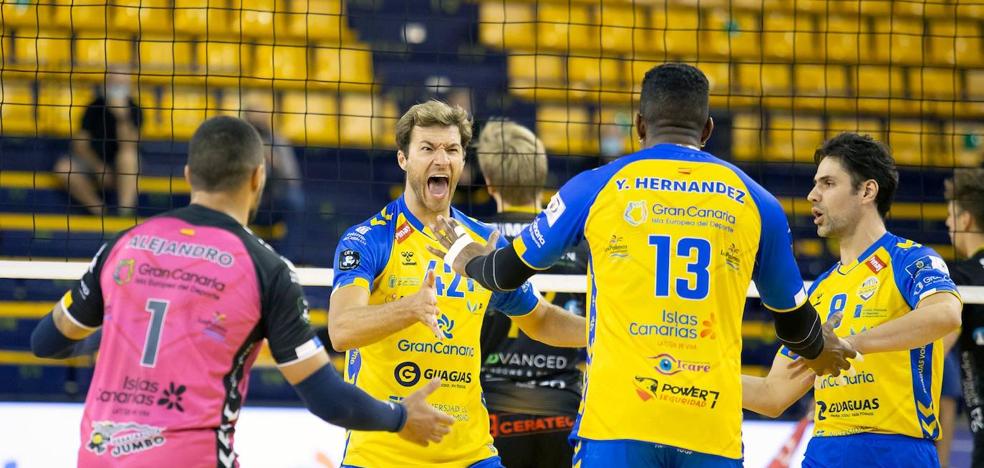 volleyball
The North American center-back signs a new agreement to play his third campaign in yellow
A return with a flavor of continuity. Matt Knigge (New Jersey, June 2, 1996)
returns to CV Guaguas to strengthen even more, if possible, the staff that Sergio Miguel Camarero will direct again. The center-back ended his contractual relationship with the Gran Canarians last June, so he is now signing a new contract that will link him back to the islanders during this exciting 2022/2023 season. In this way, the American will complete his third campaign in Gran Canaria.
His high level led him to sign with Arenal Emevé Lugo in the summer of 2019 and he was able to consecrate himself in the Men's Super League as the best central defender of the season. That good tone was what led to joining CV Guaguas in 2020 to face the challenge of being an important piece within a staff that aspired to everything. Knigge did not disappoint and
It was essential to win a Super League, a Copa del Rey and a Super Cup during the two courses in which he played in the Gran Canaria squad.
After two very successful campaigns on the island, the American and the yellow club parted ways. However, only a few months later they have again reached an agreement for Knigge to comply
his third season in the Guaguas and become once again one of the key men for Sergio Miguel Camarero.
A League and an MVP under his arm

Matt Knigge's arrival on the island also comes with a US champion trophy and an MVP title. During this summer, the center back has played the National Volleyball Association (NVA) with the Vegas Ramblers, a team in which he coincided with the also yellow Brandon Rattray, and
He managed to win the championship with a good performance that led him to be chosen as MVP of the grand final.
Undoubtedly, with the arrival of Knigge el Guaguas, it is guaranteed to have
one of the best central quartets in the entire category and further increases the potential of a squad that aspires to dream of big goals this season.
Matt Knigge: «I am very excited for next year to be able to return to the island and play in front of the public in Las Palmas. I hope that this season we can have a more regular year and we can play in a full pavilion, with 2,000 or 3,000 people. Hopefully we can achieve all the goals that we set for ourselves, which are going to be many«.
"We want to win the Superliga, the Copa del Rey and the CEV Challenge Cup. Last year we set very big goals and it was a shame we couldn't achieve any. as a club,
we have a responsibility to show what we can do this year and show that we can achieve the proposed objectives because we have the team to do it. I am very convinced of it«. »I am excited to live in Gran Canaria because there is no other better place in professional volleyball to live«.