Matamoros tearfully leaves the set of 'Save me' for a comment about his daughter Anita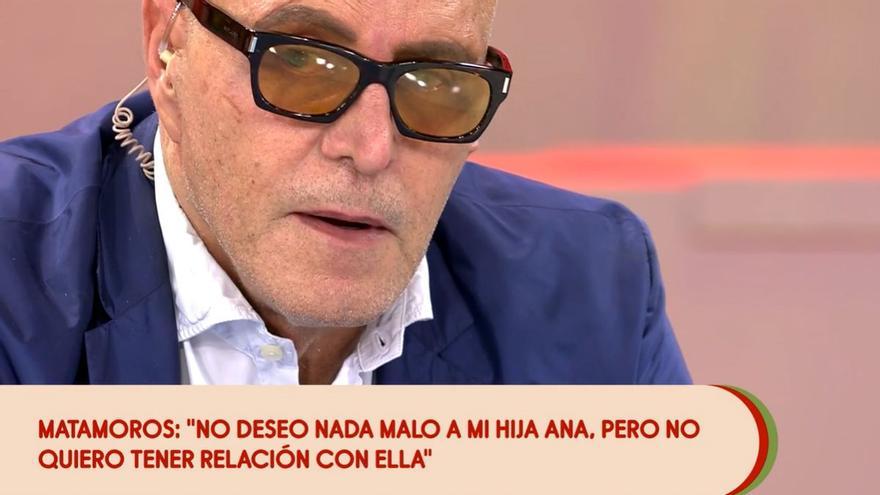 Kiko Matamoros He showed his most vulnerable side yesterday afternoon. The collaborator ended up leaving the set of 'Save me', visibly hurt and affected, due to the estrangement with his daughter Anita, with whom he is not spoken as a result of his separation from Makoke. But the trigger for his abrupt exit from the studio was the comments of some of his colleagues, including those of the presenter Paz Padilla.
"I do not want anything bad for my daughter, I hope she is super happy. That everything turns out to be perfect," said the collaborator, who ended up exploding when he remembered one of the episodes that hurt him the most: "See my daughter climb on the boat of a man who crushed his mother's belly when she was pregnant, you will understand that it turns my guts. "Later, Paz Padilla pronounced some words that led to his sudden abandonment: "Your daughter has asked for help because she is not well. She is 21 years old". At that moment, Kiko got up from her chair to go outside and try to calm down.
"We children go through many stages. The vision of an adult is not the same as that of a 21-year-old girl," added the host of 'Save me', who on the other hand, insisted that "love is above all". "Everyone is not the same, but from my point of view, what prevails is the love of a father and a daughter who are suffering," he said.
Minutes later, he apologized to Matamoros if he had offended him with any of his comments. "I'm really sorry. I didn't mean to, I don't want you to be like this. Forgive me.", He told the businessman while he returned, with tears in his eyes, to his job: "Nothing happens, the fault is mine for letting me go where I shouldn't."
Finally, the comedian also burst into tears because of the delicate situation that was being experienced. "I value the people I love very much and I am very afraid of losing them. I don't want to waste a day of my life. When I see these things, it seems to me that we lose our time, "he said before giving his partner a big hug.