'Masterchef Celebrity' returns with a double expulsion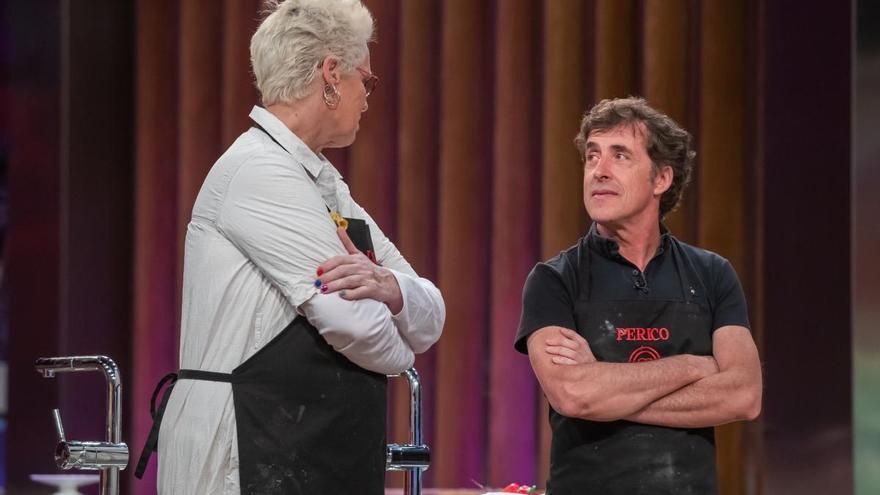 After last week the stoves of 'Masterchef Celebrity' remained off due to the La Roja game, the kitchen talent has resumed its course in La 1 and has done so with a double expulsion. Lucía Dominguín and Perico Delgado have been chosen to say goodbye after failing to measure up in the elimination test, where they had to cook the David Pallás ten layer cake, chocolatier and Absolute Champion of the World Chocolate Masters.
Although Lucía and Perico were chosen to leave the kitchen of 'Masterchef Celebrity', they were not the only ones to be on the tightrope. The Alcorcón Earthquake, Laura Sánchez, Josie and Raquel Meroño they also wore the black apron, although they managed to save themselves. And it is that for Pepe Rodríguez the desserts of the actress and the ex-cyclist were "really bad".
"I had no doubts!", Admitted Perico, who was reproached for having "given up" before starting the test. "You have hardly made an effort. You have considered that this challenge surpassed you and you have let yourself go"Samantha Vallejo reproached him." I'm going to tell the truth, I do know how to make this cake, but I have to go. I'm with the Tour of Spain and all that… ", joked the recently expelled as he presented his millefeuille.
For her part, Miguel Bosé's sister acknowledged having been "defeated" and "blocked" in the kitchen, during which she was seen dejected and crying on several occasions. "Your nerves have played a trick on you, you have blocked yourself," the jury pointed out before his deficient dessert which, according to them, was "things thrown on top of a 'cocky'".
Thus, Lucía Dominguín and Pedro Delgado join the list of applicants who have left 'Masterchef Celebrity', among which are Raquel Sánchez Silva, Jesús Castro, Melani Olivares and David Fernández. In this way, there are ten applicants in the culinary contest: the soprano Ainhoa ​​Arteta, the former minister Celia villalobos, actor and comedian Florentino Fernandez, journalist Gonzalo Miró, the fashion designer Josie, the actor Juanjo Ballesta, the star The Alcorcón Earthquake, actress and model Laura Sanchez, actor and model Nicolas Coronado and the actress Rachel Meroño.