Massive protest of farmers in Holland for their bad image in the fight against climate change | Economy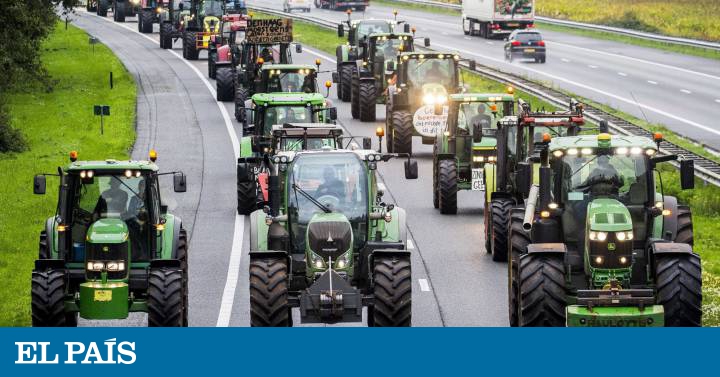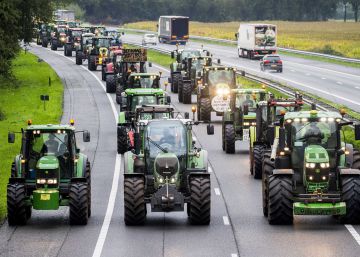 Tractor columns from all regions of Holland, rolling at 40 kilometers per hour, this Tuesday caused the biggest traffic jam in the country's history in protest at the bad image attributed to farmers in the fight against climate change. About 10,000 affected people expect to concentrate from midday, in the center of The Hague, against the plans of the center-right government to reduce nitrogen emissions.
The agrarian associations that support the march regret to bear the bulk of the turn towards a circular agriculture, which implies to stop producing large amount of food at the lowest possible price to protect the farmland, as well as reduce the pig and bovine hut and the poultry farms. "How can you live without farms? "Is the question they will ask the Ministry of Agriculture.
The Central Statistical Office estimates that the country's 53,919 farmers represent 0.006% of total employment. There are 16,000 dairy farms, 11,000 farms, and 6,700 dedicated to horticulture, in addition to 5,300 pig firms, according to the same sources. On the other hand, Holland It is the second largest exporter in the world of agricultural products, after the United States, and these amount to about 45,000 million euros annually, says the Office itself.
Given the importance of the sector and the anger of its representatives, who have demolished fences and have been warned by the police, Carola Schouten, Minister of Agriculture, has promised to go to the park ready for concentration. So has Tjeerd de Groot, a liberal leftist deputy, whose proposal to get rid of 50 million chickens and 6 million pigs to recover the land they occupy, has angered the owners of the farms. According to the politician, a member of the ruling coalition, "70% of national nitrogen emissions come from the countryside, and are largely derived from the intensive raising of farm animals."
Protesters, many of whom have traveled overnight blocking road traffic not only at rush hour, consider the cuts to be absurd. "Emissions can be reduced based on innovation in the sector, and the problem must be addressed at European level, because much of the food, and animals, are for export," said Theo Bos, owner of a poultry farm , collecting criticism from his colleagues.