Massa, mother of the Mali girl who died in Gran Canaria: "I tell her sister that she is still in hospital"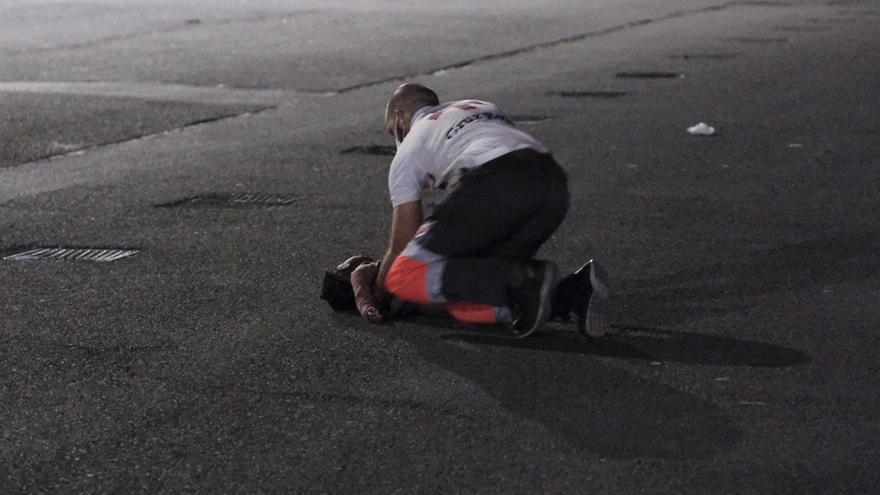 "It is very hard and difficult for me to remember everything that has happened but at the same time I have to find the strength to continue, knowing that what God has done is done. However, this feeling and this pain is never taken away from a mother. The strength to continue is given to me by the little girl who still asks me: When is my sister coming? I tell him that he is still in the hospital, "he says.
It is part of the interview that Massa, 30, has given to Cadena SER, in which he explains the pain he still feels, his concern for the four children he left behind, in Mali, the hard days when he did not know where were her daughters Eléne and Aichetou and begged the Police to take her with them and the gratitude she feels for Spain for how they have treated her in this time.
I am day and night thanking Spanish society for their solidarity and empathy. The funeral they gave my daughter was quite a gesture "
"I do not have enough words to thank Spain. I am day and night thanking Spanish society for their solidarity and for their empathy. The funeral they gave my daughter was quite a gesture, "he explains.
The death of Eléne Habiba Traoré, 18 months old, on her fifth day in the hospital shocked Spanish society a few months ago, which had been shocked by the images captured by EFE and Reuters on the night of March 16-17 of how two Red Cross health workers went out of their way to bring her back to life on the asphalt of the Arguineguín pier, just disembarked from the Maritime Rescue ship that rescued her patera, after several days without water.
The condition in which many of the occupants of that boat arrived was so precarious that the most serious, several of them children, They were referred urgently and without identifying the hospitalWhile those who were better off were transferred to the Center for Temporary Attention for Foreigners (CATE) in Barranco Seco, from where Massa went out of his way for three days to try to make the police understand that he was traveling with two girls.
Despair
"In the first four days I was desperate explaining to the Police, in every way I could, that I had two daughters in the hospital and that I wanted to know how they were, that I wanted to see them and they wouldn't let me. Until a woman asked for me and She clarified that my daughters were in the health center. I told her that I was anxious to see them, that I couldn't take it anymore and they took me to the hospital. Upon arrival, the doctor explained that Eléne was very ill, that she had about two hours to live It was horrible, "says Massa.
And she continues: "Any mother with feelings has to be affected by what I have experienced. Sometimes I think that my daughter's death generated awareness and solidarity. I think about it to encourage myself and be positive, but when I remember everything she suffered my daughter, from the last moments of her life, that's what hurts me the most. "
Massa has constant words of praise for the workers of the White Cross Foundation, the humanitarian institution that has welcomed her since she arrived in the Canary Islands, and she does not forget Paula and Miguel, the Red Cross health workers who revived Eléne.
"A man and a woman came to see me. She told me it was the girl in the photo, although I I have never wanted to see those photos or those images. They visited us and she even brought us a gift for Aichetou. I will always be grateful for everything, "she gets excited.
The future
Massa emphasizes that he is moving forward and asks for help to find "any decent job" with which he can send money to his children in Mali, but he also confesses that he has not yet overcome what happened.
"Last night I dreamed of the patera again, trembled. I keep dreaming about the trip, I feel like I'm there. In reality, it is a real nightmare because I wake up scared, I feel that the boat is breaking, "she says.
In the boat in which Massa and his two daughters were traveling, nine people died during the journey, including three children