Masdanza arrives in Maspalomas to bet on sustainable culture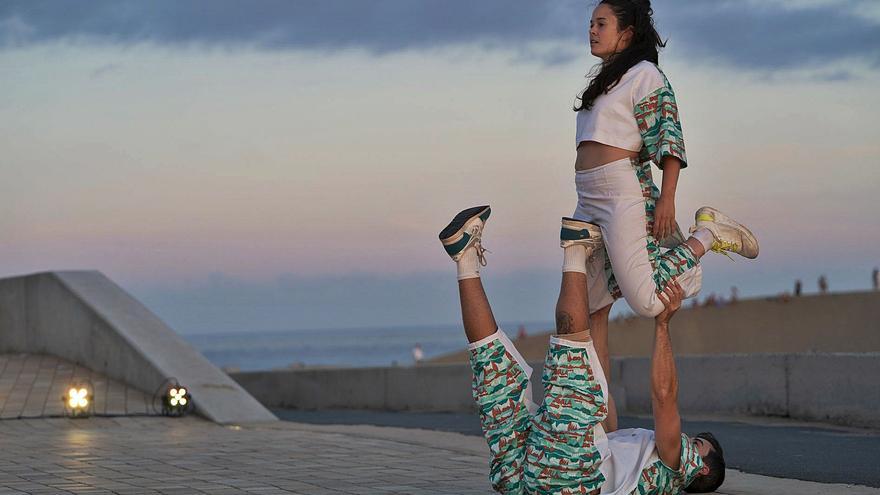 In their first stop outside Las Palmas de Gran Canaria, twelve dancers have performed four contemporary dance shows at the Mirador de las Dunas de Maspalomas. Thus, the International Contemporary Dance Festival is committed to sustainable culture by promoting a relationship between dance and the natural environment. More than one hundred people, maintaining the safety distance and provisions established by the Covid protocol, enjoyed Masdanza Dunas in a setting next to the sea and the sand mounds, with the sunset in the background.
The Maspalomas Dunes are a unique space due to their beauty and the variety of ecosystems they host. Its 400 hectares include an excellent beach, dune field, a palm tree forest and a brackish lagoon. And they were the unmistakable setting for these four shows
For the fifth consecutive year, the festival has presented the public with dance pieces full of energy, color and music with Eso que tú ves by Javier Cuevas and Paula Quintana from Tenerife, Per se by María Casares from León, Formas created and performed by Alba canaries Rodríguez, Ádex Alonso, Ángeles Perea, Sergio Pérez, Bárbara Brehcist and AM27 of the Catalan Javier Guerreo.
The 26th edition of Masdanza is a triple opportunity: to develop inclusive activities with the environment, on the other hand, to bring dance to spaces where they can connect with a new audience and finally generate new scenarios so that young dance talents can present their works . Very different, innovative proposals that have made the public move and reflect.
The City Council of Las Palmas de Gran Canaria appreciates the support of the INAEM – Ministry of Education, Culture and Sports, Government of the Canary Islands, Cabildo de Gran Canaria, Gran Canaria Tourist Board and Spanish Cultural Action (PICE Program) for the realization of this edition of one of the most recognized and important artistic festivals in the capital of Gran Canaria.
Tonight, the programming of this edition of the Festival continues with the inauguration per se of this edition. The choreographer Mario Bermúdez, with his proposal Anhelo, will kick off at the Pérez Galdós Theater at 8:00 p.m. It is defined as a work of concern for forms, composition in space and bodies in harmony that takes place with serenity and precision to the ascending rhythm of the music of José Pablo Polo. The program continues tomorrow with the celebration of the XIII Breaking Masdanza in the auditorium of Doramas Park from 5:00 p.m.