Marvel Superhero Assault on Streaming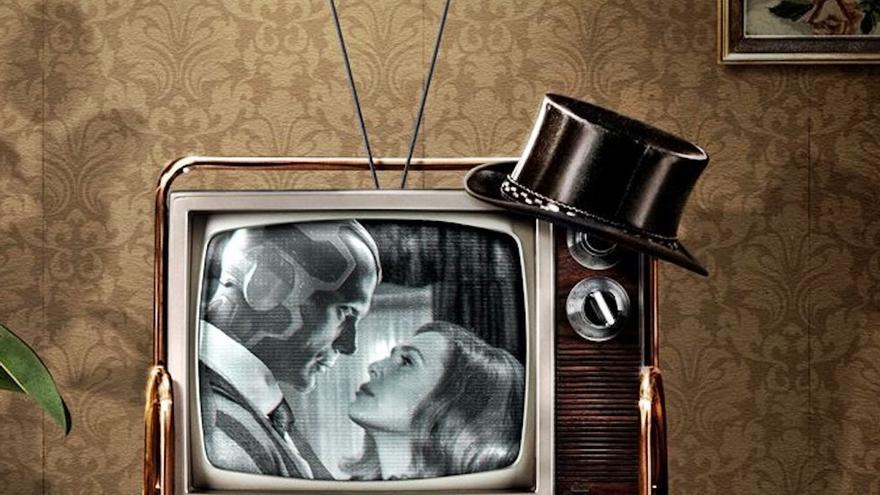 For a little over a decade, Kevin Feige, head of Marvel Studios, guided the iconic Marvel Cinematic Universe with an iron but agile hand, a collection of films that has become a global phenomenon and the main source of income for theaters. Then came the pandemic: an earthquake at all levels that has accelerated and intensified the arrival of the UCM in the streaming business, which has become the new horizon for large entertainment corporations.
Disney + was known until now for 'The Mandalorian', but that will change
Phase Four of the MCU was to start in 2020 with various film blockbusters: Black Widow (now scheduled for May), Shang-Chi and the legend of the ten rings (July) and The Eternals (November). But, in the end, he's already kicked off with Scarlet Witch and Vision, the first of many original series that Marvel has designed for Disney +.
'Ms Marvel '
Premiere: late 2021
The consolidation of Marvel in Disney + will also serve for the premiere in the MCU of recent and innovative creations. This is the case of the great Kamala Khan, a Pakistani-American teenager whose geek life is turned upside down when she is exposed to the Terran Mists and acquires the power to manipulate the size and shape of her body. It will be performed by newcomer Iman Vellani, who is also a guest on Captain Marvel 2.
Seeing MCU characters on television is nothing new. In the Marvel Television series for ABC we saw Clark Gregg as SHIELD agent Phil Coulson (resurrected after his death in The Avengers) and Hayley Atwell as spy Peggy Carter, just like in the movies. Outside of the MCU, street heroes like Daredevil, Jessica Jones and Luke Cage tangled their fates in a connected group of series on Netflix. All these series are history: in December 2019, Marvel Television was absorbed by Marvel Studios and television content began to be as important to the company as movies.
In what sense? In all: higher budget, greater ambition at the show level and an interconnection with the filmic narrative that until now had barely occurred. For example, in appearance it will be necessary to see Scarlet Witch and Vision to understand the alliance of Wanda Maximoff and Dr. Stephen Strange in Doctor Strange 2: The Multiverse of Madness, directed by Sam Raimi.
Hawkeye
Premiere: late 2021
Jeremy Renner is back in the shoes of the archer Hawkeye, apparently to train the future owner of said alias, the young Kate Bishop (Hailee Steinfeld), with Vera Farmiga from the Warren File as a mother. The leaflet is funny, but, in addition, the main inspiration at both thematic and visual level (starting with the logo) seems the huge series of comics about Ojo de Halcón that Matt Fraction and the Valencian cartoonist David Aja marked between 2012 and 2015.
Stay tuned
Scarlet Witch and Vision is a curious choice to start this landing. It is starred by a couple of Avengers, but it is not exactly an action series, but a kind of satirical dramedia that reviews and perverts the history of American sitcom.
In the proposal of Jac Schaeffer (showrunner) and Matt Shakman (director), the curious couple formed by the synthetic android Vision and the tortured Wanda Maximoff, whose powers of telekinesis and mental manipulation have turned her into an occasional outcast, want to settle into a quiet residential neighborhood life. That is to say, just as Vision did, accompanied by a woman and children also androids, in the comic series La Visión by Tom King and the cartoonist Gabriel Hernández Walta from Melilla, a confessed inspiration for the series.
'What If ...?'
Premiere: summer
If something excites many of the main marvelitas more than the classic stories of the different sagas, it is the deviations from the What If ...? Canon, it is a series of comics that speculate about what would have happened if certain iconic moments of the saga had been otherwise. It will be an animation anthology, but the UCM actors will give their characters a voice; there is quite a bit of anxiety about hearing Chris Evans as Captain America zombie. The master of ceremonies will be The Watcher, played by Jeffrey Wright.
Their plans seem to be more or less ruined when they find themselves inadvertently jumping between various classic sitcom formats. The first chapter, set in the 50s, was filmed with vintage equipment and an audience on the set, in search of the most perfect possible imitation of I love you, Lucy or The Dick Van Dyke show. As in those odes to domestic serenity, lovers sleep in separate beds. Later episodes are inspired by The Brady Tribe or the mockumentary techniques of Modern family and The office.
More than any Marvel product, the proposal is reminiscent of a semi-forgotten 90s movie, Stay Tuned, in which the marriage of John Ritter and Pam Dawber was trapped in a hellish television world and suffered for their lives between parodies of well-known broadcasts, including I love you, Lucy, renamed I love you, Lucifer. Interestingly, last summer AMC announced the development of a series based on the film.
'Loki '
Premiere: May
Marvel's new golden boy is Michael Waldron, former Rick and Morty producer who has written the second part of Doctor Strange and will also take the reins of this spin-off about Thor's perfidious brother, incarnated, as in the movies, by a Tom Hiddleston of irresistible sarcasm. Yes, Loki died in Avengers: Endgame, but here we continue to travel through time and space after he took over the Tesseract in the first part of Avengers. It was going for a limited series, but it could have a second season.
Without giving up the rooms
Until not long ago, Disney + was known as the platform for The Mandalorian and the video library of dreams for a generation of parents nostalgic for the cartoons of yesteryear. All of that is going to change. In addition to the rollout of the new Star brand (with titles, say, FOX, ABC, and FX adults), there's the serious rollout of Marvel content: after Scarlet Witch and Vision, another five series will arrive this year alone, including spin-offs. offs of well-known MCU characters such as Falcon and the Winter Soldier, Loki and Hawkeye. In the not too distant future, Disney + could be releasing episodes of some Marvel series and some Star wars series at the same time.
'Falcon and the Winter Soldier'
Released in March
If Scarlet Witch and Vision is a haunting parody of recognizable television formats, this Captain America spin-off is based on the more familiar model of the Avengers saga itself. In fact, Anthony Mackie, aka Falcon, has spoken of the project as "a movie cut into parts, just a six or eight hour movie." His flying hero and the Winter Soldier (Sebastian Stan) will again meet the Sokovian terrorist Helmut Zemo (Daniel Brühl).
Be that as it may, Marvel has no plans to leave theaters, as Warner Bros. has (in part) begun to do with DC movies. Your project is based only on adding.
Boss Feige explained in Deadline these days: "My hope is that the world returns to its normal course and that we all return to theaters, and that people not only see and experience week by week, due to the low monthly fee of Disney +, everything we are going to bring here, but also want to meet people in real life and sit next to strangers to share an experience on the big screen ".