Marta Riesco enters 'Sálvame' and clashes with Anabel Pantoja: "You on the bench, like your aunt"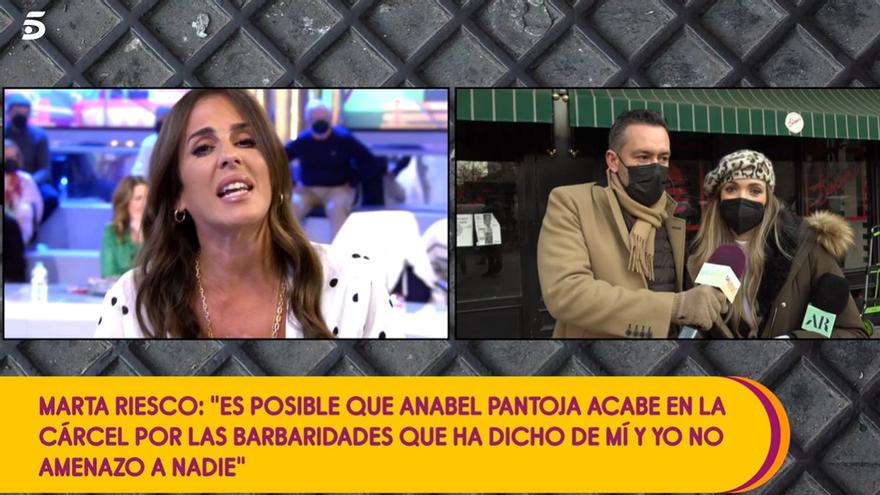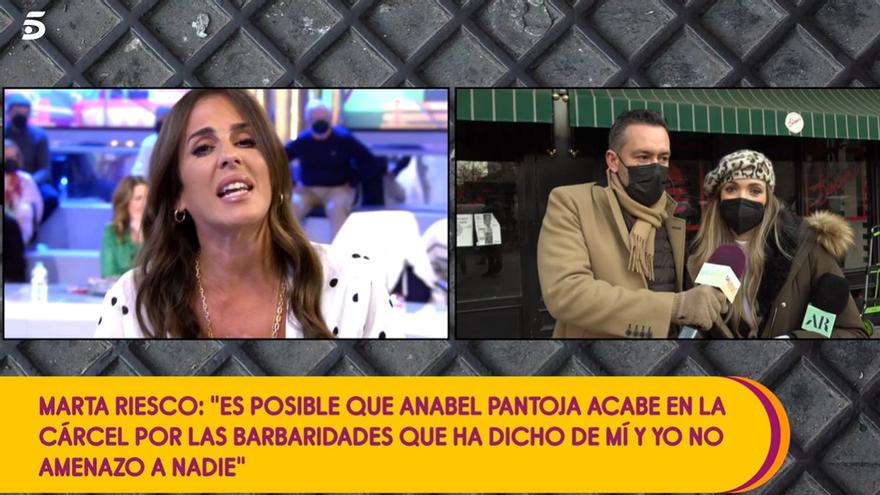 Although he stated that he does not want to be a public figure, Martha Riesco has entered this Tuesday fully in the game of 'Save me'. The reporter from 'The Ana Rosa program', who has participated in the evening space through a live connection from Vitoria, has confirmed that he is going to sue Anabel Pantoja. "They are already writing it and soon it will reach you. I want to see you in court," she said.
The girlfriend of Antonio David Flores and the influencer have starred in a tense encounter during the broadcast of the program. "I don't talk to people like her," Marta commented after refusing to put on her earpiece: "What you have said you are going to have to say in front of the judge. That is what I am looking forward to, Anabel".
Finally, the journalist has agreed to hold a talk with Jorge Javier Vazquez, who has taken the opportunity to do a short interview: "Does Anabel have to be afraid?" "She knows what she has said. According to what the lawyers tell me, yes and a lot. It is quite a crime... We are going to leave it there. She is going to have to give many explanations to the Justice".
Marta has not hesitated to say everything she thinks about Isabel Pantoja's niece: "She thinks it's funny, but when you say something to her, she cries and leaves the set. She puts whatever it takes into others, lies and slander", he went on to say and then launch a serious warning: "I'm going to go for civil and criminal".
This war has originated as a consequence of the alleged sexual encounter that took place a few years ago in one of Cantora's armchairs. A topic that has recently been discussed again in 'Sálvame', with Anabel Pantoja giving details of what happened. Although the collaborator did not give names, Marta Riesco has been alluded to.
"Remember the forgiveness you asked my aunt!" Anabel replied to the reporter from the morning magazine, who tried to belittle the talk show host: "I get up at five in the morning. For me it is an honor, because I'm on 'El programa de Ana Rosa' by myself. Who are you there for?".
Anabel, aware that she made the leap to fame for being Isabel Pantoja's niece, has not remained silent: "You have wanted television for a long time. Sue me, take me wherever you want." "Wherever you want, no, wherever Justice wants. You to a bench, like your aunt"Marta has released.
A few words that have set fire to the collaborator of 'Sálvame': "I'm going to tell you one thing, beautiful. May you be very happy with your boyfriend, that you continue to get up at 5 in the morning and that you have good health to live that life . Take me wherever you want, but don't even touch my aunt. Because you did touch her in Seville to get an interview from her. Shut up, you have a lot of bad drool to enter Cantora on December 31 to eat the grapes and what the grapes were not, mamarracha".