Márquez: "When you drive in pain, you don't enjoy it"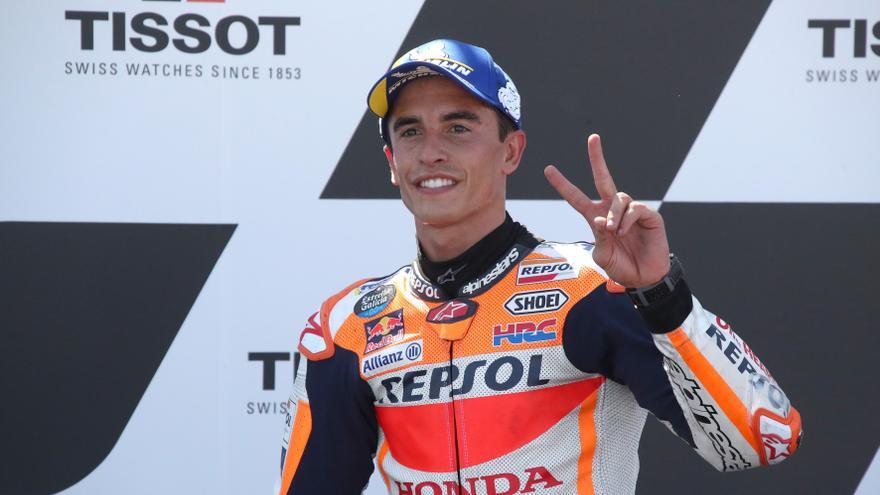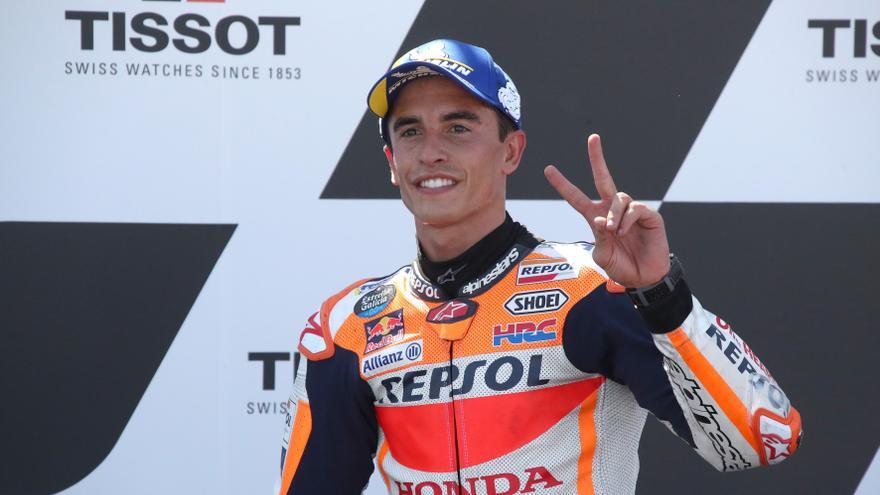 The world He arrives at one of those circuits that drivers love. Not only for the country, Italy, the other cradle of a lot of champions, winners and young drivers alongside Spain, Sure. Not only because it is an exciting circuit. Not only because the path is called, which also, yes, also, Marco Simoncelli, but because in Misano huge races have been seen and, not only does the World Cup visit this weekend in the San Marino GP, but will return, on October 24 (upon return from Austin, Texas, USA), for the Italian Grand Prix.
And there, in Misano, many things will happen. For example, he will start to say goodbye Valentino Rossi (Yamaha) of its people. For instance, Franco Morbidelli (Yamaha) returns after five grand prizes of absence due to injury. Bagnaia (Ducati), brilliant winner, four days ago, in Motorland (Aragon), after a spectacular duel with Marc Marquez (Honda), until the last lap, you will want to win again to score even more points from Fabio Quartararo (Yamaha), then eighth and still leader. Come back by the way Andrea Dovizioso to the activity, this time at Yamaha, together with 'Doctor'. And of course, MM93 you will want to stay on the podium.
Far from the best Marc
When Márquez, who co-starred with Bagnaia in one of the best races of the year and, without a doubt, of the last three best laps of the season, was asked if he already enjoyed riding the bike, the champion from Cervera (Lleida) commented that " I have moments, only moments, but, yes, there are laps that I feel very good and I return to being the one of 2019, but it does not last long. Why? Because always, in one way or another, at one point or another, the pain returns, true, less and less strong, but it comes back and, when you drive with pain, you do not enjoy, as is normal. But I am encouraged, yes ".
Márquez insisted (or recalled) that his driving, the one that made him be different, allowing him to have that extra that he does not have now, that allowed him to sweep in 2019, for example, requires a lot of physical strength, which he does not have now. "I repeat, I can do it in my head, but when I take it to the track I must be careful because, in the slightest oversight, I am not able to save the fall." In that sense, he acknowledged that he is waiting for the two-week break, before returning to Misano, to improve physically. "After each GP I have to rest for three days, I train for two and I am already running again and that is very hard." They asked him if he is considering a fourth surgical operation and, for now, he said that this is not considered, no.
Of course, Márquez, more than the rest of the pilots, said that he hopes to be able to rest well on Monday after the effort made throughout the weekend, "because the test on Tuesday and Wednesday can be decisive, vital, for the World Cup next year. We are going to test a new prototype and many things and we cannot make a mistake in the forecast, because we have a lot at stake, therefore I hope to have the strength to be able to help the Japanese engineers, who I know that they are working very hard so that, in 2022, we will have a motorcycle, if not a winner, it is very competitive ".
Rossi + Dovizioso, 87 years old and 854 grands prix on the track
It goes without saying that after being absent in the last World Championship campaign, the return of the three-time MotoGP world runner-up, Andrea Dovizioso (Ducati), the great rival of Marc Marquez (Honda) in recent years, it is one of the great novelties and surprises of the Italian GP. 'Dovi' returns to Yamaha's 'satellite' team, Petronas, along with Valentino rossi, which is already saying goodbye.
In the same box, two pilots who add up to 87 years (42 from 'Doctor' and 35, from 'Dovi') and 854 great prizes, 427 contested by Rossi and 327 run by Dovizioso. And, of course, good, great, words from everyone.
"I have a fantastic relationship with 'Dovi' and we are, not only great friends, but great rivals and we have had great battles on the track," Rossi said today. "'Dovi' has been and is an important name on this grid and I am sure that everyone is very happy that he is coming back."
I don't know if everyone, yeah sure though Aleix EspargaróAn official Aprilia rider, not long ago he criticized 'Dovi' for not taking his role as a test driver for the Noale factory very seriously.