Markets fall again and erase yesterday's profits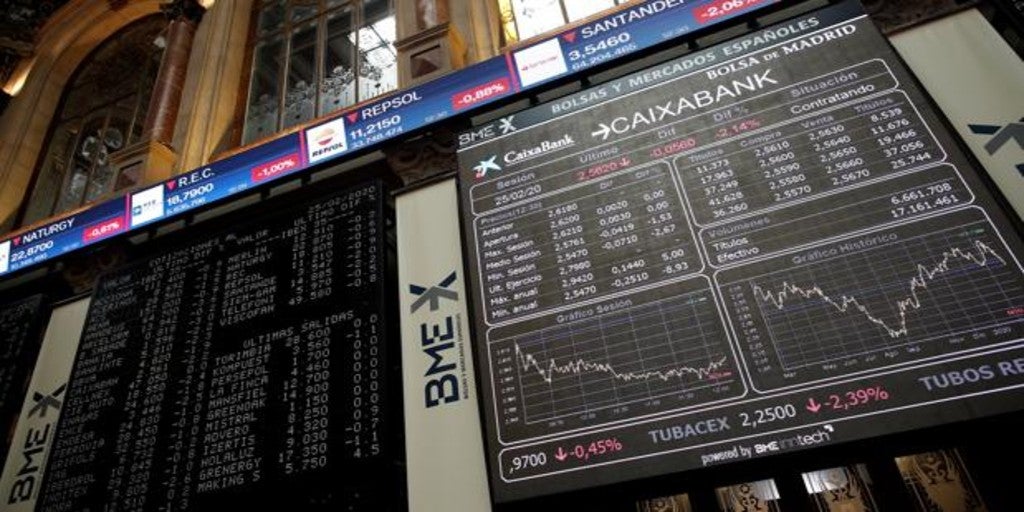 Updated:
save

The Spanish Stock Exchange 1.84% is left one hour after opening affected, again, by the fear to the expansion of the coronavirus to global level and its economic consequences, and this in the middle of a new avalanche of presentation of results in Spain.
At 9.15 hours, the main indicator of the Spanish Stock Exchange, the Ibex 35, leaves 171.30 points, that 1.84%, to 9,146 points and delete yesterday's earnings. In the accumulated year, losses already exceed 4%.
In Europe, with the euro at $ 1.09, the declines reach 2.14% in Frankfurt, 1.78% in London; 1.84% in Milan; and 1.89% in Paris.
The bags of the Old Continent are dawning today with new declines after Wall Street closed yesterday mixed, and with future Americans pointing down today, after a coronavirus infection in California with no known origin has been confirmed.
In Asia, the trend has been similar, since although the Shanghai market has risen 0.21% – fewer deaths from coronavirus have been confirmed-, Tokyo has lost 2.13%. The Japanese Government has recommended the cancellation for two weeks of all cultural and sporting events to prevent the spread of the virus.
The Chinese authorities, the origin of the outbreak, have said they are confident of having the epidemic under control at the end of April. To date, the cumulative number of deaths in China due to the coronavirus is 2,744 and the number of confirmed cases is 78,497. In Italy there have been twelve deaths, and in France, two.
In this context, the price of Brent crude oil – the benchmark in Europe – falls more than 1%, to $ 52.70.
This day will be marked not only by the coronavirus, but also by the publication of relevant macroeconomic data of the US GDP. and requests for unemployment benefits, in addition to a Avalanche of business results in Spain, where it has also been published that inflation has settled in February.
Within the Ibex, Ence's strong falls of 4.69% stand out, after announcing a 93% reduction in profit in 2019. Amadeus also yields 4.27%; Siemens Gamesa, 3.05%; and IAG, 3.23%. Acerinox, meanwhile, is the only value of the Ibex 35 that goes up, 0.35%. Of the large values, Inditex drops 3.25%; Repsol, 2.35%; BBVA, 2.26%; Santander, 2.15%; Telefónica, 2.04%; and Iberdrola, 1.20%.
In the continuous market, the oil company Deoleo soars 21.16%, while Berkey leaves 5.31%.