Mark Fisher, a 'pop' thinker for dark times | Babelia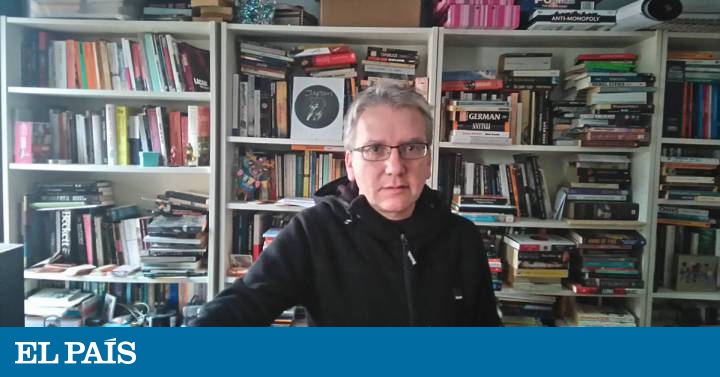 Page 213. Review by Mark Fisher (1968-2017) on The Next Dayby David Bowie. I look at the use of the noun. "The speed of deployment." "Advances and hyperbole." "The inclination to hallucinate." I confess that I have always been fascinated by music criticism and its ability to use the traveling almost as a moral issue. I mean how the text is constructed with an internal style, without which no external style would be possible. Fisher's restless temperament and intellectual voracity have always pushed him to adopt an essentially exploratory attitude in this field. Unable to adulterate his sensibilities and from an artistic predisposition bent on taking risks, the text becomes more than just a commentary on Bowie and works well as the diagnosis of a temporary malaise more complex than the song. "What is that white space, that void?" He asks himself in the last lines.
The text was first published by Fisher in Magazine The Wire in May 2013, magazine of which he was deputy editor in 2008, and is now included by the Caja Negra publishing house in K-Punk - Volume 2, a new compilation of his writings on music and politics. Bowie's latest album dissection is a perfect example of how cultural critic understood it: a somewhat abrasive text, also somewhat controversial, quite lucid, unsentimental and strategically optimistic. And that's counting that he never hid his effort to reconcile experimental art with direct criticism of capitalism and its preferred secondary effect, depression, which was so dragging on. Even when he lashed out at collective alienation and what he called the "boring dystopia" of our present, he managed to be original and even wild. Pure air in the context of unconventional writing. That was Fisher: an active, tenacious, self-demanding contemplation. The broadest sense of the term writer: someone who cares about everything. The theorist capable of separating, provoking, and the critic that implies, that arouses empathy. A fanatical activist of the review. The professor contrary to papers academics. One of the most lucid minds in contemporary thought of this century, something he would surely reject with a nervous, self-deprecating laugh.
Fisher, who committed suicide in January 2017, left a work that is difficult to replace. His goal was always to offer the most complex picture possible, hence his idea of open a blog, k-punk, It quickly became an important part of an emerging UK community of intellectuals, self-taught researchers, disenchanted academics, and eccentrics of all stripes looting the work of established thinkers in search of analytical tools to use in non-traditional ways. With a Ph.D., professor of public high school and of the Department of Visual Cultures at Goldsmith University, editor and founder of the Cybernetic Culture Research Unit (CCRU), Fisher connected complex abstractions with perfectly chosen and interrelated examples from popular culture. instantly. The male desire behind the working-class glam of Roxy Music or Visage, the psycholanalytic truths latent in the songs of Joy Division or the suburban cult of goth bands like The Cure. Although my favorite example of this kind of insightful and creative writing is his vivid description of capitalism using monstrous terms, something he theorized extensively in The weird and the creepy (Alpha Decay, 2018). Brian Eno, David Lynch or Lovecraft parade there, broad band for their idea of ​​how the strange generates a cut of reality.
Reading this in the middle of a pandemic gives you chills. I can't stop thinking about what I would think about this catastrophic reality. This is probably why the two volumes of K-Punk Until now translated by Caja Negra (the third is yet to come) they offer the possibility of an almost autobiographical adventure. We read keen reflections on the election results and the 2008 financial crisis, chronicles of the 2011 London looting and privatization in education and mental health, complaints about precarious employment and mobile phone addiction. In a terrain as inherently complex, challenging, and difficult as critical and cultural theory, Fisher not only makes it sound easy to understand, but shows how vital and urgent it is still in our day-to-day lives. No other contemporary author has managed to capture so vividly the brutal lack of social and political alternatives in the age of world capital. How to read, if not, texts like Not fail better, but fight to win. I'm going to page 382: "The expressive rhetoric of 'We're all in this'. In other words, if we don't all throw to the same side, we will go under ". OR The logic of police restraint, on page 293: "This is an administration that stands at the end of something - not at the beginning - lacking in ideas and energy, crossing its fingers and hoping that, by means of a miracle, the old world can be brought back back to life before someone realizes that it has already collapsed. " Fisher's intellectual quality does not stitch without a thread. The subtitle of your mythical Capitalist realism (Black Box, 2016), No alternative?It is more than a rhetorical question: it is a call to arms, at least verbally.
K-Punk - Volume 2. Collected and unpublished writings (music and politics). Mark Fisher. Black Box. 544 pages. 27 euros.