Marisa Gallén, pioneer of modernity, new National Design Award | Culture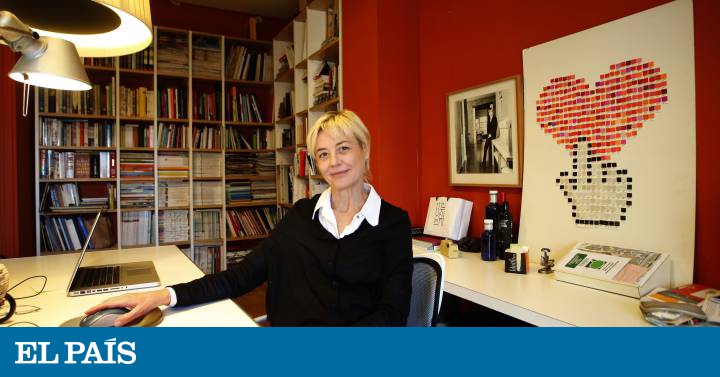 Marisa Gallén has won the National Design Award in recognition of the trajectory granted by the Ministry of Science, Innovation and Universities, as announced in advance on Tuesday Joan Ribó, mayor of Valencia, the city in which Gallén lives and works. Member of the collective The ship, one of the referents of the breaker design Spanish of the eighties, author of works as her inflatable objects of the pop collection and, more recently, of the image of Gens pumps, the museum focused on contemporary art and photography that the Fundació Per Amor a l'Art opened in Valencia in 2017, Gallen has received the news "with much happiness". Only another woman, Pati Núñez, had received it, in 2007.
The professional, dedicated mainly to graphic design, which has also made fruitful incursions into the industrial, as with its reversible rugs for the Valencian company Gandia Blasco or its baking sheet and Diablo table for the Italian brand Alessi (in both cases with Sandra Figuerola), commented by phone, shortly after hearing the news of the award, his first impressions. "I have a fairly consistent and long career, I have been a pioneer of graphic design in this country, like all of my generation, and, in addition, it turns out that Valencia is currently living a bright moment in our field having been chosen as world capital of design in 2022 — Gallen is the president of the association that was formed to boost the candidacy. All this must have influenced. "
"Another argument that I think has been able to weigh," he continues, "is the fact of being a woman; women have had little chance of recognition and awards. Although we have made great progress in the feminist struggle, the truth is that we remain Very few of us have a presence in prestigious places. And I must say that if that has played in my favor, I don't care, because it will be one of the few times that being a woman has favored me. "
Gallén studied Fine Arts at the San Carlos School in Valencia and trained professionally at La Nave, the historic studio founded in an old industrial building on San Vicente de Valencia street by 11 professionals, including interior designers, furniture and graphics, in addition to an architect, who contributed to the golden age of Spanish design and to make it known in the world.
"The Ship became a symbol of modernity. We were a coworking avant la lettre. We join together to have a greater space and possibilities than we would have had working individually. For certain projects we made teams, but fundamentally we shared a space and a philosophy. We were a multicolored group and we all learned a lot, "summarizes Gallén.
The Nave was open between 1984 and 1991. Nacho Lavernia and Daniel Nebot were part of it, which are also national Design Awards, in addition to Juan José Belda, Paco Bascuñán, Sandra Figuerola, Eduardo Albors, Lorenzo Company, Carlos Bento, Luis González , Luis Lavernia and Gallén herself.
The designer now directs, together with Carmina Ibáñez, the Gallén + Ibáñez studio, located on Carniceros street, in the Velluters neighborhood of the Ciutat Vella district, works on several editorial projects these days, packaging (packaging and label design) and corporate identity. An IVAM order has just been completed and in 2020 Mercadona will launch a line of cosmetics for sale in Portugal and Spain whose image it has designed.
Point, National Design Award in the company category
The Ministry of Science, Innovation and Universities has awarded the National Design Award in its business category to Point, an outdoor furniture firm located in Gata de Gorgos (Alicante) that will turn a century in 2020. Point products, run for four generations by the Pons family, are present today in 70 countries.
. (tagsToTranslate) marisa gallén (t) pioneer (t) pioneer (t) modernity (t) new (t) national design award (t) Valencian (t) start (t) career (t) year (t) eighty ( t) historical (t) collective (t) the ship



Source link