Mario Vargas Llosa: "Nationalism and culture do not get along"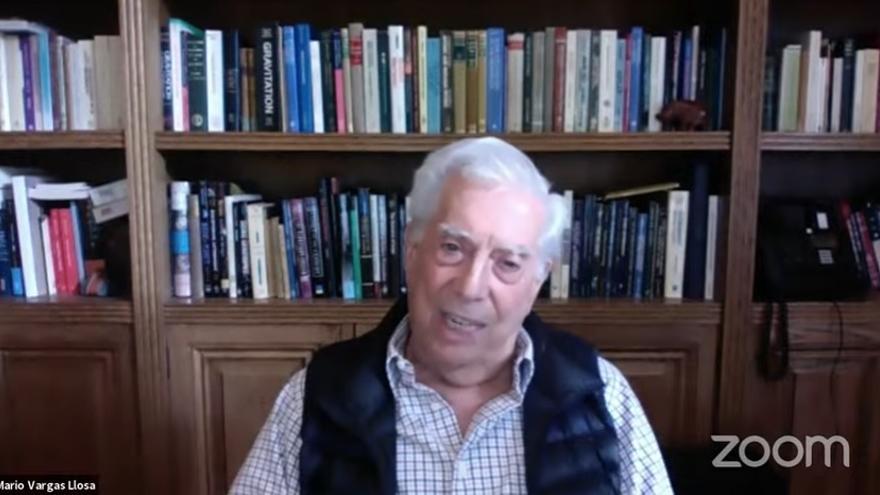 The Peruvian writer Mario Vargas Llosa, Nobel Prize in Literature 2010, has pointed out the "enormous privilege" that Catalans have in being able to read and write in two languages, while he has again been critical of secessionism in Catalonia: "Nationalism and culture do not get along".
The author of 'La tía Julia y el Escridor' or 'La fiesta del Chivo' has talked about language and culture with the deputies of Ciudadanos Nacho Martín Blanco and Anna Grau, to whom he has confessed that he is of the same opinion as Miguel de Cervantes says that 'Tirant lo blanc', by Joanot Martorell, "is the best book in the world".
Regarding the marginalization that the nationalist Government of Catalan culture carries out for oranges in Spanish, Vargas Llosa has indicated that "it is absurd" not to be aware of the "enormous privilege of reading and writing in two languages".
"Catalan nationalism is not different from other nationalisms; a sort of dogmatic vision focused on what is purely circumstantial and temporary, "pointed out the writer, who has been hopeful that secessionism in the community is something" temporary. "
The Peruvian author, who has lived in Spain for years, has said that for him, "instead, if something characterizes Catalonia, it is universality, projecting itself beyond borders"and has targeted figures like Antoni Gaudí in that line.
Regarding the lack of promotion of Catalan cultural expression in Spanish in Catalonia, he highlighted: "the cultural field is not confined to one language, far from it. The perspective of nationalism is a vision with ear flaps of the cultural field."
In Vargas Llosa's opinion, "All nationalisms are a loss of perspective that lock you up and confine you as in a kind of jail and it is incompatible with the great Catalan traditions ".
"Nationalism and culture do not get along. They have never gotten along. And ultimately they are incompatible. Culture is a wider field," he reasoned.
Vargas Llosa, in connection from his home in Madrid, has assured that he has a "wonderful memory" of the five years he lived in Barcelona, a city that in the 1970s, when he lived in the city of Barcelona, ​​"was the cultural capital of Spain."
"The Spanish were going to feel European. It had a special atmosphere that was very close to freedom, although there was not yet, but there was more than in the rest of Spain. It was a very stimulating climate," he recalled.
Further, he has underlined the key role of the Catalan publishing world in bringing Latin American literature closer to Spain and has highlighted the work for literature and culture in Spain by Carlos Barral and Carmen Balcells.
Asked if he had any specific recommendations for this day of Sant Jordi, the author of 'The city and the dogs' has wanted to pay tribute to the Catalan poet Josep Vicenç Foix, "of a very fine, original and surrealist poetry".