Mario Vaquerizo: "We have passed from a Franco dictatorship to one of the correction" | TV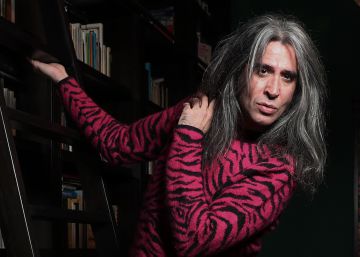 Mario Vaquerizo (Madrid, 1974) does not need presentation because she has become one of the most famous, transversal and transgenerational celebrities in Spain, only after his wife Alaska. Children enjoy their histrionic side, grandmothers with their conservative side and adults with that schizoid mix of both. This was how in 2011, thanks to reality Alaska and Mario (Paramount) became an unexpected star of artifice warholiano, unusual in a rather Galdosian country that, when it came to building idols for society pages, always preferred the suffering of folklore and comings to less.
For now, we will not see him again in a sixth season of the series. "The format reality it perverts very easily and we also don't have time, "he explains from the fuchsia velvet sofa of the penultimate house that has been bought in the center of Madrid. He already has several, in fact from the press department of Atremedia (where he perfects his role as showman in the eighth season of Your face is familiar to me) We have been asked: "In which of your houses do you want to do the interview?"
Question. With what you enjoy fame, being in a contest consisting of celebrities who imitate others should be like having died and going to heaven.
Reply. What is costing me the most is imitation: I have realized that I have more personality than I thought. It's hard for me to stop being Mario Vaquerizo. It takes a lot of work, but I'm trying hard. Besides, nobody ever expects anything.
P. And that makes you nervous or reassures you?
R. It reassures me, because in the end I always end up surprising.
P. It seems that he doesn't like losing anything.
R. Of course I get lost. The moment you decide to enter a contest you have to be professional even to be a contestant. And you want to be professional in a contest, you have to want to win. But I no longer need to prove anything. The objective of this program is to entertain.
P. Do you think that entertaining is still seen as a minor thing in our country?
R. People who have simply dedicated themselves to that have always looked over their shoulders. Everyone has been very prejudiced with television, let's not forget it. In the 1990s, no actress wanted to work on a television series and now with Netflix everyone wants to do it. Alaska told me that when he did The Cristal ball The fundamentalists told him: "But how are you going to make a children's program?" I have no problem with going to or Save me neither to The anthill.
P. What does a television show have to have for Mario Vaquerizo to say "no"?
R. I would never go to a program where they want you to say what they want. That's why I stopped going to political programs a long time ago because I am neither white nor black, I am pearl gray.
P. And because on Twitter they were going to put it in stock…
R. Now with that nonsense of Twitter gives everything so lazy ... In the end you start to self-censor. I am now talking here with you so comfortable, but then my opinion is misrepresented in a headline and I have to be justifying what I said or did not say or the way I said it. We pass from a Franco dictatorship and now we are in the dictatorship of the politically correct. What a shame, really.
P. You are the last eminently television celebrity that Spain has given, before the viral, the transmedia and everything else.
R. Yes, and notice, it was not in a generalist chain, but in a paid music television that really did not see many people [MTV]. And that's where I had to do it. It has always happened to me: I am like outside the industry, but I am part of the industry. The same thing happens to me with the Blonde Nancys [su grupo musical], that we do not play in any musical chain because they consider us some mamarrachas, but nevertheless we have hits and we will perform at the village festivities before 10,000 people.
P. Do you have a thorn nailed by the fact that nobody takes your musical career seriously?
R. I do not care. I do not have any thorn stuck, nor am I spiteful.
P. It is noteworthy that in some interviews remember with names and surnames critics who were not kind to you.
R. I cut all the criticisms and save them. And if I get angry it is because in many of them they go to the personal. I fall very well or very badly and, often, the criticisms made to the Blonde Nancys are biased by that. But come on, they are also detracting from the Warner, who hired us after seeing us in our first performance. When they underestimate me, they also underestimate the Warner.
P. Why does it fall so bad to those who fall ill?
R. Because they don't know me and get carried away by stereotypes. I recognize that I am an intense and very extreme person. It has also happened to me: there were celebrities whom I watched on television and thought: "What a shame I like!" And when I've met them they've even become friends of mine.
P. Tell me one
R. Do not!
P. I want to read literally another of the criticisms that have been thrown at him: "He never says anything that could bother someone with power."
R. Huy, yes, I know who he is, that I have worked with him. And I get phenomenal! He doesn't know me really well. I interact with everyone. It is a matter of education. I go to BE, where I collaborate every day, and I meet many politicians and I greet them. There are some who return my greeting and others who don't ...
P. Do you turn your head?
R. They put a loose hand on me.
P. Who?
R. I'm not going to tell you!
P. Do they pull more to the left or to the right?
R. I will not go into that. Look, there are absurd politicians on the left and absurd politicians on the right. And on the right there are very good politicians and the left too. Every fag is a world. That I do not say anything that can bother ... If you ask me something, I can agree or not. The problem is that since everything is so polarized lately, you are here or you are there. And I don't want to be anywhere, I want to be in the Vaquerizo universe.
P. Your boss in El Hormiguero, Pablo Motos, also arouses very polarized reactions and misses a certain sector of the audience. You who know him, why do you think he is?
R. Out of envy. Pablo is an uncle who has made himself, has created a wonderful format that has become a program of maximum audience and also does at all times what he wants. Who are the spectators to say that if he comes out more than the interviewees? In any case, let the interviewees say it! All this is because of envy.
P. Is it really that simple?
R. Look, the moment you say that everything is going badly you are already better. But when you say that you are doing well because you work a lot ... I have houses because I have earned it! Then they say: "Huy, this is a façade, this is a I don't know how much". Please, gentlemen! At first, it offends you more, but then, depending on how you get caught, it bothers you or not. What I am not going to do is give people who, through me, want to be noticed, as happened recently with feminism.
P. He is talking about his famous visit, last September, to a children's program of Telemadrid where he sang with the children: "Feminism? I do not care!".
R. Yes. I went to do a children's program, not to indoctrinate anyone. I am not a politician or a social educator, I am a famous fun. They decide to propose a game in which I have to answer "I don't care" or "I love it". And they tell me: politics? And I: I don't care. Feminism? I do not care. Friendship? I love. The mariconeo? I love. And I say it like this: ma-ri-co-ne-o.
P. You have made the word "fag" very popular during prime time.
R. It is normalizing, for me it is not an insult. I like it more than "gay," but whoever wants to say "gay" says "gay." I claim the mariconeo and the pen. The pen is not exclusive heritage of the mariconeo. There are also heterosexuals who have pen. But they will always criticize. How Criticize for criticismDo you remember the song of Fangoria? Well, it's inspired by the MySpace, that if you didn't have a MySpace, you were nobody, and then on Facebook, then Instagram and in two years it will be something else. Nor do I think that because I have a million followers on Instagram, I admire a million million people. Do I sell a million records? Well, no.
P. He has more followers than his wife. How did it happen?
R. Because of his behavior on television, Alaska is very different from me. And for his shyness and caution. Alaska is more respected than me. I am more massive and populachero. How did it happen? Well, I don't know, ask those who follow us.
P. You talk so much and so fast that so far he has let me read not a single one of my questions.
R. Oh, sorry! I speak like a parrot. I have done interviews of those in which people gave me the typical promotional responses. And it is a lack of respect to the professional who comes to interview you and also a lack of respect to which you have paid a fortune for a movie. And then you don't want to do promotion? Honey, let's look for a little consistency. That has also saved my life: I am still both sides. I have not wanted to lose my profession as a journalist or manager. I don't have a manager, I take everything myself. And I also love it, I love to negotiate. And mother fucking business.