Marijuana leaf cannot be a brand | Economy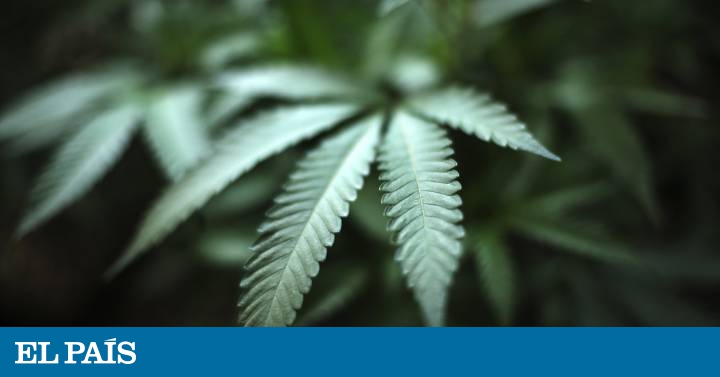 The Court of Justice of the European Union (CJEU) considers that an image with the symbol of marijuana and with the words "Cannabis Store Amsterdam" cannot be registered as a European mark (valid throughout the EU) because it is "contrary to order public". The court understands that these symbols can incite drug use and thus deny registration to an Italian citizen who wanted to open a food store with that name and register it as a European brand.
In a ruling published on Thursday, the CJEU rejects the appeal filed by the Italian Santa Conte against a resolution of the EU Intellectual Property Office (EUIPO). This agency, based in Alicante, denied Conte the inscription as a European brand of a figurative sign consisting of a black background with a pattern of green marijuana leaves on which you can read "Cannabis Store Amsterdam" in white capital letters.
Conte, resident in Naples, asked at the end of 2016 to register this figurative sign to open a shop-restaurant of food products, of classes that include "bakery, pastry, chocolates and desserts products; salts, dressings, dressings and condiments; ice, ice cream, frozen yogurts and sorbets and salty cakes). The EUIPO denied the registration of the trademark in September 2017 and she appealed this decision a month later to the same body, which again denied the registration in August 2018, considering that the sign that the woman wanted to register is "contrary to the order public".
The woman resorted to the CJEU with scientific arguments, such as that marijuana is not a plant but a psychotropic substance and that it is not obtained from cannabis leaves (represented in the figurative sign), but from its "dried inflorescences" and that if the Hemp does not contain a sufficient amount of tetrahydrocannabinol (THC), the psychoactive principle, is not considered narcotic.
However, the CJEU confirms the EUIPO ruling by arguing several things: First, that the cannabis leaf symbol is the marijuana media symbol; second, that the term "Amsterdam" refers to the fact that in that city the sale and consumption of that drug is allowed under certain conditions; and thirdly, that the term "store", which usually means "store", results in the public "waiting for the products and services marketed by the appellant to coincide with those offered by that type of store", that is , a narcotics store.
The CJEU understands that the public does not necessarily have that technical knowledge about cannabis, that this is illegal in many EU countries and that combating the use of this drug is a public health goal and therefore falls within the concept of " public order". On the other hand, it also considers that the sign that the Italian wanted to register for its products and services indicates that these contain narcotic substances and that "implicitly but necessarily induces the purchase of those products or, at least, banalizes their consumption".
. (tagsToTranslate) sheet (t) marijuana (t) can (t) be (t) mark (t) justice (t) European (t) European (t) reject (t) record (t) image (t) include ( t) hemp (t) opposite (t) public order (t)



Source link