Mariela Condo, the indigenous pride of Ecuador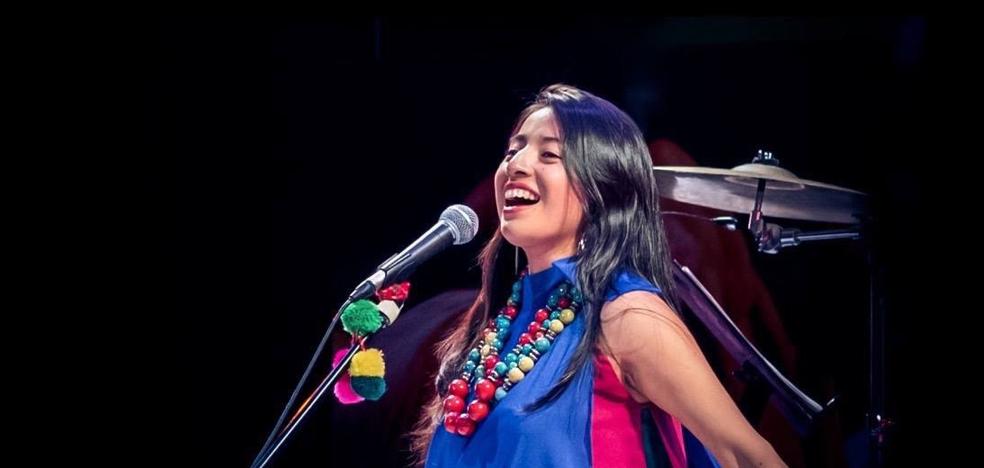 The singer opens the 'Orillas' musical cycle this Saturday, July 16 (9:00 p.m.), with a free concert in the Miller building
Ecuadorian singer and songwriter Mariela Condo opens this Saturday
(9:00 p.m.) the musical series 'Orillas', which the Las Palmas de Gran Canaria City Council Promotion Society is holding in the Miller building. The direct from Condo, which has
free charactershows the proposal of this unique singer who, since the beginning of the year 2000, has been renewing with her songs the roots of the Ecuadorian musical tradition and the indigenous rhythms of the southern highlands of
Ecuador, his homeland.
Spanish and Quichua (the Andean region's own language) merge in the lyrics of the performer who senses that when she sings she does not do it with her voice, but "the voice of other grandparents who inhabit my genetic memory and who have come traveling since time immemorial. As of 2012 Condo, which has launched to the market
five albums to date, receives important recognition inside and outside his country and begins to collaborate with international artists such as Lila Downs. In her proposal, features of the roots of Ecuadorian popular music are preserved, such as the
albazo, corridor, air of Inca fox, yaraví, cachullapi, carnival and sanjuanito.
Repertoire

In his concert at the Miller he will offer a
traditional themes fortnight of Ecuadorian folklore such as 'Sleep negrito', 'Llaki shunku' or 'Curiquinqui', 'Thanks to life', by
Violet Vine'If you leave', from
Alfredo Zitarrosawhich he will combine with others of his like 'Flor de quebrada' or 'Vengo a ver'.
She explains that her proposal is nourished by three currents: the Latin American song, the traditional music of her country and the jazz that embraced her in her university stage.
Mariela Condo confesses that Latin American artists who have always been present in her daily life have been
Omara Portuondo, Chavela Vargas, Lucha Reyes, Olga Guillot, Agustín Lara, José Alfredo Jiménez. Benitez and Valencia, Carlota Jaramillo from Ecuadoramong many others.
The Ecuadorian singer considers that the challenge faced by artists from the Latin American area to position their proposals and products in today's globalized world is to "deeply understand the great gap that exists (and unsustainable) between massive artists and independent artists; that is, they do not have the
great apparatus what is behind each massive artist. To this, we must add that the royalties on digital platforms are usurious, that is to say that an independent artist could never have a decent life only with the royalties from these digital platforms. Plus,
the terrible delay in which we live in countries like mine, where culture is not a priority, it is not seen as a human right, and therefore there are no public policies that allow the development and sustainability of an artistic project. So, there we could more or less have an approximate panorama of the challenges that Latin American artists face », he explains.
About the infinity of combative songs that the Latin American songbook has generated, Mariela Condo has a clear impression: «a song does not transform the
political reality of a country, it does not guarantee that laws are designed with a better life for people in mind. As the Uruguayan Alfredo Zitarrosa said, the songs narrate what happens and goes through the heart of a town. In any case, it helps to reflect the pain of a people».
Within the influences of Mariela Condo, there is the entire rich range of Latin American folklore, which has undoubtedly encouraged her to add new ideas in the rereadings she has faced of certain classics and in her own compositions.
Although it comes from
a remote area of ​​Ecuador and works with indigenous rhythms, Condo does not agree very much with some proposals of the indigenous movement and its ethnocentric discourse: "we have all become extremists. Ethnic prejudices have been awakened, and the indigenous movement has also awakened that of:
"We, the millennial people", the side of exoticization. That mystification is what generates and creates these gaps, these distances, and it is in these distances that discrimination and racism grow. The challenge is to begin to de-stereotype ourselves", concludes the Ecuadorian singer.