Mariano García, European champion of 800 meters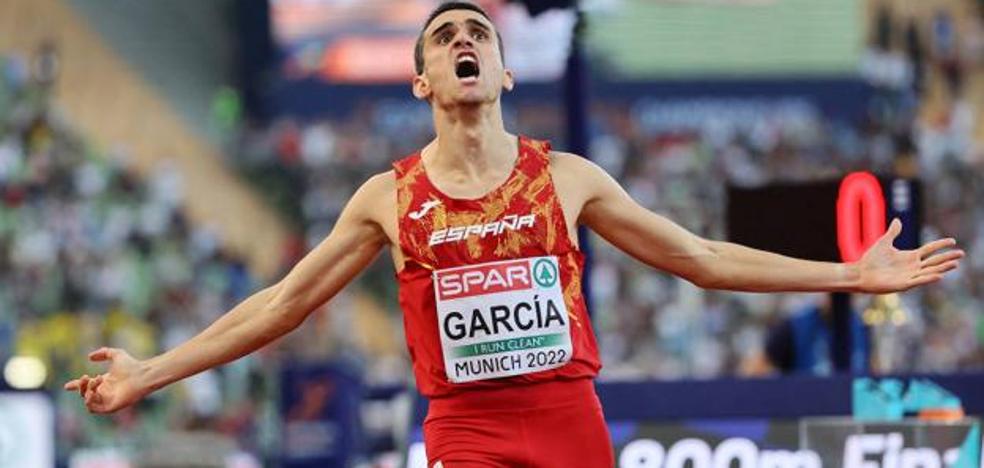 Athletics
The Murcian, gold in the Indoor World Championships in March, enters the history of Spanish athletics with a double that is only within the reach of the chosen ones
The boy who began to run through the streets of his town, Cuevas de Reyllo (Murcia), to escape from a neighbor's dog that chased him when he returned from school is today a man who will never forget this 2022. Indoor world champion and from this Sunday also champion of Europe. Mariano García, at 24 years old, enters the history of Spanish athletics with a double that is only within the reach of the chosen ones. Mariano García downplays importance. He is not vain nor does he care about fame. He doesn't have star tics, but he certainly is.
He demonstrated it again this Sunday in the final of the 800 meters, leaving his mark at the legendary Olympiastadion in Munich, where he won the gold medal with a time of 1:44.85. Mariano García dominated the entire race and resisted the final rush of the British Jake Wightman, who took silver. Irishman Mark English, bronze, completed the podium.
The one from Cuevas de Reyllo completes an incredible European Championship for Murcian athletics. Three medals in a week that will hardly be repeated in the future. Gold for Miguel Ángel López, from Llano de Brujas, in the 35 km walk. Silver for Mo Katir, from Mula, in the 5,000 meters. And gold for Mariano García, from Cuevas de Reyllo, in the 800.
Thus, Mariano García obtains his reward for many months of hard work. Last summer was very hard for Gabi Lorente's pupil. Before the Tokyo Olympics he had to undergo surgery for an untimely appendicitis and could not fulfill his dream of debuting in the Olympic Games. He accepted what happened and in September he started training "like crazy." He prepared himself like never before in the 'Mercadillo Stadium', the 300-meter triangular piece of land that is used to put up the Fuente Álamo market. He also did long runs along the goat paths in Cuevas de Reyllo and Los Cánovas to prepare for the Indoor World Championship in Belgrade. And there, on March 19, he won a gold medal that no one expected.
He was received with honors at Fuente Álamo and, after a well-deserved rest, he wanted to start his bike again. But he cost her a world. He was infected with coronavirus and that took its toll on him. He wanted to get back to his level but his records in the outdoor season were far from what he intended. At the World Cup in Eugene, a month ago, he was disappointed to stay in the semifinals, far from the best. All those disappointments were erased at a stroke with his sensational role in a European Championship in which Mariano García has once again shown that he is one of the best Spanish athletes in recent decades.