Mariano Esteban, virologist and head of the CNB-CSIC Poxvirus Group: "I don't think there are thousands of cases of monkeypox, they have acted quickly"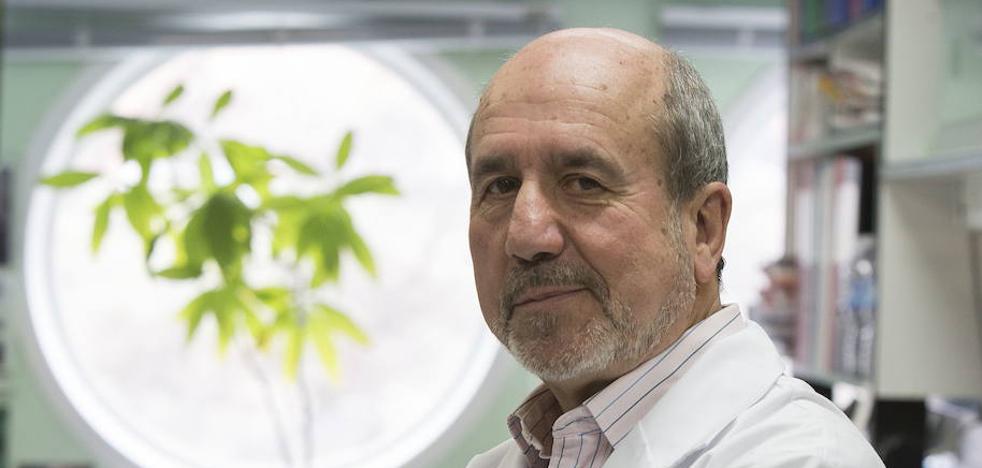 The scientist, who has been working with smallpox for 50 years, supports the vaccination of close contacts to prevent transmission
Poxviruses are a group of viruses whose most prominent representative is smallpox, and in Spain no one knows these pathogens more than Mariano Esteban (Villalón de Campos, Valladolid, 1945), who has been working with them for fifty years. Member of the WHO Scientific Advisory Committee for Human Smallpox and head of the Poxvirus Group of the National Center for Biotechnology-CSIC, the monkeypox outbreak caught him working on a vaccine against covid-19 that is based, precisely, on an attenuated smallpox virus.
- Are you worried about the appearance of monkeypox?
-We are surprised throughout Europe because it is a virus that remains confined to Africa, but at the same time, we are confident that we know how to act so that it does not spread. There are two strains: the most deadly, the one from Central Africa, reaches up to 10% lethality there, and the one from West Africa, 1%, but we do not know how it behaves outside of Africa and from that point of view, it is worrying . The one we have is the western one, the least serious.
-How should you act?
-Classically. First, the affected people must be confined, and for now it is easy to know their contacts. Then, a belt must be created around those who may be suspicious; later, analyze the samples with rapid diagnostic methods, which fortunately we have thanks to science; and finally, we have approved vaccines and antivirals. That has to give security to the population.
Will there be a large number of cases in Europe?
-I do not think so. It has acted quickly and I don't think there are thousands and thousands of cases.
What is the difference between human and monkey pox?
-They are two genetically very similar viruses, but different. Human smallpox is much more aggressive, with a lethality of 30%, and decimated entire populations. It has been one of the deadliest viruses that could be eradicated in the world through a mass vaccination program. Monkeypox is less lethal and does not spread as quickly or easily, because it requires close contact.
-How do you explain that not all cases have the same origin?
-It is strange, but the Ministry of Health is doing a follow-up to see if there has been any point of connection between them.
-The WHO and Europe have recommended vaccinating close contacts of the sick.
-It's logical. It must be ensured that there is no transmission and since the incubation period reaches up to three weeks, someone can be infected without knowing it.
-And it is an effective vaccine.
-They belong to the same family and have highly homologous proteins. The antibodies produced by the smallpox vaccine protect against the monkey virus.
-At some point will a mass vaccination be necessary?
-I don't think so.
-Those under 42 years of age do not have the smallpox vaccine.
-People vaccinated against smallpox are more resistant to monkeypox. Unlike with covid-19, now the risk group is the youngest.
-Spain has announced that it is going to buy vaccines. Didn't the country have stockpiles?
-Yes, the Ministry of Defense has stored about two million vaccines against smallpox that are reactivated. But it is not planned to use them because it is a very reactogenic vaccine, very strong, while the one from the Danish laboratory that has European authorization does not have that reactogenicity. The Defense one is ready to be used against a very powerful laboratory virus and now it seems that we require a softer one.
When can you start vaccinating?
-It depends on the supplying company, although in the current situation, it will speed up the processes.
-With monkeypox, the focus has been placed on the group of homosexuals.
-It is absurd to cruelly stigmatize people who have nothing to do with it. Any heterosexual person can be infected.
-Do we have to get used to dealing with more and more emerging diseases?
-Sure. The HIV pandemic, the flu, the SARS... they have not taught us anything. We are obtuse. Sometimes it gives the impression that we virologists are out for entertainment, but we have an important job, the health of the people. Spain has taken covid-19 very seriously, but we have to remain vigilant and help our research centers so that they are capable of producing vaccines for human use. Before we did not have the capacity to manufacture these vaccines, now we have companies that do. Why couldn't we also produce vaccines for diseases like monkeypox? We must have these infrastructures, we must take action.
-Is it frustrating to see how these diseases only matter when they reach Europe and not when they wreak havoc in Africa?
-Much. We think it is normal that there is famine or disease in Africa. And no, all humans are the same.