Marianico el Corto: "I didn't know I had dramatic records inside me" | TV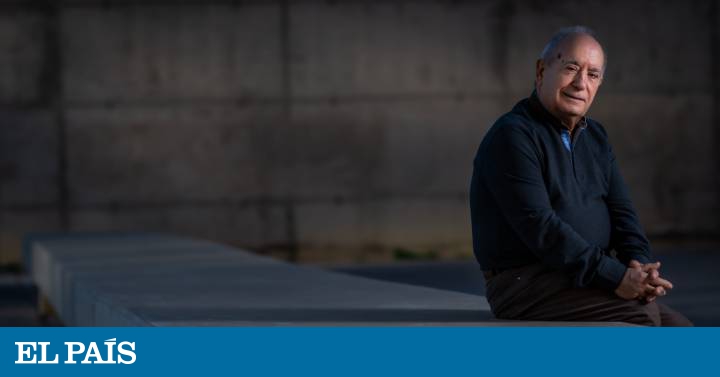 Marianico el Corto opens on February 20 at age 70 in dramatic fiction with The last show, a production of Aragon TV that, if you have to believe its protagonist, is the result of destiny. "If you do not believe in him, after what I am going to tell you, you are going to say: come on, it does exist," says the comedian who became famous on television in the 1990s with programs like Don't laugh it's worse of TVE. Everything goes back to twelve years ago, when Miguel Ángel Tirado, which is what the veteran humorist really is called, met by chance with a young man at the gates of Aragón Television. "I was at the door, smoking a cigarette. And the boy came to greet me. He knew me from television and said: 'Hello, Marianico'. It would have been normal for me to tell him a joke or something, but I don't know why he was philosophical at the time and I replied: 'Have you noticed, honey, how big the sky is and how many stars there are? We think we are something and compared to it we are nothing. He stayed with this phrase. He said: 'Anda, a humorist who says serious things.' This was recorded there, "he recalls.
That kid was Alex Rodrigo, who over the years would become director of television hits like Vis a vis, Paper house or The jetty. Indeed he did not forget that conversation. Three years ago he contacted Tirado again to ask if he would be willing to make a series with him. "We were in a square in Zaragoza and I said that of course I would like to. The next year he called me again and the third year we spoke was to tell me that everything was already underway. "
Rodrigo has created a series of eight chapters, which will also be broadcast on several FORTA channels, where real characters and a fictional plot are mixed. Tirado interprets a version of himself with which he feels so identified that he speaks of her in the first person: "A lifelong humorist who has reached an age, the one I have, in which I get tired of my jokes. I don't like it. I want to stop being a humorist. As it happens, I was always a follower of Luis Buñuel when I was young and I decided to make a surrealist film with my ex-wife to try to conquer it again ". In this fictional shoot participate, among others, Álvaro Morte, the popular teacher of The paper house, He also interprets himself.
The series was recorded last fall, for just over two months, and has been a very demanding experience. "I was crazy. I did not expect to do something like that, completely different from what is mine. In the series there is everything, you laugh but you also cry, there are hard moments, good moments… Everything is very well done ". Marianico el Corto, who started in the humor through radio with 33 years, is convinced to have emerged gracefully which has probably been the greatest challenge of his artistic life. "The truth is that I thought I could not do it because, notice, in addition, the scripts gave them to us at the end of September. He gave us almost no time to read them. How am I going to learn eight billets like these? This is impossible. At my age I can no longer ", he admits that it was raised. "I didn't know that I had these dramatic records inside me. I have never thought about it. Yes, I would have liked to do comedy movies, what Paco Martínez Soria did. On another level, of course, because he was a monster. "
Missing from television for more than a decade, Miguel Ángel Tirado has great memories of his golden age. "Prior to Don't laugh it's worse They knew me in my land, in Catalonia, Valencia and the Basque Country, Navarra, Rioja, but from the contest it was a nationwide explosion. I toured the entire Spanish geography. What the television gave me was that great publicity and besides, I keep a wonderful memory with my colleagues, that some unfortunately are no longer there, and how well we had a good time. " It also retains some savings, because it recognizes that it paid very well. "You earned money, although the Treasury also took a lot, because there were things that took you up to 55% of what you earned, and of course, this was money. But, look, hey, the point is that I was happy and made money. I have taken the family forward and it is not that I am over but, well, we have to live. "
When the skinny cows arrived and, as he says, the soap operas occupied the site of the humor programs on the grills, he followed his own, never thinking of throwing in the towel. He has taken his character to village parties, theaters and magazines, trying to connect with a loyal audience that was serving years at the same pace as him. "Normally young people when they make magazine or varieties, especially in the villages, they don't go, because they think they won't like it. They think it is a very old thing. It is curious because in addition, now what is in fashion are the monologists, and what I do are monologues. I go on stage and speak alone. And I play many more songs. I think that they go much more to young people, instead the jokes that I tell go from, what I tell you, 90 to 10 or 12 years. Everyone can understand them. " Tirado knows what he is talking about because he acknowledges that he follows the new generation of comedians who lead names like Joaquín Reyes or David Broncano on television, although when judging his work he is cautious. "I like what they do. With some I laugh and there are others, really, I don't understand them much. "
Nor does it seem that he has been greatly affected in his career by the controversies about machismo or mood limits that increasingly affect young comedians. "I have always defended the way of speaking about my land, our diminutives, the words we use. In my performances I play the sexual issue a lot, but I do it with the diminutives that we use here: gaitica, the chorretic … Those things don't sound bad, people don't get offended. You can talk about the topic you want, but always if you do it with caution so that nobody feels upset. It is not necessary to say guarradas so that people laugh, "reflects Tirado, that the only dislikes he has had is with those who have once accused him of ridiculing the people of the villages. "I call these false intellectuals. We will see, before when people traveled on horseback, maybe an Aragonese was going to a town, to a place 200 kilometers away, which had taken four months to arrive and yes he could at least say: look how They are the hands, but now everyone knows that in Aragon there are great artists, great lawyers, great doctors. There is everything. And I am one more. I am a man of the people, "he goes on, but little because above all that is Michelangelo Tirado is a humble man.
Before saying goodbye, we should clarify with him, for that confusion that The last show it provokes between reality and fiction, that Marianico el Corto tired of his jokes is not the real one. "It's just the one in the series. This is going to be a rebirth of the character. I would like him to like it and have a second season. "