María Zurita was a Dragon and Pepe Reina was a Penguin in 'Mask Singer 2'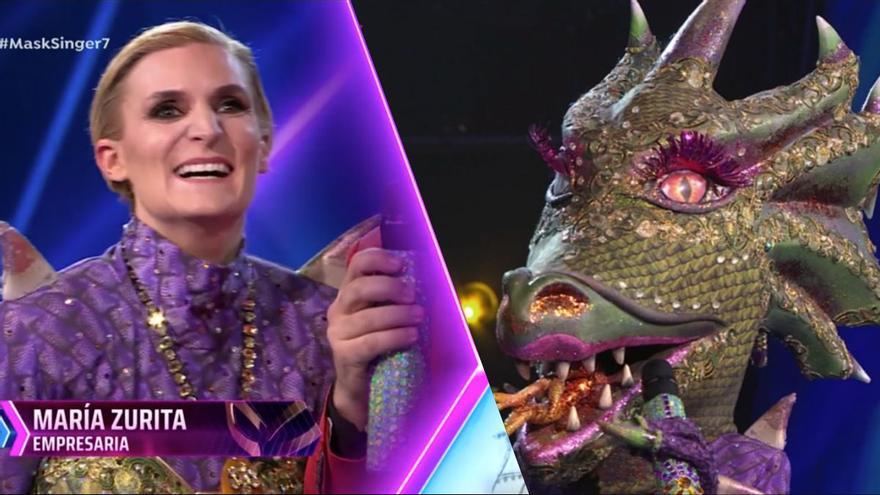 A well-known member of the King's family was also under one of the masks from the second edition of 'Mask Singer'. The Antenna 3 and Fremantle format has surprised again after unmask María Zurita, cousin of Philip VI, which was under the character of Dragona in this seventh gala.
The daughter of Margarita de Borbón, sister of the king emeritus Juan Carlos I, managed to leave the investigators and the audience dislodged throughout their different performances. In fact, the Javis, Paz Vega and José Mota thought that behind this mask could be celebrities as diverse as Estefanía de Mónaco, Rozalén, Helen Lindes or Adriana Ugarte.
The world of sports was also present at the seventh gala of 'Mask Singer 2'. After it became known that José Manuel Calderón was under Perro, Pepe Reina, soccer goalkeeper and world champion with the Spanish soccer team in 2010, performed in the format of Antena 3 and Fremantle under the mask of Pingüino, the first guest mask of this edition.
The performance of the Cordovan comes after he was also very present in the researchers' theories throughout the two editions of 'Mask Singer', although without much accuracy. On this occasion, José Mota was the only one who got his bets right, since Los Javis and Paz Vega believed that he was David Muñoz (Tow), Andres Iniesta and Jorge Cadaval (Los Morancos).