María, victim of trafficking: «'Lover boy' is the most miserable way to make you sell your soul and your body»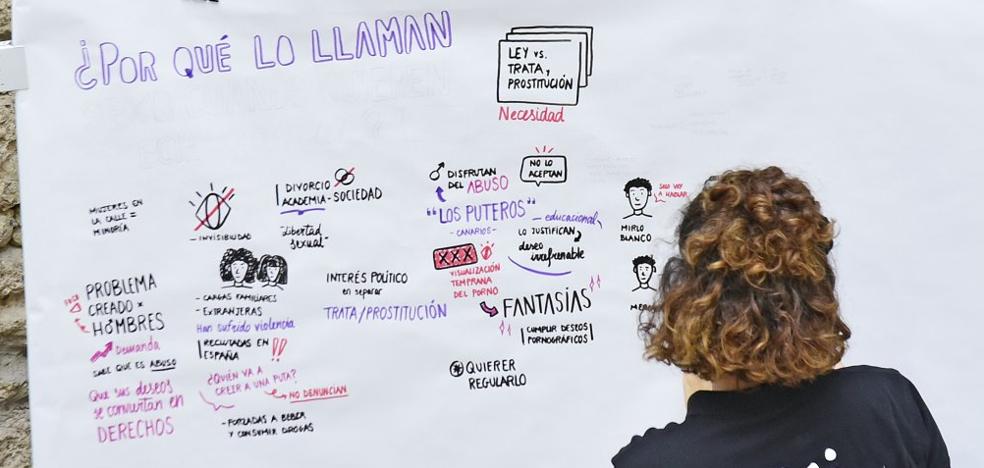 poverty situation
Forced into prostitution at the age of 19 and a victim of other sexist violence, María puts a face to one of the 53,182 people that Cáritas attended to last year in Las Palmas
María, fictitious name, in one of the faces of poverty in the Canary Islands fulfilling
the sociodemographic profile that Cáritas made this week Diocesan of the Canary Islands in his memory of 2021.
She is a woman, like 63% of the people served by the NGO last yearwhen requests for help increased by 17.8%.
They did not have a job (72.6%), have a dependent child (40.6%) and only had primary education (41.1%). And although most of the people served are Spanish, María is Romanian, like 66% of the prostituted women to whom Cáritas reaches out in its Lugo project. She is also young, today she is 25 years old, much older than the average of the women the NGO helps.
Maria was the victim of a 'Lover boy', which is, in her words, "the most miserable way to make a girl sell her soul and body under deceit, violence and fear". Victim of trafficking for the purpose of sexual exploitation and victim of other sexist violence such as physical and psychological. María did not have an easy childhood, her father mistreated her mother. "Life isn't fair sometimes. She thought about it when she saw her mother lying on the ground covered in blood », she relates. She was then six years old.
A situation that did not improve with time.
"At 19 years old the situation did not look any different. My mother had divorced and we lived the same nightmares, but on the part of another man» remember.
Maybe that's why he thought that love would change his life.
She fell in love with a boy and decided to go live with him to "get away" from the environment in which she lived. "He made me many promises and the plan was to come to Spain to work together." Three weeks later they had already bought the tickets for what María calls "the black trip" of her life.
In July they landed in Gran Canaria and their hell began. "His attitude of her changed drastically. He took the documents from me and explained to me in a few words what he had to do to make everything go well. The person she had fallen in love with had taken me away from home to force me into prostitution », explains Maria.
"I remember how hard it was for me to cry silently. He was no longer a free person.
My life started at eight in the morning when I had to get to work, a house where I had to let men rape me until six in the evening. She was young and new, which meant that from eight to six she didn't stop. She couldn't help but eat a sandwich, she couldn't go to the bathroom, she couldn't sit down, she couldn't talk to anyone. She kept an eye on me and appeared on the street to remind me of the rules. She did not have control of my body or my thoughts », narrates the young woman.
Violence

Threats were the way to keep her in this hell at "work" and at home. «
He had told me that one of his punishments was to beat me until I couldn't chew and depend on him to feed me or get me out of bed. Surely that punishment was not going to hurt me more than the rapes I suffered at all hours but I had decided not to provoke him.
The suffering of the street was still at home and without being able to defend myself in any way after a month I got pregnant».
María confesses herself as a believer, and believes that this pregnancy went ahead thanks to God. «Somehow it was there and although I lived the worst of my life I managed to keep the pregnancy and bring it to an end. Following the rules and
giving him all the money he asked for and could produce, the minimum was 250 euros a day». The young woman remembers "the tiredness, the hunger and the fear" and also how "hard" she fought "not to abort".
"The day my son was born was not the happiest day. Now it was my turn to protect him, but without being in my belly it was difficult for me.
emotional pain

Two months after the baby was born "the one who called himself the father decides to take it away from me to produce money again. When I resisted, he hit me so hard that I went deaf in one ear and he broke my rib », says María.
"Physical pain had become a habit," but now there was a new one, the emotional pain of separating her from her son.
"To see him in photographs I had to send him a little over 1,000 euros a week and he allowed me to visit him every two or three months," he recalls.
Under these conditions Maria spent two years. She away from her son and giving him the money that she obtained as a victim of sexual exploitation. "After two years, she tells me that she no longer wants me to return to Romania. That she has another partner and that she no longer allows me to see my son.
I had taken away all the illusion of remaining, in some way, close to the boy and that was how I decided to tell my story and fight to get him back.».
Future

And he achieve it. The young woman denounced, found a support network in Cáritas and finally the pimp was imprisoned. "Today I live near the sea and I wake up every day next to the most affectionate boy I know," he says.
She is also aware that what has happened to her "for some is pure fiction, but it continues to happen to other girls in my country," she says..
And he regrets the social signaling. "There is a lot to learn in life and the first thing would be to stop judging others by appearance. Stop labeling and being prejudiced. I am the daughter, the sister and the mother of someone », she adds.